With no fan assembly we could remove the CPU heatsinks and replace the socketed CPUs, but we'll talk more about that in the next part of our series. You'll note that the heatsinks on the Xeon processors are significantly smaller than those on the G5s:
Mac Pro 2.66GHz Heatsinks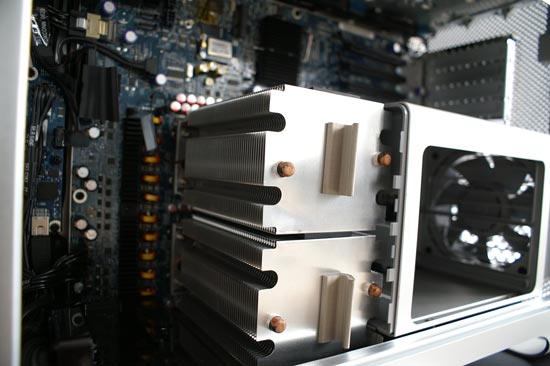 Click to Enlarge
PowerMac G5 2.0GHz Heatsinks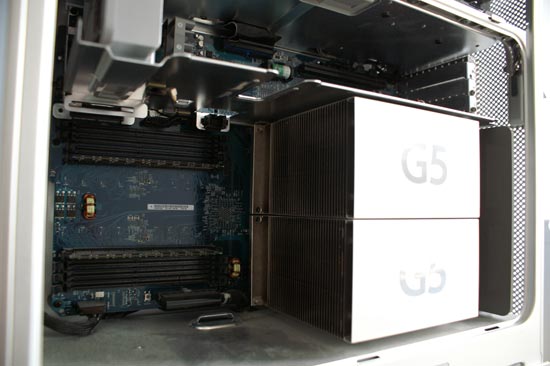 Click to Enlarge
Keep in mind that what you're looking at are the heatsinks used on the 2.0GHz single core G5s, the 2.5GHz processors used an even larger heatsink assembly with integrated water cooling.
Taking the Mac Pro apart is by no means an easy task, and while our job would've been easier had we not run into the standoff snag with the memory cage it's still not all that easy to gain access to the motherboard or CPUs in this case. That being said, it's the price you pay for having such a cleanly laid out system. Installing memory, drives and cards in the PCIe slots are all easy.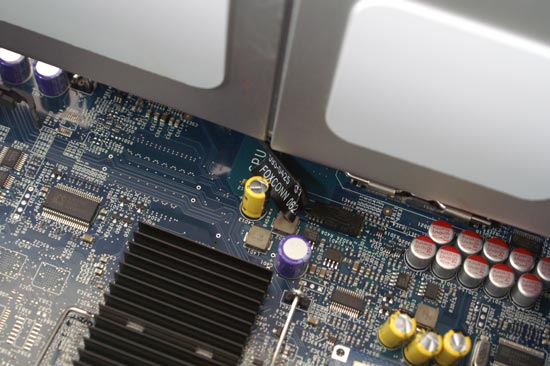 It looks like Foxconn makes the motherboard for the Mac Pro
As a whole, the design is a huge improvement over the PowerMac G5 despite looking very similar. The PowerMac G5 was lacking severely in its drive expansion options and external USB ports, both of which the Mac Pro addresses with certainty.