Multitasking Performance - The Quad Core Advantage
We're almost at the end of the review and so far we've hardly shown any performance benefit thanks to quad cores; just about all of the benchmarks we've presented here today could be duplicated if you only had a single Xeon in the Mac Pro instead of two.
It seems that many multithreaded applications are specifically targeted at dual core systems, and scaling above and beyond two simultaneous (and CPU intensive) threads just isn't where it needs to be for four cores to make a big difference. With the trend in CPU architectures being to significantly ramp up the number of cores, software will follow, but for now truly taking advantage of four cores is much like the early days of dual core processors: you either need an application that is specifically designed to scale to four cores (e.g. CineBench/3D rendering), or you need to be a heavy multitasker.
We've already shown what the former can bring, but what about the latter? How much of a benefit do you gain from having four cores at your disposal? To find out we combined two of our benchmarks - the multithreaded CineBench 9.5 test and our Quicktime H.264 encoding test. We started the H.264 encode first and then started the CineBench rendering test; we reported scores for both.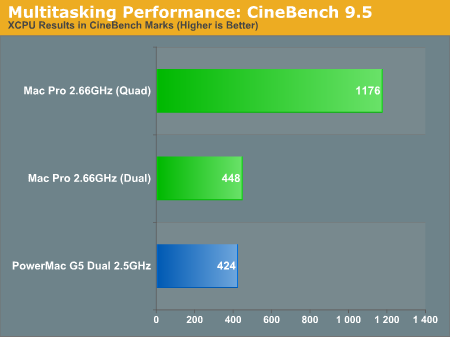 With only two cores, the CineBench results between the PowerMac G5 2.5GHz and the Mac Pro 2.66GHz are reasonably close, with the Mac Pro only holding a < 6% advantage. The H.264 encoding performance is a bit more favorable to the Mac Pro, with the dual core 2.66GHz solution outperforming the G5 by 14%.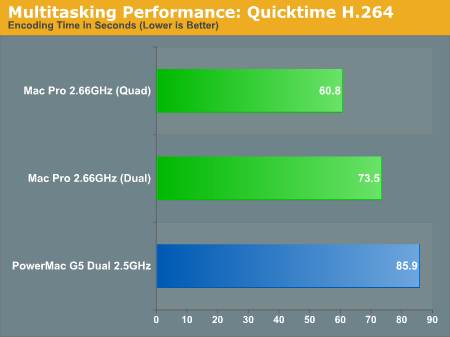 Enabling the remaining two cores on the Mac Pro however really changes the picture; the four core Mac Pro is 1.6x faster than the hypothetical two core version in CineBench and at the same time is 17% faster in the H.264 encoding test.
It's not too surprising to expect that the more CPU intensive tasks you run simultaneously, the more of a performance improvement you'll see with four cores vs. two. It's just like the early days of dual core CPUs; just wait until Apple throws two quad core Clovertowns in the Mac Pro, then we'll really start running out of things to do with them.