iWork '06 Performance with Pages and Keynote
Now let's shift our attention to Apple's iWork suite, with Pages 2 and Keynote 3. For the Pages test we simply timed how long it would take to export a 116 page document to PDF. This test is single threaded.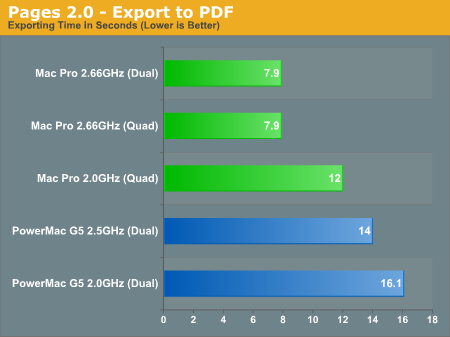 Pretty much all of Apple's applications fare very well on the new Intel processors, and Pages is no exception. With no benefit to quad cores over dual, the Mac Pro 2.0GHz is noticeably faster than the PowerMac G5 and the 2.66GHz model simply puts it to shame.
For Keynote, there are two tests that we ran, both involving exporting a presentation. The first test exports the presentation to a PowerPoint (.ppt) file, which is a task that is pretty common for Keynote users: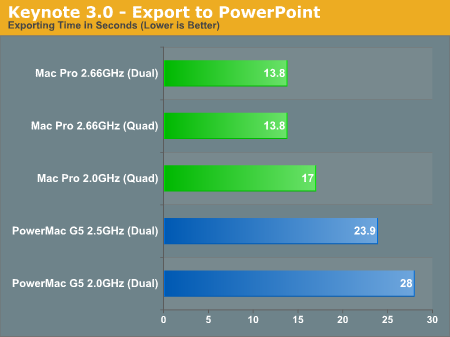 Once again we see a very strong showing by the new Mac Pro. If you're looking at shaving some cost off of the system, you can always downgrade to the 2.0GHz CPU and still come out faster than a high end PowerMac G5.
The next test is exporting a smaller presentation to a Quicktime file, using the default export settings. This test is multithreaded.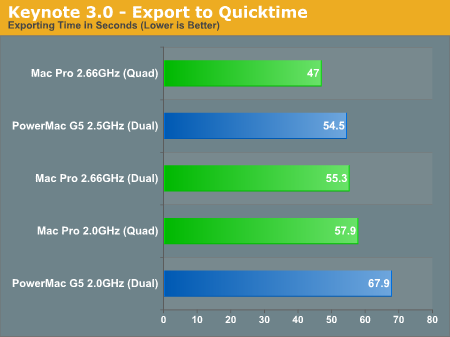 Quicktime encoding seems to be a strong point of the G5 as it gives the Mac Pro a good run for its money here. A quad core PowerMac G5 could probably compete with the 2.66GHz Mac Pro in this case, although it would not be able to touch the top of the line 3GHz Mac Pro. The Mac Pro is most likely limited by a couple of factors here: 1) the additional latency and lower usable bandwidth of FB-DIMMs aren't too great for its hungry architecture, and 2) Quicktime carries very few SSEn optimizations to begin with, giving the G5 a bit of a performance advantage here.