Media Encoding Performance with iTunes and Quicktime
The encoding tests here are identical to the ones we run in our CPU tests, except obviously run under Mac OS X 10.4.7 instead of Windows XP. It's important to note that iTunes, Quicktime as well as the iLife and iWork suites are all Universal applications, meaning that they run natively on both PowerPC and x86 architectures. The performance comparisons on these next few pages is done without any binary translation.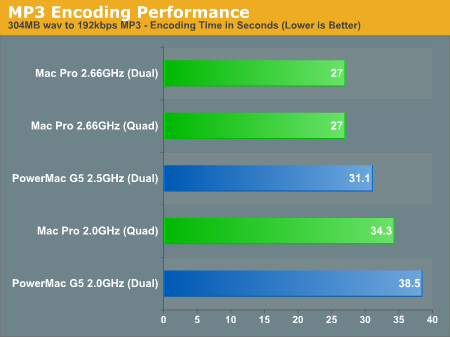 Although iTunes' MP3 encoder does get a performance boost going from single to dual core, we couldn't measure any performance increase when going from dual to quad core. Clock for clock, the Mac Pro does better than the PowerMac G5 with a performance advantage of around 11%.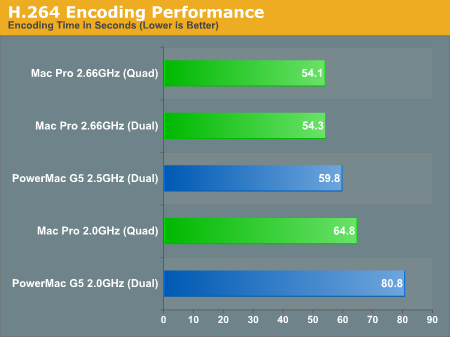 Video encoding is a strong point for the Core 2 architecture used in the Mac Pro's new Xeons and thus we expect the best from it in these tests. Unfortunately, the Mac Pro is somewhat limited by poor memory performance but it's still able to come out ahead of the PowerMac G5 clock-for-clock.