Introduction
Lately, with all the commotion in the CPU and GPU markets, the case industry seems rather unexciting. Somehow AMD buying ATI just seems a little more important than choosing the tower of your dreams for your next rig. But with huge shifts in anything - be it a new processor or a better integrated platform - the number of people interested in building a new PC at all grows, and with that growth comes the necessary interest in new cases.
While it's certainly nice to see Conroe generating much, much less heat than the Pentium D series, we certainly won't be able to get rid of worrying about the thermal outputs of our computers altogether any time soon. Also, with even decently-configured towers becoming so inexpensive to build the emphasis on looks and low noise levels is at an all-time high in the case realm.
Taking all these factors into mind, Thermaltake has been busy revamping some of their older products, as well as refining the aspects that have made previous cases of theirs so popular. After polishing up their work they sent us three different cases that showcase some of the fruits of these labors.
While we've already examined the ThermalRock Eclipse in a
large roundup
from last year, we're going to take a brief look at its latest incarnation, the Eclipse DV - now officially a Thermaltake product. This newer case is very much like the original, but will serve as a good comparison to the newer designs Thermaltake has to offer as well. The Eureka is targeted as a true server case, and although some of its design features will definitely make this obvious it could still fit into a lot of users' "perfect combination of features" list. Lastly we'll examine the very new Aguila desktop case, a product quite similar to the very popular Armor Jr. case but with a couple useful tweaks. Here's a quick breakdown of what the different models offer: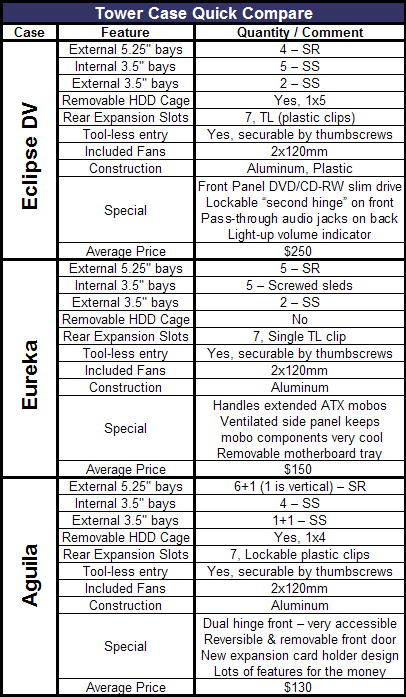 (TL: Tool-less, TS: Thumbscrews, SS: Standard Screws,
TR: Tool-less rails, SR: Screwed rails)
Time to look at the first case!