Encoding Performance using DivX 6.1, WME9, Quicktime (H.264) & iTunes
Multimedia encoding is typically a very good CPU benchmark, with performance that scales very nearly linearly with faster CPU clock speeds. Video testing was conducted using three popular codecs and applications: Xmpeg 5.03 with DivX 6.1, Windows Media Encoder with WMV9, and QuickTime 7.1 with H.264. The complexity of the encoding process increases as we move from DivX to WMV9, and H.264 encoding is in a league of its own in terms of the amount of CPU time required. Audio encoding performance was also tested using iTunes; MP3 encoding is less time-consuming and video encoding, but it continues to stress CPU performance.
Media encoding is a strong point of Intel's Core 2 Duo processors on the desktop, and the same holds true here on the mobile side: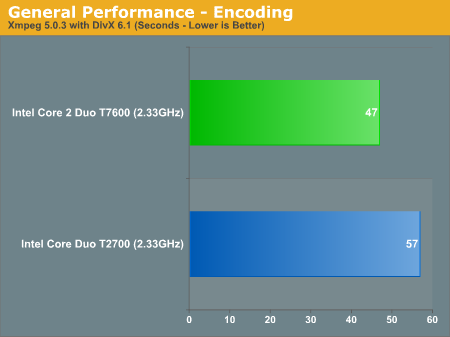 DivX performance is improved considerably, with a 17.5% increase in performance at the same clock speed as Core Duo.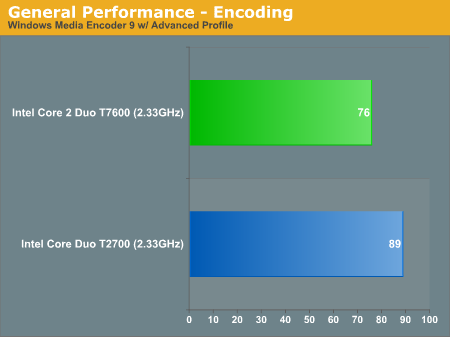 Windows Media Encoder 9 is really no different, showing a 14.6% performance advantage thanks to Core 2 Duo.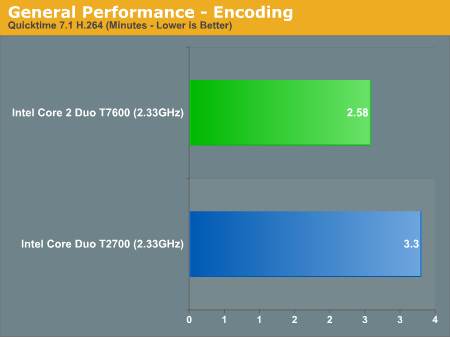 Our most strenuous encoding test, the Quicktime H.264 encode, is 21.7% faster with a Core 2 Duo installed than with a Core Duo running in our test notebook.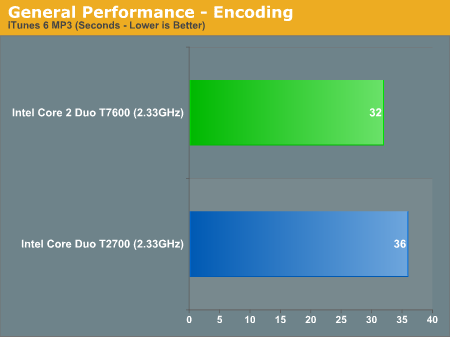 Even MP3 encoding is improved by 11.1% with the new chip.