Hard Disk Performance: HD Tach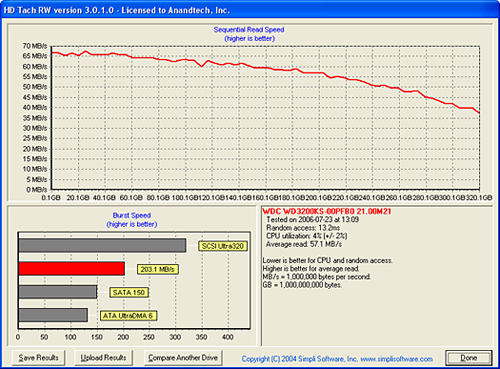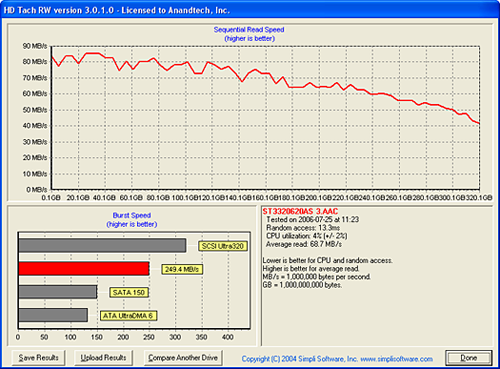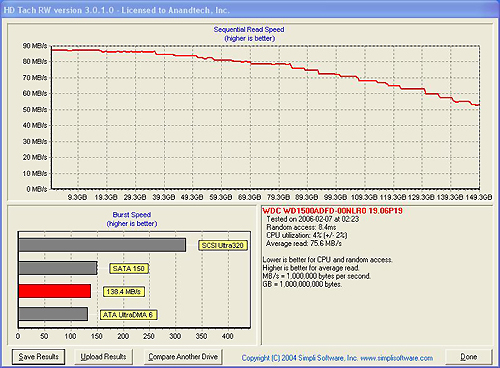 We find HD Tach to be useful for generating random access and average read rate results in a very consistent manner. Although the burst rates and CPU utilization rate numbers are interesting they tend to be meaningless in actual application performance comparisons.
The Seagate Barracuda 7200.10 320GB has the highest average sequential read speed of 68.7 MB/s with the Western Digital drive averaging 57.1 MB/s in our comparison today. In previous testing our WD Raptor 150 lead the field with a 75.4 MB/s average, the Seagate 7200.10 750GB at 66.9 MB/s, WD RE2 500GB drive at 62.4 MB/s, WD RE2 400GB drive at 57.0 MB/s, and the WD RE16 250GB drive at 51.4 MB/s. The Seagate 320GB and WD 320GB drives finish around the 40 MB/s mark at the end of the disk. In contrast, the WD Raptor finishes with a 52 MB/s result that is more than 30% greater than the 7200 RPM drives. However, if you look at the read performance for the first 150GB on the 7200 RPM drives, both manage higher than or equal to the minimum transfer rates than the Raptor.
The random access time benchmark favors the 10,000rpm spindle speed of the Raptor which generates a result of 8.6ms. The 7200rpm drives results are close with the nod going to the WD 320GB at 13.2ms while the Seagate 320GB drive finishes at 13.3ms. The average rotational latency at 10,000 RPM is 3ms while the average rotational latency at 7200 RPM is around 4.17ms; what this means is that the head seek speed on the Raptor is significantly faster (~5.6ms) than the other drives (9.2-10.0ms). Although the Seagate 320GB drive has excellent burst rates we will soon see this does not always translate into class leading performance.