Memory Test Configuration
The comparison of AM2 and Core 2 Duo Memory Performance used the exact same components wherever possible. Memory, Hard Drive, Video Card, HSF, and Video Drivers were the same on both test platforms.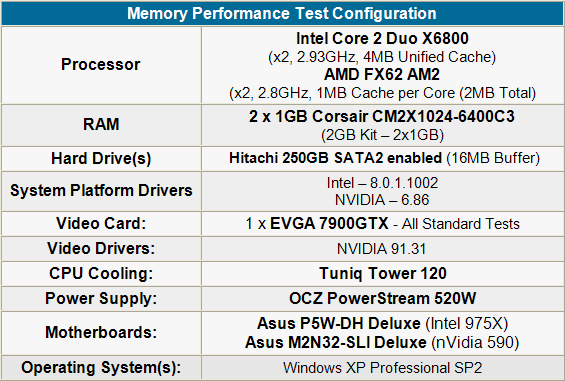 The motherboards used for benchmarking differed by necessity, but they are both top-line boards from Asus - the P5W-DH Deluxe for Core 2 Duo and the M2N32-SLI Deluxe for AM2. The latest motherboard drivers from Intel (P5W-DH) and nVidia (M2N32-SLI) were used for testing. The hard drive configurations for each test platform only differed in the drivers required for the test motherboard.
Our Corsair CM2x1024-6400C3 modules were set to the following memory timings on each platform; DDR2-400 - 3-2-2-5, DDR2-533 - 3-2-2-6, DDR2-667 - 3-2-3-7, DDR2-800 - 3-3-3-9, DDR2-1067 - 4-3-4-11, and DDR2-1112 - 5-4-5-14.