General Performance
The PCMark05 benchmark, developed by Futuremark, was designed for determining overall system performance for the typical home computing user. This tool provides both system and component level benchmarking results utilizing subsets of real world applications or programs. This benchmark is useful for providing comparative results across a broad array of graphics cards, CPUs, hard disks, and memory configurations and it also includes some multithreading results.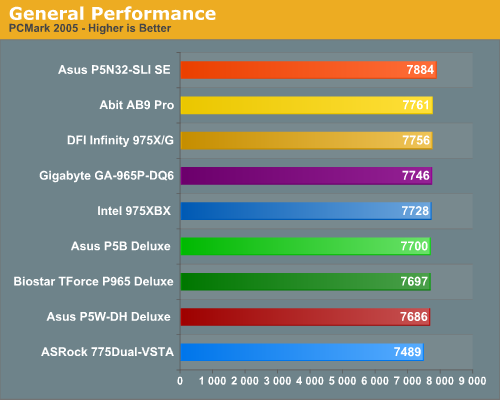 PCMark 2005 results for our test group are fairly close between the Intel chipset boards with the NVIDIA based ASUS P5N32-SLI SE taking a solid lead here due to excellent hard drive performance and multi-tasking scores within the benchmark. Looking specifically at the Abit board, it places second overall but is currently the fastest Intel chipset offering for Core 2 Duo.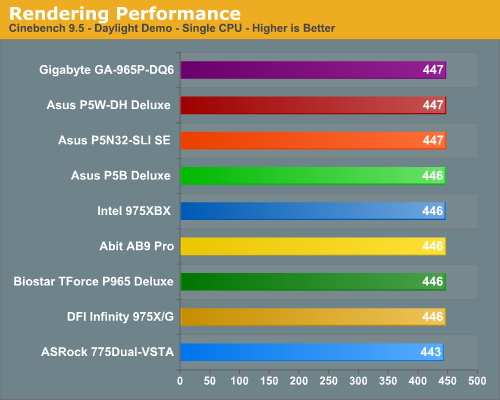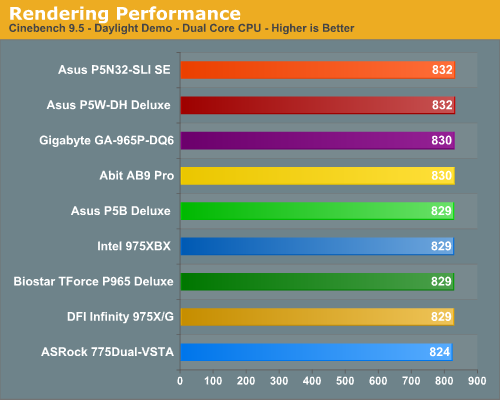 Moving on to the Cinebench results, realistically we have to declare a tie between most of the motherboards. While there are slight differences in score, it is not uncommon to see variations of a few points between benchmark runs. 3D rendering also places most of the burden on the CPU, so minor variations in CPU clock speed (i.e. a motherboard manufacturer running the front side bus at 267 MHz instead of 266 MHz) can easily account for the 1% performance spread.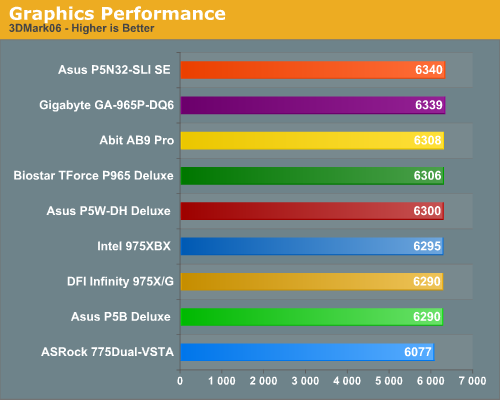 Rounding out our general performance results, the Abit board also has a strong showing in 3DMark06, placing third overall. Of course, the spread among the Intel chipset boards is a whopping 0.7%, so for all intents and purposes all of the boards are equal (except the budget oriented ASRock, which still packs a lot of performance into a $55 motherboard).
Overclocking Comparison
The overclocking capabilities we have measured thus far are with our standard E6700 CPU using a 10X multiplier. While this will not show the true FSB potential of some boards, it does show a board's capability with the second highest performing Core 2 Duo and what can be expected with the fixed multiplier CPUs on average. At present, the only board in our testing that has exceeded a 400FSB is the ASUS P5W-DH. It reached 400 MHz using this E6700 CPU, so any board that fails to reach that level with this CPU is at least being partially limited by the motherboard.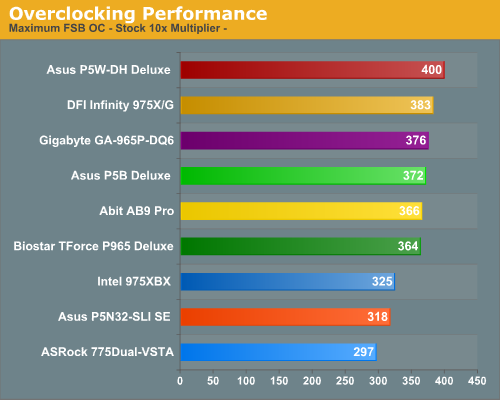 The Abit AB9-Pro comes up with average overclocking results, and as can be seen all of the P965 boards are currently topping out at 360-380 MHz FSB. If you are serious about overclocking, the best board we've currently tested is clearly the ASUS P5W-DH Deluxe. We managed to reach 445 MHz FSB with our amazing little at E6600 before running out of MCH voltage on that board. Of course, the extra $100+ it would cost to upgrade from the Abit to the ASUS board might be more than and people are willing to pay, especially among the budget overclocking crowd.