Abit AB9-Pro: Basic Features
Abit AB9-Pro
Market Segment:
Mid-Range/Performance
CPU Interface:
Socket T (Socket 775)
CPU Support:
LGA775-based Pentium 4, Celeron D, Pentium D, Core 2 Duo
Chipset:
Intel P965 + ICH8R
Bus Speeds:
133 to 600 in 1MHz Increments
Memory Speeds:
Auto, 533, 667, 800
PCIe Speeds:
Auto, 100MHz~200MHz
PCI:
Fixed at 33
Core Voltage:
Auto, Base CPU V to 1.7250V in 0.0250V increments
CPU Clock Multiplier:
Auto, 6x-11x in 1X increments if CPU is unlocked
DRAM Voltage:
1.75V ~ 2.30V in .05V or .10V increments
DRAM Timing Control:
SPD, 4 Options
NB Voltage:
1.25V ~1.45 in .05V increments
SB Voltage:
1.50V ~1.70 in .05V increments
Memory Slots:
Four 240-pin DDR2 DIMM Slots
Dual-Channel Configuration
Regular Unbuffered Memory to 8GB Total
Expansion Slots:
1 - PCIe X16
2 - PCIe X1
2 - PCI Slots 2.3
Onboard SATA/RAID:
6 SATA 3Gbps Ports - Intel ICH8R
(RAID 0,1,1+0,5,JBOD)
2 SATA 3Gbps Ports - JMicron JM363
(RAID 0,1,JBOD)
2 SATA 3Gbps Ports - Silicon Image 3132
Onboard IDE:
1 Standard ATA133/100/66/33 Port (2 drives)
JMicron JMB363
Onboard USB 2.0/IEEE-1394:
10 USB 2.0 Ports - 4 I/O Panel 6 Headers
2 Firewire 400 Ports by TI TSB43AB23
Onboard LAN:
Gigabit Ethernet Controller
Realtek RTL 8168
Onboard Audio:
Realtek ALC882D HD-Audio 8-channel CODEC
Power Connectors:
ATX 24-pin, 4-pin EATX 12V, 4-pin 12V Molex
I/O Panel:
1 x Serial
1 x PS/2 Keyboard
1 x PS/2 Mouse
2 x RJ45
1 x eSATA
4 x USB 2.0/1.1
2 x S/PDIF (1 optical in, 1 optical out)
8-Channel Audio I/O
BIOS Revision:
AWARD M516A-11
Abit has delivered a well optioned but performance oriented P965 board that should sell for around US $142 or under. While our BIOS is still beta and now includes full memory configuration capability, we were surprised at the stability of the BIOS during our benchmarking. We certainly believe that future BIOS releases will extract additional performance from this board, but it basically works as advertised now.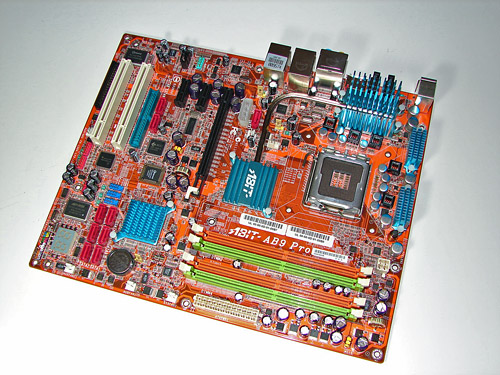 Click to enlarge
Abit designed a board that has one of the more interesting layouts we have seen in the labs in a long time. While the board was very easy to install in our mid-size ATX case we did have some issues with utilizing our optical drive in the top bay due to the location of the JMicron powered IDE port that is located in between the number two PCI Express X1 slot and the number one PCI slot.
The Abit board features an excellent voltage regulator power design with high quality capacitors located in each major component section of the board that yielded superb stability during our testing with the latest beta BIOS. The Intel P965 MCH chipset is passively cooled with a low rise heatsink unit that did not interfere with any installed peripherals. This heatsink is part of the Abit Silent OTES technology that includes a heatpipe system and additional passive cooling for the VRM components. This system kept the MCH cool enough that additional chipset voltage was not a factor in our overclocking tests.
Overall, the layout is acceptable, but certainly not perfect. Abit has stated that the layout was created in part to provide better quality power signals to the various areas of the motherboard. They appear to have succeeded in this endeavor, as this is the most stable 965 motherboard we have tested so far, but routing cables to the appropriate ports can be a bit trickier than usual.