We recently previewed the
Abit AB9-Pro
and were intrigued with its performance even though we had a very early BIOS release. Abit recently provided us with a production level BIOS that is undergoing final quality assurance and performance testing prior to release. We were hoping to include this board in our
Conroe Buyers Guide
but unfortunately we did not receive this pre-release BIOS in time for testing. However, due to the amount of comments and the number of emails we received asking about the performance of the board with Core 2 Duo, we decided to provide a short update utilizing the Buyers Guide benchmarks.
Although the AB9 Pro went on sale a few days ago, the shipping BIOS does not provide the ability to fully configure the memory timings and ratios. We are very glad to report the current beta BIOS implements full configuration of the memory settings through the excellent µGuru overclocking utility. Although this beta BIOS does allow memory settings we found the included options for changing memory timings are very basic at this time. Abit is still optimizing their BIOS code and we expect to see further options along with additional performance enhancements in the very near future. The board was extremely stable during our benchmarking session with the revised BIOS. During our stress tests we did find a couple of minor issues that have been reported to Abit. We expect to see these issues resolved by Abit before public release.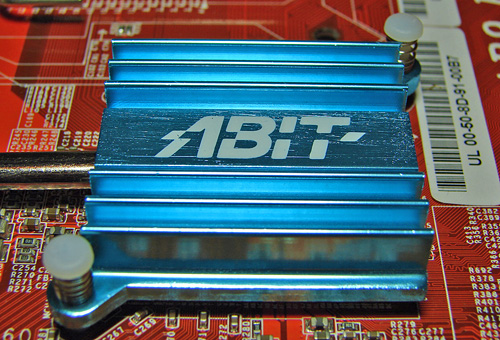 Abit was the top manufacturer of enthusiast level boards just a few short years ago and catered almost exclusively to the overclocking community. However, Abit found itself in serious financial and market troubles as its product portfolio expanded into areas where it did not have the manufacturing expertise or cost advantages to compete with the larger tier one manufacturers. As a result, Abit lost focus on its core competence, the enthusiast and overclocking market, and allowed DFI and others to become the preferred enthusiast brands. Abit was close to ceasing business operations as their product lines did not offer any real price, performance, or product differentiation from others except for their µGuru technology.
Fortunately, Abit entered into a long-term partnership with USI this past January that ensures their financial health for the future and a change in the company name. Universal Abit is the successor to the Abit motherboard brand and has partnered with USI for their manufacturing and engineering expertise. The Abit name will remain as the main identity for products but expect to hear more from Universal Abit as the company transitions itself from strictly IT manufacturing to leading technology design and brand management. This strategic partnership also signals a return of Abit to their roots as a company driven to provide the computer enthusiast and extreme overclocker with the highest performance solutions available.
Intel P965 Express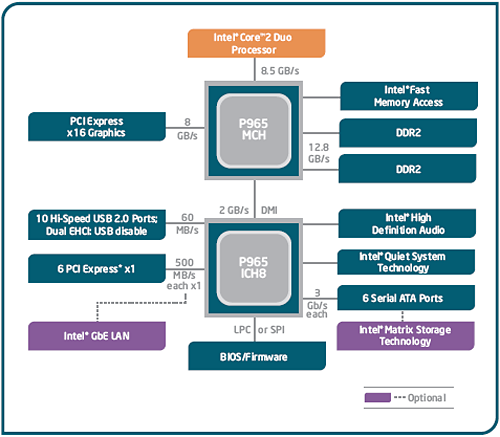 Intel released the P965 Express MCH and ICH8/R chipsets in June of this year. The highlights of the P965 MCH include Intel's new Fast Memory Access technology, 1066MHz front side bus support, 800MHz DDR-2 memory support, and full support for the new Core 2 Duo processor lineup. The integrated graphics versions, G965 and Q965, will ship with the new GMA X3000 graphics engine for the ViiV and Corporate markets respectively in September. While the P965 is still undergoing growing pains from a BIOS viewpoint, we are finally starting to see these boards in retail channels now with full product releases by all of the major motherboard suppliers by early August. At present the P965 boards only officially support multi-GPU operations through a combination of a X16 PCIe and X4 PCIe slot. This leaves ATI CrossFire support to the older 975X chipset. Those looking for NVIDIA SLI support will have to wait a couple of more weeks before the NVIDIA Intel Edition chipsets are released (or go with the nForce4 ASUS P5N32-SLI SE).
The new ICH8/R chipsets offer ten USB 2.0 ports, up to six 3GB/s SATA ports, Intel's new Quiet System Technology, and the removal of Parallel ATA support. While one could argue this is a needed step forward in technology, we firmly believe that Intel should have waited until the next generation ICH for this change. The Optical Drive market is still about 98% PATA based and does not seem to be changing anytime soon. While this development might spur the optical drive suppliers into offering additional SATA drives in the near future it does not address the requirements of the current PATA installed base. What this means is additional cost and complexity as the motherboard manufacturers will have to add an additional chipset such as the JMicron JMB363 for PATA support.
Now let's take a revised look at the Abit AB9-Pro, this time using a Core 2 Duo processor. We have updated the charts as appropriate.