PureVideo HD and Video Playback
On the surface, PureVideo HD is not really that different from current GeForce 7 PureVideo. The only addition is the capability to playback video content with HDCP protection enabled. Previous versions of PureVideo are able to accelerate content encoded in the same formats as HD-DVD and Blu-Ray provide, but without the content protection factor. No hardware needs to change for PureVideo HD support, and it all comes down to a driver. The fact that PureVideo HD support won't be added for GeForce 6 series parts doesn't matter, as there aren't any GeForce 6 series cards with HDCP support.
Another major feature this time around is the fact that NVIDIA is rolling PureVideo support into ForceWare and enabling third-party players to tie directly into the GPU. This is a major boon for NVIDIA's PureVideo effort, as one of the constant negatives associated with PureVideo has been the $30 price tag. Getting CyberLink, InterVideo, and others on board with tight GPU integration will also save on the headache of getting PureVideo working properly.
When watching an HD movie using an HD-DVD or Blu-Ray device, the video needs to move from the player to the display in a very strict path. In order to view the content over a digital connection at full resolution, everything must be in place.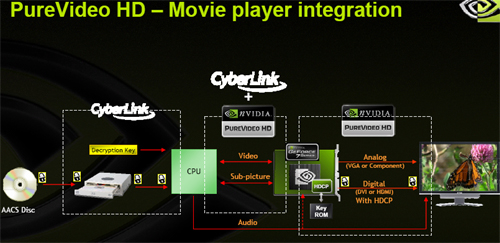 Currently, PureVideo HD is only able to handle the motion compensation and deblocking steps of decode. In the future, they hope to include CABAC and CAVLC support, which should have a pretty heavy impact on performance. (These are very compute intensive portions of VC-1 and H.264 decoding). This should also only require a driver update. Of course, as the initial introduction of PureVideo showed us, we must take such promises with a grain of salt. Here's what users who jump on the PureVideo HD bandwagon can expect right now.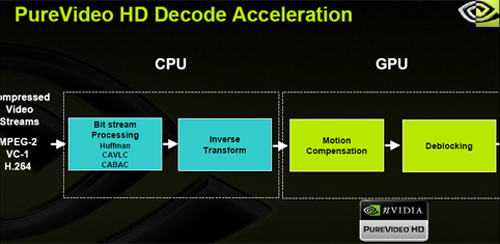 This is, of course, in addition to the video quality features you get with PureVideo HD. These features are, as we said, mostly the same as in previous PureVideo implementations (the exception, of course, is the HDCP block). The de-interlacing and bad edit correction features are still around, as well as noise reduction. Even de-interlacing will still be necessary in cases where HD content is provided in 1080i rather than 1080p. Thankfully, most of the titles we tested so far have been 1080p, so this may not have as much of an impact on HD content as it did on DVD titles. As with TV tuners, the biggest benefits of good image processing technology are apparent in the lower quality sources. Analog TV benefits a great deal from new tuners, while digital tuners don't do much beyond receiving the signal and pulling off the data.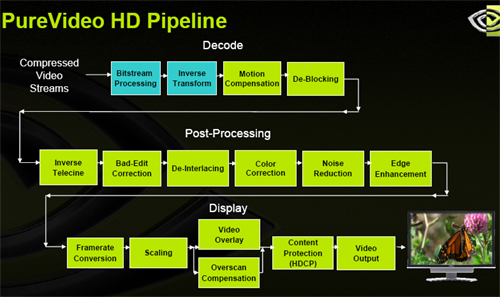 Now that we know what PureVideo HD is, lets take a look at what it can actually do.