DFI Infinity 975X/G
Basic Features
DFI Infinity 975X/G
Market Segment:
High-End/Performance
CPU Interface:
Socket T (Socket 775)
CPU Support:
LGA775-based Pentium 4, Pentium D, Core 2 Duo
Chipset:
Intel 975X + ICH7R
Thermal Design:
6-phase power
Passive Northbridge/Southbridge Cooling
Bus Speed Support:
1066/800MHz
Bus Speeds:
266 to 533 in 1MHz Increments
Memory Ratios:
Auto, 400, 533, 667, 800
PCIe Speeds:
Auto, 100MHz~200MHz
PCI:
Fixed at 33
SATA Clock:
PCIe Clock, Fixed at 100MHz
Dynamic Tuning:
Manual, Default, Easy Overclock
CPU Turbo Add-On - +1MHz to +30MHz
PCIe Turbo Add-On - +1MHz to +15MHz
CPU VID Offset:
Default, +12.5mV to +787.5mV in +12.5mV increments
CPU VTT:
1.20V, 1.25V, 1.30V, 1.35V
CPU Clock Multiplier:
Auto, 6x-50x in 1X increments if CPU is unlocked
DRAM Voltage:
1.90V to 2.65V in .05V increments
DRAM Timing Control:
Auto, 9 Options
NB Voltage:
1.60V to 1.75V in .05V increments
Memory Slots:
Four 240-pin DDR2 DIMM Slots
Dual-Channel Configuration
Regular Unbuffered Memory to 8GB Total
Expansion Slots:
2 - PCIe X16 (X8 for Multi-GPU)
1 - PCIe X4
1 - PCIe X1
2 - PCI Slots 2.3
Onboard SATA/RAID:
6 SATA 3Gbps Ports - Intel ICH7R
(RAID 0,1,1+0,5,JBOD)
1 SATA 3Gbps Ports - JMicron JMB360
(e-SATA)
Onboard IDE:
1 Standard ATA133/100/66/33 Port (2 drives)
Intel ICH7R
Onboard USB 2.0/IEEE-1394:
8 USB 2.0 Ports - 4 I/O Panel 4 Headers
2 Firewire 400 Ports by VIA VT6307 -
1 I/O Panel 1 Header
Onboard LAN:
Gigabit Ethernet Controller
Realtek RTL8111B
Onboard Audio:
Realtek ALC882 HD-Audio 8-channel CODEC
Power Connectors:
ATX 24-pin, 8-pin EATX 12V, 4-Pin 12V Molex
I/O Panel:
1 x e-SATA
1 x LPT
1 x PS/2 Keyboard
1 x PS/2 Mouse
1 x RJ45
1 x IEEE-1394
4 x USB 2.0/1.1
2 x S/PDIF (Optical + RCA)
8-Channel Audio I/O
BIOS Revision:
AWARD 0707
One of the more anticipated boards we looked forward to after our Computex 2006 visit was the DFI Infinity 975X/G motherboard. Of course, we understood this would be an Infinity series and as such would be lacking the normal bells and whistles along with the almost legendary overclocking ability of the LanParty series. However, knowing DFI's ability to extract performance out of chipsets in just about any price range we expected some great things with this board. While the board did not disappoint us we were let down a little with its overclocking ability (based on expectations), but more importantly we're disappointed with its current street price of $249.
We know the Intel 975X chipset is expensive and the current lack of 975X Core 2 Duo capable boards from suppliers like MSI, Foxconn, ECS, and Abit are helping to keep the prices high. We believe DFI had a golden opportunity to bring this board to market around the $200 price point and really generate some price/performance excitement. Do not get us wrong, we really like the board but think the pricing structure needs adjustment just like the overclocking ability we will discuss shortly.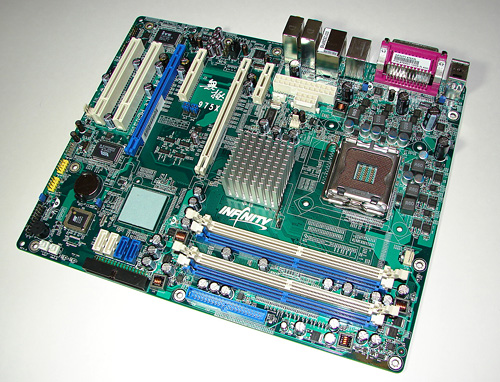 Click to enlarge
DFI's attention to detail is evident in the layout of the board and throughout the BIOS options and feature set. The board has the ability to run ATI CrossFire with dual X8 PCIe capability along with the fact that only one slot (PCI) is physically not available when installing a CrossFire solution. While DFI does not use a heat pipe solution to keep the MCH and ICH chipsets cool, we did not have any thermal issues with the board while overclocking or testing CrossFire. The BIOS options are not as extensive as the LanParty series, but they certainly provide more than enough choices for most performance or enthusiast users.
Basic Performance
The performance of the board was very good along with exceptional stability in all areas. In fact, with some additional BIOS tuning we are certain this board has the ability to hold a performance lead in most of the stock setting results. With this said, our issue or maybe our perception is that the board could have been much better in the overclocking area as we "only" reached a stable FSB setting of 383 with our X6700. Our X6800 with the multiplier dropped was only able to achieve a FSB of 385 before hitting the proverbial brick wall. Otherwise, we had no issues to report except that if you want to use RAID you need to lock SATA at 100MHz fixed or it will not work.
Overclocking
DFI Infinity 975X/G
Overclocking Testbed
Processor:
Intel Core 2 Duo E6700
Dual Core, 2.67GHz, 4MB Unified Cache
1066FSB, 10x Multiplier
CPU Voltage:
1.525V (default 1.2V)
Cooling:
Tuniq Tower 120 Air Cooling
Power Supply:
OCZ GameXStream 700W
Memory:
Corsair Twin2X2048-PC2-8500C5 (2x1GB)
(Micron Memory Chips)
Hard Drive
Hitachi 250GB 7200RPM SATA2 16MB Cache
Maximum OC:
(Standard Ratio)
383x10 (3-3-3-9)
3830MHz (+43%)
While an overclock to 383FSB is certainly nothing to sneeze at, we were hoping for at least a 400+ FSB capability on this board. Some users have had success with taking this board over 400FSB with a 4:3 memory ratio, but it seems a majority of boards are ending up around the 375FSB range. Our board would not boot at anything higher than a 385FSB with the current BIOS. We could not exceed a 334FSB at a 1:1 ratio due to the memory strap timings in the BIOS. While these numbers are very good, it is still disappointing as we know this board still has a lot of potential left in it.
The performance, stability, and BIOS features of this board are well worth a price around $200 and a premium over the mainstream P965 boards considering the current market situation. Let's just hope that DFI can lower the price and raise the FSB overclocking abilities as they do have a winner on their hands if they accomplish this task.
UPDATE
- This board is now available for around $190 making it a highly recommended choice for those users who are not into extreme overclocking.