ASUS P5B Deluxe
Basic Features
ASUS P5B Deluxe
Market Segment
High-End/Enthusiast
CPU Interface
Socket T (Socket 775)
Chipset
Intel P965 + ICH8R
Thermal Design
8-phase power
Fan-less Heatpipe Cooling
ASUS Stack Cool 2 for OC
Default Bus Speed
1066 (533/266)
Bus Speeds
100 to 400 in 1MHz Increments
Memory Speeds
DDR2 at Auto,400,533,667,800,889,1067
PCIe Speeds
Auto, 90 to 150 in 1MHz Increments
Performance Mode
Auto, Standard Turbo
AI Overclocking
Manual, Auto, Overclock Profile, AI N.O.S.
PCI
Auto, 33.3, To CPU
Core Voltage
Auto, 1.225V (Actual CPU voltage) to 1.7000V in 0.0125V increments
FSB Termination Voltage
Auto, 1.2v, 1.3v, 1.4v, 1.45v
NB Voltage
Auto, 1.25v, 1.35v, 1.45v, 1.55v
SB Voltage
Auto, 1.5v, 1.6v, 1.7v, 1.8v
PEG Link Mode
Auto, Slow, Normal, Fast, Faster
CPU Clock Multiplier
Auto, 6x-CPU default in 1X increments
(depends on CPU) - DOWN only
DRAM Voltage
Auto, 1.8V to 2.45V in .05v increments
(except for 2.2V)
Multi-GPU Option
None
Memory Slots
Four 240-pin DDR2 DIMM Slots
Dual-Channel Configuration
Unbuffered non ECC Memory to 8GB Total
Expansion Slots
1 PCIe X16
1 PCIe X16 operating at X4 or X2
1 PCIe X1
3 PCI Slots
Onboard SATA/RAID
6 SATA2 3Gb/s Drives by Intel ICH8R
(RAID 0,1,5,10) PLUS
2 SATA2 3 Gb/s Drives by JMicronJMB363
(RAID 0,1) (1 internal,1 external)
TOTAL 8 Sata2 3Gb/s drives
Onboard IDE/IDE RAID
One Standard ATA133/100/66 (2 drives) by JMicron JMB363
Onboard USB 2.0/IEEE-1394
8 USB 2.0 ports supported by ICH8R
2 Firewire 1394a by TI
Onboard LAN
DUAL PCIe/PCI Gigabit by Marvel for AI Net2, PLUS
WiFi 54Mbps supporting 802.11g
Onboard Audio
Azalia HD Audio by ADI 1988B
8 channel codec
Power Connectors
24-pin ATX
4 or 8-pin EATX 12V
Back Panel I/O Ports
1 x PS/2 Keyboard
1 x PS/2 Mouse
1 x Serial
1 x Audio I/O Panel (6 plug programmable)
1 x Optical S/PDIF Out Port
1 x Coaxial S/PDIF Out Port
1 x IEEE 1394a Firewire
1 x External SATA2
2 x RJ45 LAN
1 x Wireless LAN antenna
4 x USB
BIOS Revision
AMI 0602 - June 30, 2006
ASUS has done a fantastic job in putting together a full-featured, quiet, and stable Intel P965 motherboard for Core 2 Duo. Almost every feature lavished on the P5W-DH Deluxe is also present on the P5B Deluxe. This includes an 8-phase power design and fan-less heatpipe cooling.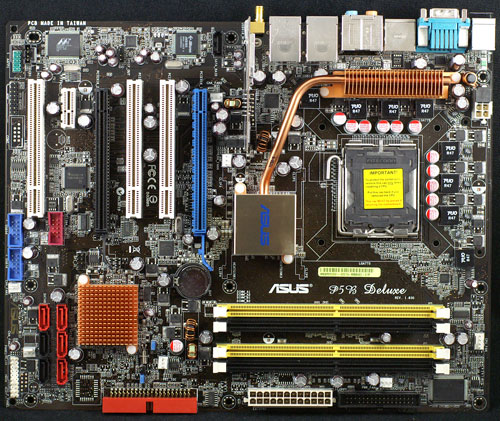 Click to enlarge
The feature set of the ASUS 965 board is also outstanding, with the real issues with the P5B Deluxe limited to general complaints and questions about how Intel has implemented the 965 chipset. For more information on the Intel P965 chipset please look back at the
AnandTech preview of the 965 chipset
.
Despite the similarity of the ASUS 975X and 965 top boards, a closer look at options does tell you 965 is targeted a bit lower than 975. The FSB adjusts to 400 on 965, more than enough on most processors, except Conroe actually can reach 400, 450, and beyond. The 975X has adjustments to 500 FSB. Other subtle differences are the ADI chipset HD audio on 965 and a Dolby Digital Master Studio (Dolby Digital Live) audio choice for the 975X.
Basic Performance
Intel's thinking on the 965 chipset remains a mystery to us. We expected the new 965 might be a bit faster than 975 since Intel tells us the 965 uses a better memory controller. That was not the case, as 965 remained a bit slower than 975X. The missing support for CrossFire is also a mystery. The 965 has an X16 slot and an X4 slot, but it cannot operate in multi-GPU mode for CrossFire. The only Intel option for CrossFire is the 975X.
Another odd puzzle is that the X6800, which is completely unlocked, only operates unlocked DOWN in P965. The stock multiplier of the 2.93 chip is 11x, and you cannot select higher multipliers on P965 as you can on 975X. On the one hand Intel is telling us all that the P965 is a uniquely up-to-date chipset that supports Conroe really well, while on the other hand we discover 965 is crippled in some areas compared to 975X. You will also see the 965 does not support ECC memory while the 975X does, but that will only matter to a small percentage of users.
Perhaps with time the P965 will become a faster, better board than 975, but at this point in time the BIOS implementations are much more immature than 975X BIOS solutions. Based on the costs we have seen for top 965 boards compared to 975, it would take a big price difference to persuade us to buy 965 instead. In general, those wider price differences don't exist in this round of motherboards. Both ASUS boards, the 975X P5W-DH and the P965 P5B Deluxe, are now for sale at the same $269 price. Frankly, at the same price we could never recommend this 965 motherboard over the better performing, better-featured and better-overclocking 975X model.
Overclocking
ASUS P5B Deluxe
Overclocking Testbed
Processor:
Intel Core 2 Duo E6700
Dual Core, 2.67GHz, 4MB Unified Cache
1066FSB, 10x Multiplier
CPU Voltage:
1.525V (default 1.2V)
Cooling:
Tuniq Tower 120 Air Cooling
Power Supply:
OCZ GameXstream 700W
Memory:
Corsair Twin2X2048-PC2-8500C5 (2x1GB)
(Micron Memory Chips)
Hard Drive
Hitachi 250GB 7200RPM SATA2 16MB Cache
Maximum OC:
(Standard Ratio)
372x10
3720MHz (+39%)
While 965 is being talked about as the better match to Conroe, we are finding that basic performance of the 965 boards is still a bit below 975X performance. This is particularly true in the overclocking area, where we have generally reached lower overclocks with 965 boards than we could achieve with the better 975 boards. In this case the ASUS P5B Deluxe has a maximum FSB range of 400 (bios 0403 released today now raises this to 500), while the ASUS 975X board has settings to 500 FSB. This 400 top limited the highest overclock we could achieve to a 372 FSB, or a 39% OC of the 2.66 E6700 compared to the 50% overclock it achieved on the ASUS P5W-DH Deluxe.
Overclocking is still much less stable on the 965 ASUS than we experienced on their 975X motherboard. The ASUS board is generally stable, but it could still benefit from a few more rounds of BIOS refinement. In fact, all of the 965 boards were less polished and mature than their 975X counterparts - not to mention the missing features detailed above.