High-Resolution Gaming Performance
We are using the same game benchmarks in our standard gaming performance section that consists of Serious Sam 2, Half Life 2: Lost Coast, F.E.A.R, Quake 4, and Battlefield 2. All boards were tested with the EVGA 7900GTX using NVIDIA 91.31 WHQL drivers. The Intel 975X boards were also tested with a single ATI X1900XTX card with the Catalyst 6.6 driver. The SLI results on the ASUS P5N32-SLI SE utilized two EVGA 7900GTX cards and the 91.31 drivers with profiles enabled for each game. The CrossFire results on the Intel 975X boards utilized our ATI X1900XTX and X1900 CrossFire Edition cards with the 6.6 Catalyst driver.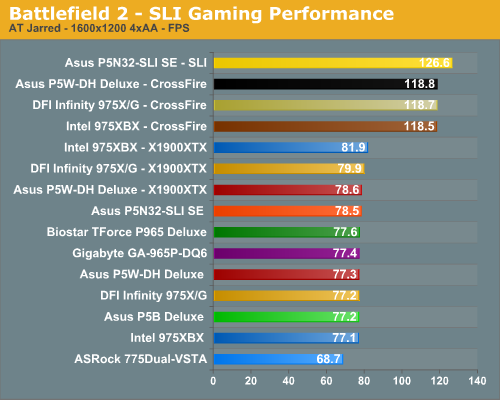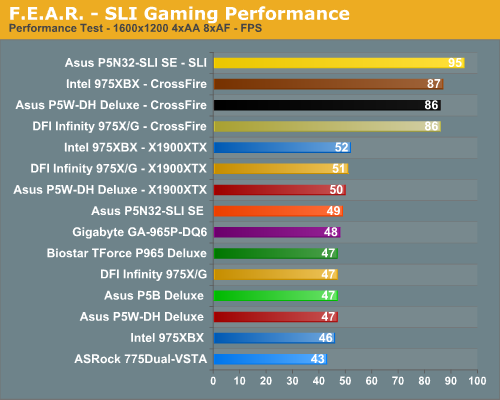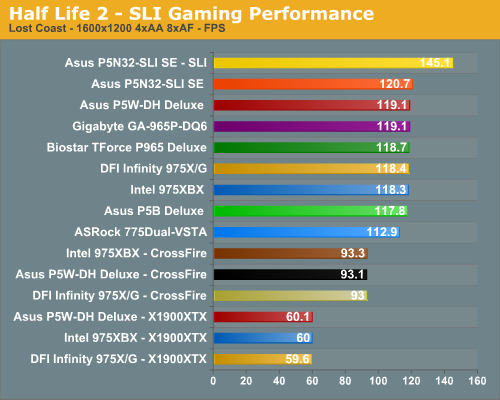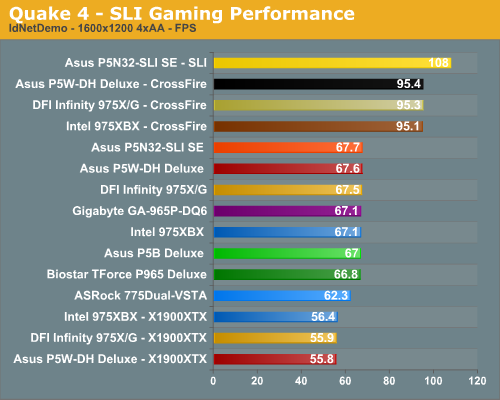 The single card 1600x1200 results with the EVGA 7900GTX card shows the ASUS P5N32-SLI SE taking a clean sweep of the benchmarks. The performance of the 7900GTX and nForce4 Intel Edition chipset made a small but measurable difference at the higher resolutions as the boards started to become GPU bound. Due to the strength of the NVIDIA SLI setup along with obvious ATI issues in the Half Life 2: Lost Coast and Quake 4 benchmarks this same board sweeps our multi-GPU tests.
However, we also noticed where the ATI cards made a very strong showing in our standard benchmarks in F.E.A.R. and Serious Sam 2 by finishing first, they fell behind the SLI setup when running CrossFire indicating a lack of optimizations or possible driver issues in our tests. The performance percentage drop of the ASRock board compared to the other boards when moving to 1600x1200 was even greater than at 1280x1024 indicating that X4 PCIe operation is certainly hampering its performance.