Standard Gaming Performance
We tested with a small group of games due to time constraints, but we picked games based on a variety of game engines to give a quick indication of the boards' performance. Additional testing will be done in our full board reviews but for this roundup we are using Serious Sam 2, Half Life 2: Lost Coast, F.E.A.R, Quake 4, and Battlefield 2. All boards were tested with the EVGA 7900GTX using NVIDIA 91.31 WHQL drivers. The Intel 975X boards were also tested with a single ATI X1900XTX card with the Catalyst 6.6 driver.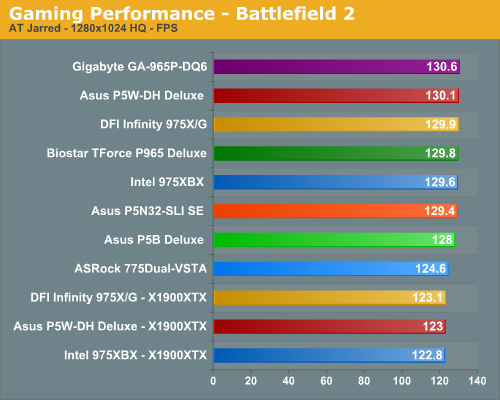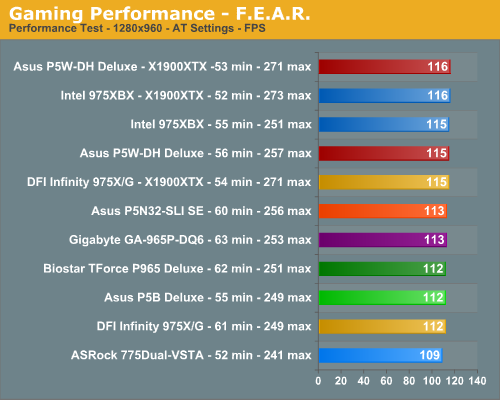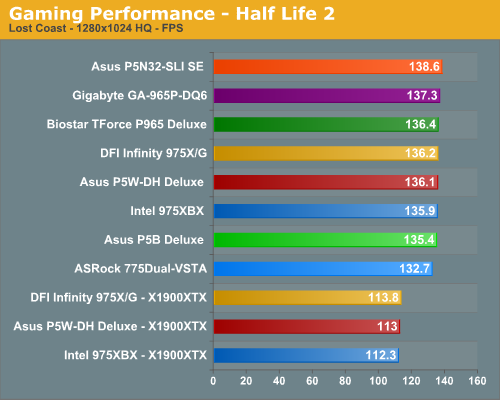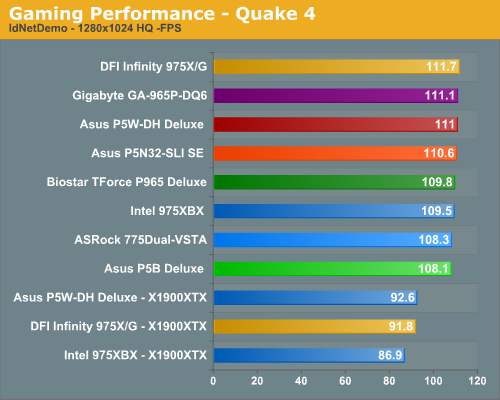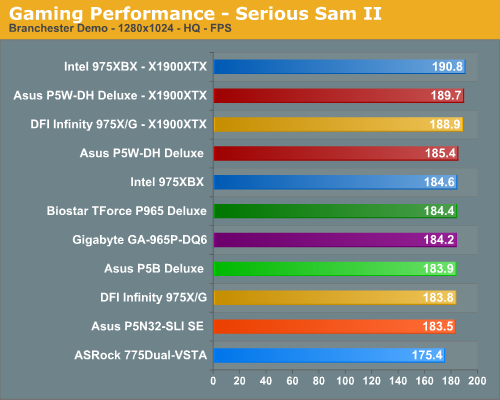 The two most performance oriented boards in our roundup are the ASUS P5W-DH and Gigabyte GA-965P-DQ6 boards, and they complete our gaming benchmarks with scores at or near the top of each game category. The most consistent board in the roundup is the Biostar TForce P965 Deluxe that stayed the course throughout testing by remaining in the middle sector of the group. Although the Biostar board did not finish first, it also did not have swings where it was at the top of one benchmark and near the bottom on another one. The ASRock board finished last among the 7900GTX boards four times and second to last on the Quake 4 test where it had its best showing. Overall, the scores generated by this group of boards are so close that you would be hard pressed to actually see or feel the difference in real game play.
The ATI X1900XTX cards finished significantly behind the NVIDIA cards in Half Life 2: Lost Coast where they generally score even or ahead of NVIDIA depending upon game settings. While their performance in the DOOM 3 engine games are normally several percentage points behind the NVIDIA based cards until recently, the difference in our Quake 4 test is also perplexing with the current 6.6 driver release. We ran our ATI X1900XTX in the ASUS P5N32-SLI board and the percentage differences between the GPUs were the same that we see on the AMD S939 or AM2 platforms. It appears to us at this time there is an ATI driver bug with the current Intel chipsets and Core 2 Duo, or perhaps a lack of optimization.