ASRock 775Dual-VSTA
Basic Features
ASRock 775Dual-VSTA
Market Segment:
Budget/Entry Level
CPU Interface:
Socket T (Socket 775)
CPU Support:
LGA775-based Pentium 4, Pentium D, Core 2 Duo, Celeron D, Pentium XE
Chipset:
VIA PT880 Pro + VT8237A
Thermal Design:
4-phase power
Passive Northbridge Cooling
Bus Speed Support:
1066/800/533MHz
Bus Speeds:
90 to 340 in 1MHz Increments
Memory Ratios:
DDR2 - Auto, 533, 667
DDR- Auto, 266,333,400
PCIe Speeds:
Auto, 90MHz~170MHz
PCI:
Auto, 33.33MHz to 37.50MHz
CPU Voltage:
Default
CPU Clock Multiplier:
Auto, Fixed to Stock Multiplier
DRAM Voltage:
Auto, High, Normal, Low
DRAM Timing Control:
Auto, 12 Options
V-Link:
Fast, Normal
Memory Slots:
Two 240-pin DDR2 DIMM Slots
Regular Unbuffered Memory to 2GB Total
Two 184-pin DDR DIMM Slots
Regular Unbuffered Memory to 2GB Total
Expansion Slots:
1 - PCIe X16 (X4 GPU)
1 - AGP 3.0 (4x or 8x)
4 - PCI Slots 2.3
Onboard SATA/RAID:
2 SATA 1.5Gbps Ports - VIA 8237A
(RAID 0,1,JBOD)
Onboard IDE:
2 Standard ATA133/100/66/33 Port (4 drives)
VIA 8237A
Onboard USB 2.0/IEEE-1394:
8 USB 2.0 Ports - 4 I/O Panel 4 Headers
No Firewire Support
Onboard LAN:
10/100 FAST Ethernet Controller
VIA VT6103
Onboard Audio:
Realtek ALC888 HD-Audio 8-channel CODEC
Power Connectors:
ATX 20-pin, 4-Pin 12V Molex
I/O Panel:
1 x Serial
1 x LPT
1 x PS/2 Keyboard
1 x PS/2 Mouse
1 x RJ45
4 x USB 2.0/1.1
8-Channel Audio I/O
BIOS Revision:
AMI 1.3
The ASRock 775Dual-VSTA is a very unusual board at a low entry price of $55. It is true that ASRock sometimes marches to the beat of different drummer, and the 775Dual-VSTA is certainly evidence of that. If nothing else, you can say they offer some very uniquely configured boards that offer very good quality for the money. This board features the VIA PT880 Pro Northbridge and VT8237A Southbridge with VRM and BIOS updates that now fully support Core 2 Duo. This is a board that you really want to dislike from a performance viewpoint, but you have to like it from an upgradeability perspective. Well, at least for those users who want to bring along their DDR and AGP cards while buying an E6300 CPU as an example.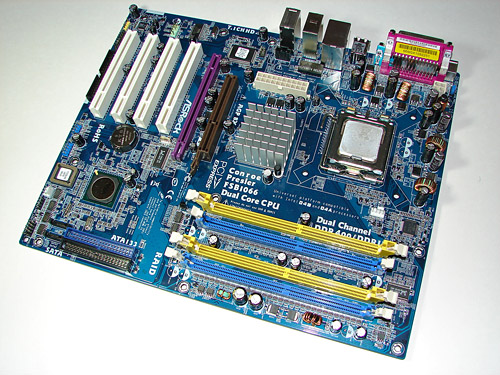 Click to enlarge
The board is laid out nicely and certainly caters to those who value IDE and PCI devices. The VT8237A only supports two SATA 1.5Gbps drives but the board does support four IDE devices. The overall feature set of the VIA chipset is the same as the Biostar PT880 Pro board we
reviewed
a few months back.
Basic Performance
The performance was not as bad with a Core 2 Duo as we had expected. In fact, in almost all of our benchmarks the board was at least in shouting distance of the other contestants. We actually found the DDR2 memory performance to be very competitive with the other boards, although support is limited to DDR2-533 and DDR2-667. We just received an updated BIOS that allows greater DDR support and improved timings. We will provide these performance results when we compare the board to an Intel 865 based board that supports Core 2 Duo in the near future.
The other potential issue is a PCIe graphics slot that only supports X4 operation. This proved to be an issue in benchmarks that tend to stress the GPU interface. Although ASRock only lists official PCIe support for video cards such as the NVIDIA 6600/6800GT or ATI X700 range, we had no difficulties running our ATI X1900XTX or EVGA 7900GTX in the board - though we never quite trusted it due to power delivery concerns. The board on a couple of occasions while overclocking completed a brown out while either GPU was being stressed in 3DMark06. In the end, you are paying around $55 for a board that can handle your older or newest peripherals and still provide a decent level of performance. We have to hand it to ASRock on fulfilling these requirements with a stable board, but we look forward to their Intel based value boards which should be arriving shortly.
Overclocking
ASRock 775Dual-VSTA
Overclocking Testbed
Processor:
Intel Core 2 Duo E6700
Dual Core, 2.67GHz, 4MB Unified Cache
1066FSB, 10x Multiplier
CPU Voltage:
1.300V
Cooling:
Tuniq Tower 120 Air Cooling
Power Supply:
OCZ GameXStream 700W
Memory:
Corsair Twin2X2048-PC2-8500C5 (2x1GB)
(Micron Memory Chips)
Hard Drive
Hitachi 250GB 7200RPM SATA2 16MB Cache
Maximum OC:
(Standard Ratio)
297x10 (3-3-3-9)
2970MHz (+11%)
We did not expect much in the way of overclocking with this board and this is about what we got. However, the board did overclock further than we expected - a pleasant surprise - and we almost reached the 300FSB level with our test components. The board actually reached a 303FSB setting with an NVIDIA 6800 Ultra AGP card and some inexpensive DDR 333 memory. However, anything higher resulted in a no boot condition and clearing of the CMOS. In the end, you get what you pay for, although sometimes there is a surprise in the box of chocolates. We were surprised by this board, first for its ability to operate fine with a Core 2 Duo, and secondly that the general performance of the board was actually very good overall considering its heritage. It was kind of slow at times, but it still managed to consistently finish the race.