Encoding Performance using DivX 6.1, WME9, Quicktime (H.264) & iTunes
Multimedia encoding is typically a very good CPU benchmark, with performance that scales very nearly linearly with faster CPU clock speeds. Video testing was conducted using three popular codecs and applications: Xmpeg 5.03 with DivX 6.1, Windows Media Encoder with WMV9, and QuickTime 7.1 with H.264. The complexity of the encoding process increases as we move from DivX to WMV9, and H.264 encoding is in a league of its own in terms of the amount of CPU time required.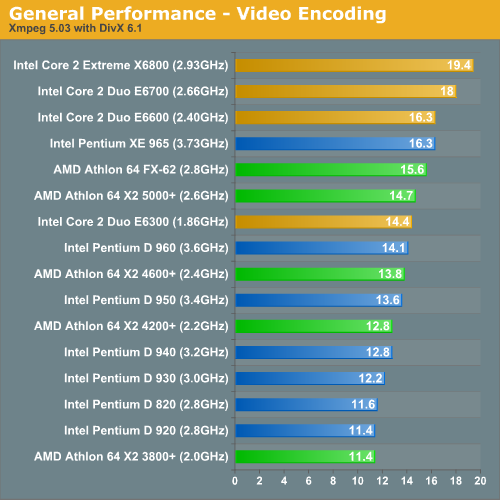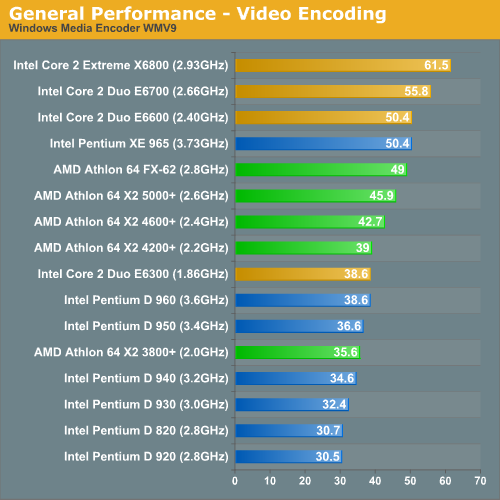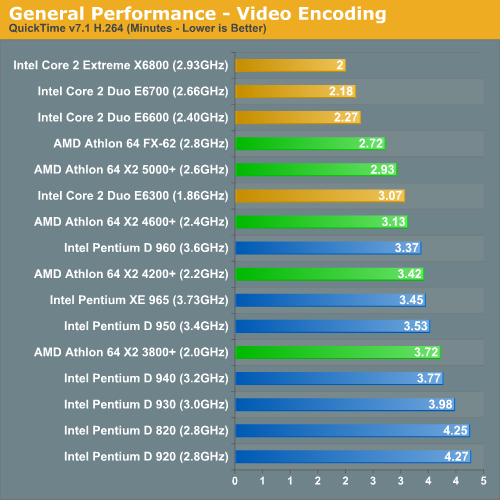 In something of a change, both the Core 2 Extreme and that E6300 manage roughly a 25% margin of victory over their AMD counterparts in the DivX test. The E6300 very nearly matches the X2 5000+ here. The X6800 maintains the 25% lead in WMV9, while the E6300 lead over the X2 3800+ drops to 8.5%, roughly equaling the 4200+. Finally, in H.264 encoding, the Core 2 Extreme claims one of its largest victories coming in 36% faster than the Athlon FX-62; the E6300 also manages a large 21% performance lead over the X2 3800+ and falls between the 4600+ and 5000+ in performance.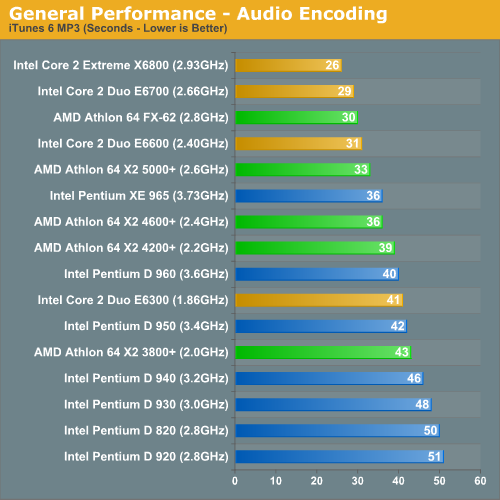 Moving over to audio encoding performance, we used Apple's iTunes 6 application to encode a single 307 MB Wav file into a 192kbps MP3. Audio encoding is still very CPU intensive, but of course the faster encoding times make the differences less noticeable in practical use. At the top and bottom price points, Intel leads again: 5% at the low-end, and 15% at the extreme performance segment. Unless you frequently encode really large amounts of audio files, however, it's unlikely you're going to notice Intel's 2-4 second lead.