3D Rendering Performance using 3dsmax 7 & CineBench 9.5
We're looking at 3D rendering performance using two different applications: 3D Studio Max and Cinebench 9.5. Cinebench is a free performance testing utility based off of the CINEMA 4D R8 rendering package. Our scores from 3D Studio Max are a composite score from four rendering tests: CBalls2, SinglePipe2, UnderWater, and 3dsmax5 Rays.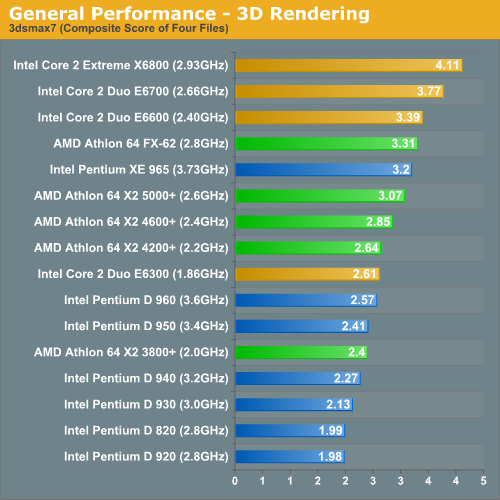 The Core 2 Extreme leads by 24% in the 3D Studio Max composite score, with performance leads in the individual tests ranging from 20% to 31%. At the lower end of the performance spectrum, the E6300 averages a 9% lead over the X2 3800+ and performs about equal to the 4200+. The margin of victory over the 3800+ ranges from 7% to 12% in the individual results.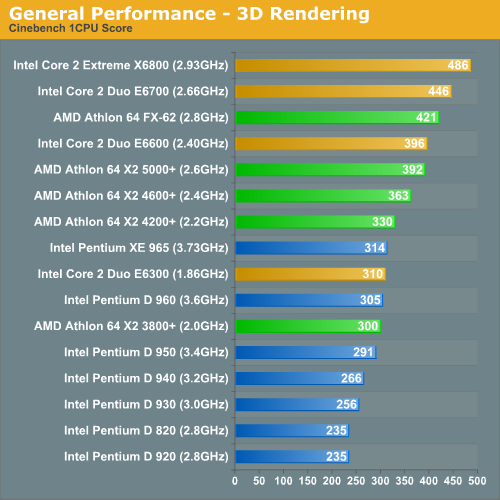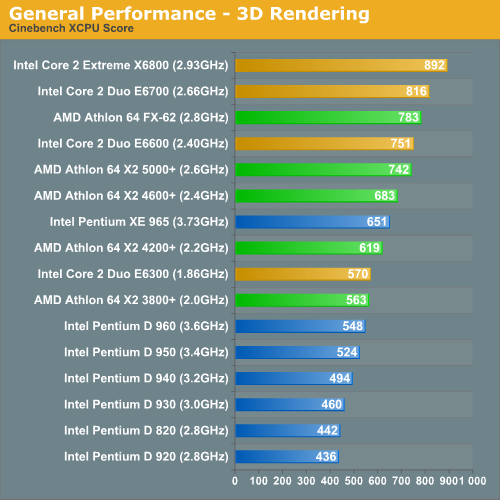 Moving on to Cinebench, Core 2 Extreme takes the performance crown again, but with a closer margin of victory than in 3dsmax: 14%-15% in SMP and single CPU modes. The Core 2 Duo E6300 barely comes out ahead of the X2 3800+, but the 1%-3% lead is basically a tie.