FSB Overclocking Results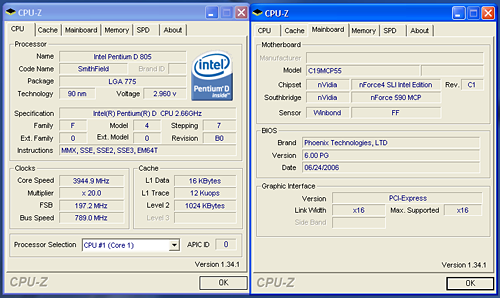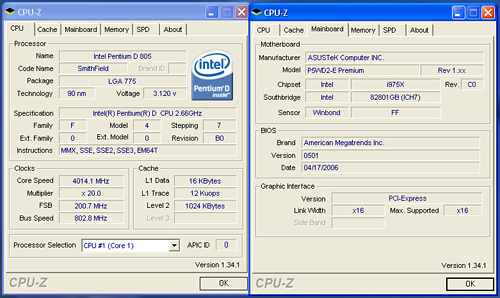 Even though the board and the BIOS have not been optimized for overclocking yet, the results with our Pentium D 805 were impressive. The BIOS was hard locked at a 200FSB and we actually noticed this issue starting at the 197FSB setting. We have no doubt the board would have equaled the ASUS's 200FSB result with our retail chip had the BIOS been tuned for overclocking. The results on the Asus board were superb and with additional cooling and voltage settings we have booted this combination at 4.6GHz. Our retail chip was manufactured in February so it would not be too hard to imagine the current yields equaling or better this performance. At a soon to be $93 or lower retail cost, this has to be the bargain performance CPU of the year. If paired with the right video card, you can have a very enjoyable gaming experience for a small cash outlay.
Test Systems: Benchmark Setup
Both boards fully support all current socket 775 Intel processors. We are benchmarking with the Pentium D 805 processor but will follow up shortly with the Pentium 950D and 955XE once we receive our revised reference board and BIOS. The board fully supports Core 2 Duo processors although we cannot provide results at this time due to NDA restrictions.
Test Systems
Processor:
Intel Pentium D - 805
RAM:
2 x 1GB Corsair TWIN2X2048-6400C3
RAM Settings:
3-2-2-8 533MHZ (1:1 Ratio) , 2.250V
OS Hard Drive:
1 x WD Raptor 74GB 7200 RPM SATA (8MB Buffer)
System Platform Drivers:
NVIDIA Platform Driver - 9.35
Intel Platform Driver - 8.0.1.1002
Video Card:
1 x EVGA 7900GTX (PCI Express) for all tests.
Video Drivers:
NVIDIA nForce 91.31 WHQL
Optical Drive:
BenQ DW1640
Cooling:
Zalman CNPS9500
Power Supply:
OCZ GamexStream 700W
Case:
Gigabyte 3D Aurora
Operating System:
Windows XP Professional SP2
Motherboards:
NVIDIA nForce 590 SLI Intel Edition
Asus P5WD2-E Premium
A 2GB memory configuration is now standard in the AT test bed as most enthusiasts are currently purchasing this amount of memory. We chose memory from Corsair that would offer a wide range of memory settings during our stock and overclocked test runs. Our memory timings are set based upon determining the best memory bandwidth via MemTest86 and our test application results. All other components in our two test configurations are exactly the same with the boards being set up in their default configurations. Our video tests are run at 1280x1024 resolution at standard settings. We will not report on 1600x1200 4xAA/8xAF single and SLI results until we have a production ready board to review. This holds true for the balance of our Networking, Storage System, and Audio benchmarks.