NVIDIA
has certainly had its share of success in the AMD world and started making inroads in the Intel market space late last year with their first nForce4 for Intel chipsets. A few months ago NVIDIA updated their Intel platform with a revised stepping of their
nForce4 Intel chipset
along with a slightly different marketing strategy by going after the hearts and wallets of potential Intel customers with mainstream products. The nForce4 Intel SLI XE and Ultra chipsets were very good performers at excellent prices and found their way into several manufacturers' boards this last quarter. However, the continued reliance upon the NetBurst architecture and Intel's entrenchment in the corporate market has resulted in a situation where the nForce4 Intel product is constantly on the outside looking in for market acceptance in both the performance and business sectors.
We believe this situation will change shortly as NVIDIA and its partners are in the process of readying nForce 590 SLI and nForce 570 SLI Intel based motherboards for the upcoming Core 2 Duo product launch. Several of the existing nForce4 Intel SLI XE and Ultra motherboards will also be upgraded for Core 2 Duo compatibility resulting in a product lineup that will stretch from the mainstream market where the Intel 945/965 chipsets compete to the very upper end market where Intel positions the 975X product. Based upon our very preliminary testing, it appears that NVIDIA is positioning itself well for both the enthusiast and general user markets once Intel releases the Core 2 Duo CPUs along with substantial price reductions on the current NetBurst processors.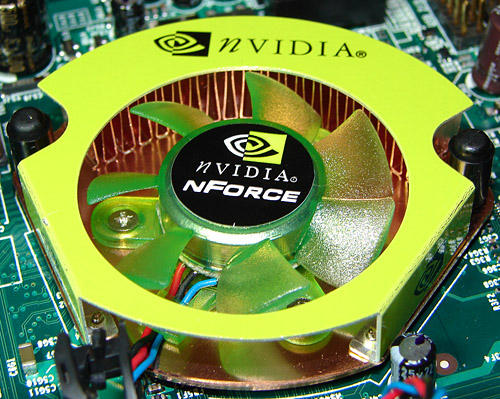 We spent an enormous amount of time at Computex looking for NVIDIA based motherboards that fully supported the Intel Core 2 Duo products. While the manufacturers discussed their plans openly about NVIDIA based products in their Intel lineups, we did not see any nForce 500 based products other than reference boards supplied by NVIDIA. This was in stark contrast to the multitude of Intel/VIA/SIS production ready boards with full Core 2 Duo compatibility that every manufacturer was showing. This situation intrigued us and upon contacting NVIDIA we discovered they were getting ready to ship out nForce 590 SLI reference boards for preliminary testing. Obviously we jumped at the chance to have a board delivered to us as the thought of running SLI with our Core 2 Duo processors was too good to pass up, not too mention we wanted to see how well a non-Intel chipset could perform with these CPUs.
In a matter of hours after our return from Computex we received our reference NVIDIA nForce 590 SLI Intel Edition board. We quickly started our benchmark test routine with our Smithfield and Pressler CPUs. We were excited to find that the performance of the board was already up to par with several of the mature Intel chipset boards. While our board is a very early sample and we have already received three different BIOS releases in the last ten days, we can honestly say that so far we are impressed with this chipset and its performance at such an early stage in development. In fact, we will be receiving a revised board shortly that fully supports all current socket 775 processors along with being overclocking friendly. Not that this board did not overclock well; it is just that NVIDIA is still performance fine tuning the BIOS for overclocking along with creating a suggested hardware component list for the board manufacturers. As with the nForce 500 AM2 rollout, we are sure to see a vast majority of motherboard suppliers following the reference board and BIOS design.
After our Core 2 Duo processors arrived we immediately stopped all activities in the lab, grabbed a night's worth of food, locked the doors, fired up the system, and were treated to some truly excellent results. However, we are under NDA restrictions until the official Intel launch so our only comments will be that the nForce 590 SLI Intel Edition chipset fully supports the entire Core 2 Duo processor lineup at this time. Our testing today begins with our little retail chip that could, the Pentium D 805. This will soon become a $93 or less wonder CPU in July. We will follow up today's test results by providing additional benchmark scores with the Pentium D 950 and 955XE processors in the very near future. This leads us to the focal point of today's discussion, the NVIDIA nForce 590 SLI for Intel chipset, so let's take a closer look at its features and a brief performance overview.