Foxconn: Board Layout
Foxconn has been around for several decades and is one of the largest manufacturers of electronics components in the world. They have provided motherboards for many OEMs in the past, but have only recently started to offer their boards on the retail market. Given their OEM provider roots, it's not too surprising that the initial Foxconn motherboards failed to cater to the enthusiast community. Over time, Foxconn has worked to correct this perception, and they have released several motherboards using their "Extreme" branding in an attempt to cater to this market. Unfortunately, as we stated in a previous review, merely calling a product "extreme" does not make it so. If you came into this article with preconceived notions about what sort of motherboards Foxconn provides, however, prepare for a surprise.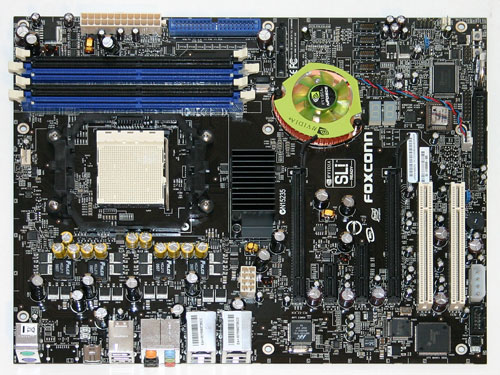 Click to enlarge
The overall appearance and design of Foxconn's latest AM2 offering goes a long way towards rectifying past mistakes. The sleek black appearance and layout could easily be mistaken for a DFI, ASUS, or other enthusiast brand motherboard. You get plenty of space around the CPU socket for larger cooling solutions, and the garish color schemes of previous offerings have been abandoned in favor of muted elegance. Looks aren't everything when it comes to motherboards -- especially if you don't have a case window -- but the initial impression is certainly encouraging. However, the fact that NVIDIA chose Foxconn's motherboard for their AM2 launch review kits hints that the beauty of this board may be more than skin deep.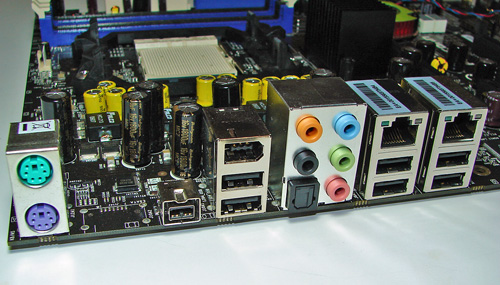 The rear panel provides nearly all of the connections you would expect from a top-quality motherboard: two Gigabit Ethernet ports, six USB ports, five audio jacks supporting up to 7.1 speaker configurations (with HD support, naturally), one S/PDIF out port, two FireWire ports (one 1394a and one 1394b), and PS/2 keyboard and mouse connectors. Notably absent are any serial or parallel ports, but an expansion bracket with a single serial port is included for those that need it. Expansion brackets are also included for four additional USB ports and a third FireWire 1394a -- the expansion bracket includes both a mini port and a 6-pin port, but the motherboard only has a single FireWire header available so you will have to decide which one you want to activate. In between the 1394b port and the PS/2 ports, there's a small gap that can hold an optional e-SATA port, though our sample motherboard did not include this.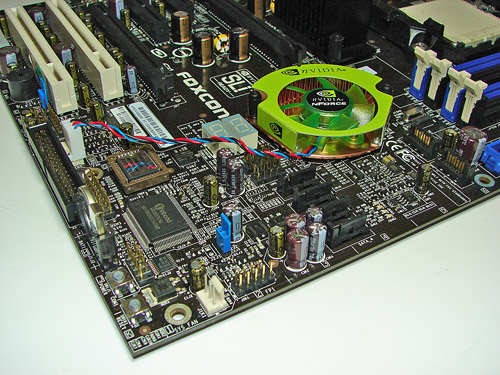 We mentioned earlier that the Foxconn board has onboard reset and power buttons as well as a debug/POST code LED output, and you can see those here. The reset and power buttons are certainly not required for all users, but if you ever want to test the motherboard without installing it into a case they're very convenient. The POST code LED output is also more for convenience, but if you've ever built a new system only to have it fail to power up initially, these debug displays can definitely help out with troubleshooting.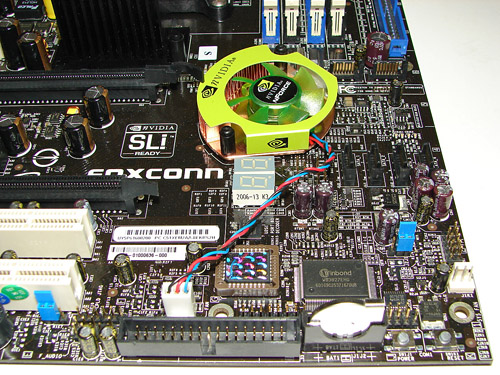 Also visible are the six SATA 3.0Gbps ports; these are all black so there is no clear indication whether you're using SATA port 1 or port 6, but in practice this doesn't present a problem. The BIOS allows you to select which port has first boot priority, and ports 1 through 4 are grouped together with port 1 being closest to the south bridge. Ports 5 and 6 are above the Southbridge, with 6 being closer to the chipset. The black floppy drive connector can also be seen in this image, located at the bottom board edge.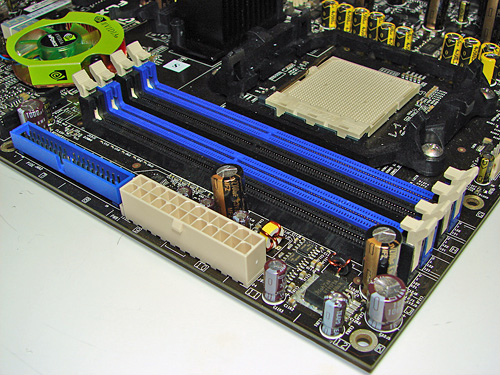 In the top right of the board are the DIMM slots, which are properly color-coded for dual channel operation, going with the philosophy that you should install DIMMs into same colored slots. There is plenty of clearance between the DIMM slots and the top graphics card, but you might run into issues installing taller DIMM modules in the slot(s) closest to the CPU socket. We didn't have any difficulties with our test configuration, but it's an area you'll need to pay attention to with some of the largest aftermarket coolers. Located on the board edge are the single IDE connector and the 24-pin ATX power connector.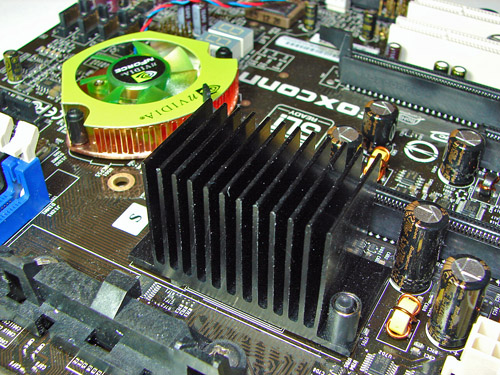 Here you can see the Southbridge with its low-profile heatsink/fan and the larger passively cooled Northbridge heatsink. To the right of the Northbridge heatsink, you can also see part of the 8-pin ATX12V connector.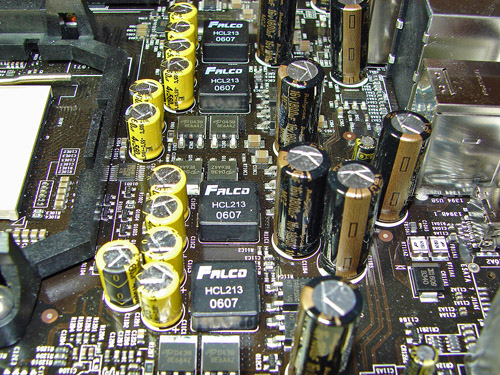 Click to enlarge
This is a shot of some of the capacitors as well the 4-phase power design. Some motherboards use heatsinks in this area, but Foxconn has chosen to forego that expenditure. The Gigabyte board we'll look at in a moment takes the other route, and while we certainly don't think heatsinks are required here they can help with cooling and may be the better way to go long-term.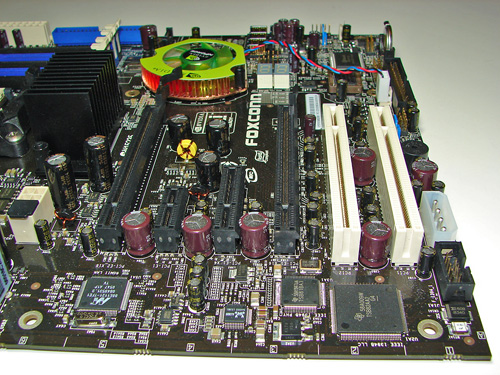 Overall, the layout is very clean, with nearly all of the ports/connections easily accessible and conveniently located. There are two minor exceptions. First is the floppy disk connector, which is located at the bottom of the board. This can be inconvenient if you plan on using the board in a tower case, but given that most people are no longer using floppy drives this isn't a major cause for concern. The only other potential issue is the location of a couple power connections. The 8-pin ATX 12V power connection is located just above the top PEG port to the left of the Northbridge heatsink, and routing a power cable to this area can interfere with airflow to the CPU fan. A second 4-pin Molex auxiliary power connector can be found at the very bottom of the board and should be used when running SLI/multi-GPU configurations, and for typical cases where the power supply is located at the top, it may be a bit difficult getting power down to this location. These are minor complaints, however, and we had no difficulty installing the motherboard in a mid-tower ATX case with our OCZ GameXStream power supply.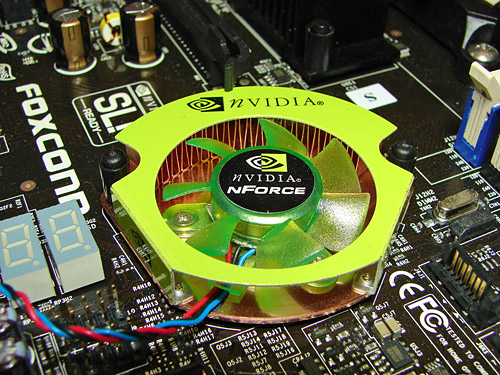 You can see that the Northbridge is passively cooled by a larger heatsink, where the Southbridge has a low profile heatsink/fan. This does make sense in some ways, as clearly you can't have a tall heatsink blocking the PCI-E X16 slots. Other manufacturers have resorted to heatpipes to help keep the Southbridge cool, but there are additional costs associated with such a design. In testing, the Southbridge fan was not audible above the rest of the system noise -- the CPU fan and 7900 GTX fan(s) easily drown out any noise from the chipset, though we should also note that longevity can be something of a problem with smaller chipset fans. However, the Southbridge cooling did not present any cause for concern during testing; rather, it is the cooling on the Northbridge that gave us some difficulties.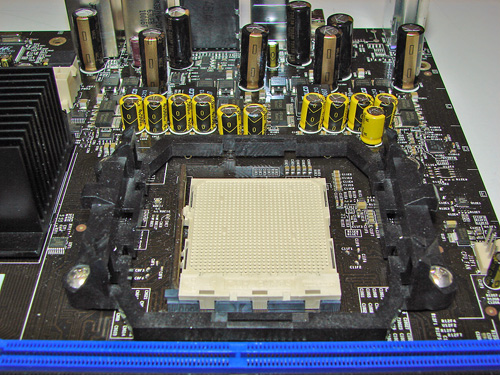 The first problem is the mounting: the heatsink is held in place by two spring-loaded pins at opposite corners, but the small size of the chipset die underneath the heatsink allows it to tilt and lose contact if bumped. The thermal pad used by Foxconn doesn't really help to secure the heatsink, and it may have been better to use strong thermal glue instead. Considering how much hotter the NVIDIA chipsets run compared to ATI's latest offerings, better cooling would definitely be helpful. We measured temperatures as high as 65°C during regular testing, and overclocking pushed temperatures even higher to the point where system stability was compromised. We added a fan above the heatsink, and that quickly solved the problem. Given the orientation of the fan on the Zalman CPU cooler, it could very well be that a more traditional HSF with a downward blowing fan would cool the Northbridge heatsink enough to make the extra fan unnecessary, but it's still something to keep in mind.