Display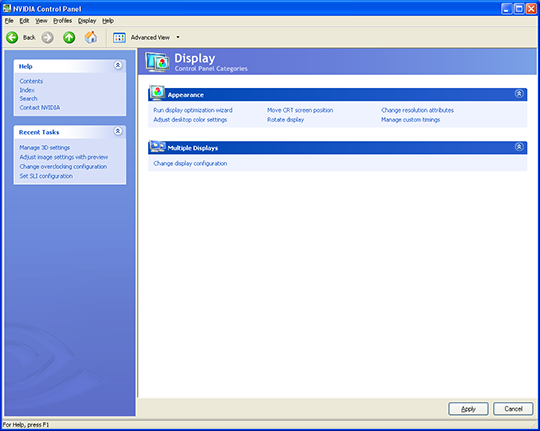 Click to enlarge
Under the display menu, we see a section for appearance, and multiple displays.
Display Optimization Wizard
This item offers a wizard to help you optimize your display. The following nine screenshots show the steps of the wizard, though the flat panel display calibration step is skipped for non-flat panel displays. (We would recommend choosing flat panel regardless, if you want to use the test pattern to try and align the image on a CRT display.)
First you get the introduction, followed by your display(s). If you choose one of the displays as being a flat panel, you get an extra two screens for flat panel optimization. Next is a screen for color temperature. We found this screen to be a little confusing, but basically what it's saying is that you should use the controls of your display to set the temperature to what you find appropriate. That's not particularly helpful, and the text could be better at explaining what you're supposed to do. Telling you to "set the color temperature to the value that most accurately represents white" when the majority of the screen is black is also less than useful.
After another helpful preparation screen, you get to optimize the brightness and gamma levels of your display. It should be noted that 100% contrast setting is not always ideal on every display. The gamma correction page is also a bit confusing, as the boxes don't actually slide left/right; instead, you click and drag and the color bars change while your mouse cursor moves and the white box remains in the center of the display. The end result of the display optimization wizard is that some people will get slightly better colors for their display, but it's not the same as professional color calibration tools. Still, it's better than nothing.
Move CRT Screen Position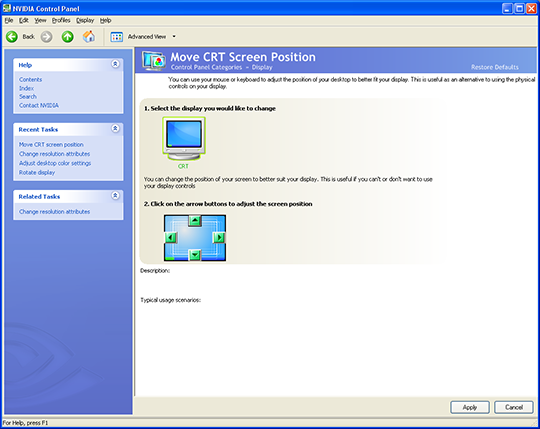 Click to enlarge
Change Resolution Attributes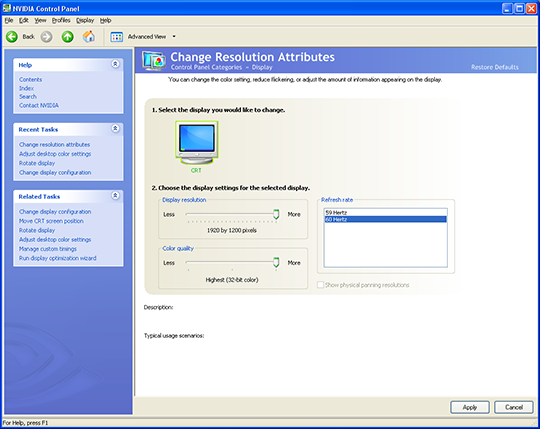 Click to enlarge
Here we see a simple menu to change screen resolution and color quality, as well as the refresh rate.
Adjust Desktop Color Settings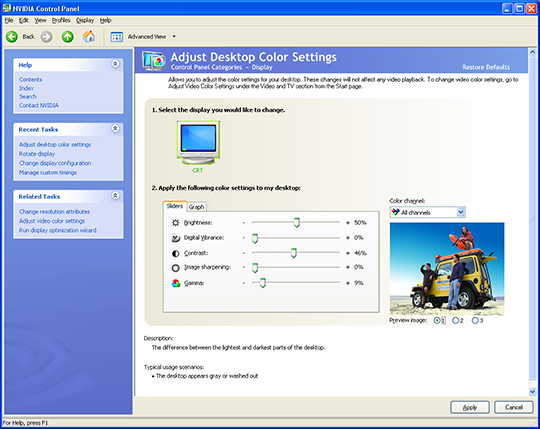 Click to enlarge
This section gives you control over several color settings to fine tune your display image.
Rotate Display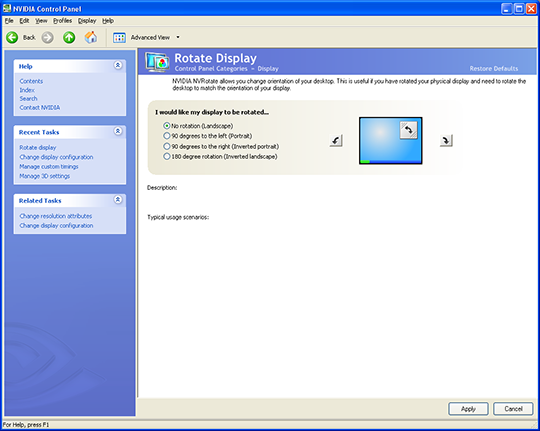 Click to enlarge
Change Display Configuration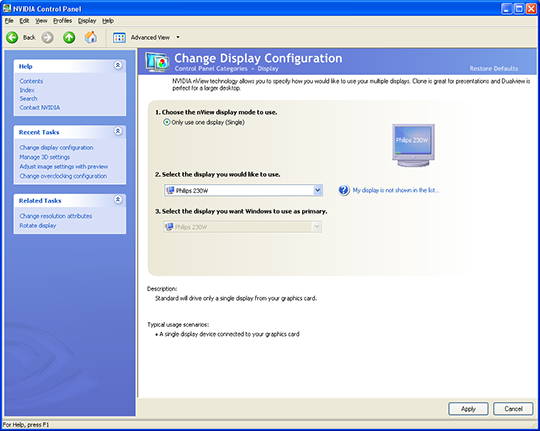 Click to enlarge
This section is a straightforward menu that allows you to configure your display configuration if you use multiple displays. Similar functionality is present in the standard Windows Display dialog, so this is basically redundant.
Manage Custom Timings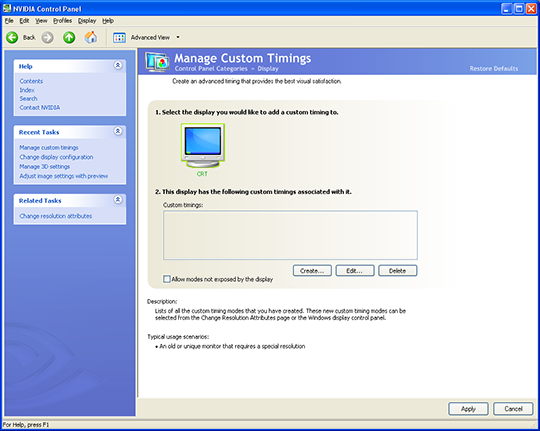 Click to enlarge
Having become accustomed to the custom resolution options with the previous control panel, the new version doesn't seem to have all of the same features. For example, in the old NVIDIA interface, there was an easy-to-use dialog that allowed customization of HDTV output signals, including a section for overscan correction, a.k.a. underscan. That appears to be completely missing from the new control panel, though this may be more a case of their Beta nature than a conscious decision on NVIDIA's part. Here are some images showing the new interface as well as the missing overscan correction UI.
What's worse is that the custom resolutions simply don't seem to work properly with the new UI. You can see the first screen which used the new UI to create a custom resolution of 1176x664. Everything seems to be in order, but then why is the screenshot still 1280x720? Try as we might, we could not get the customized 720p underscan resolution to work with the new UI. Switching back to the old interface remedies the problem in short order. (The black border on the last image represents the area on a Toshiba 46H84 HDTV that isn't visible, in case you were wondering.)
Video and Television Settings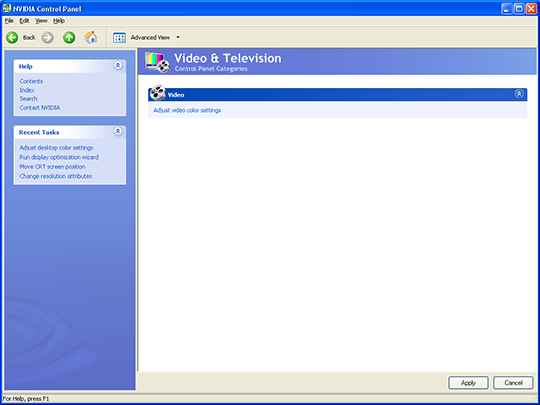 Click to enlarge
The third menu selection only has one option available in it, adjust video color settings. This basically offers the same color settings that we saw for the display color settings, only for video content. Video overlay mode takes a different route through the drivers, and this allows you to tune your color output separately. This functionality has been present in both ATI and NVIDIA drivers for quite some time, of course.