NVIDIA recently introduced their nForce 500 chipsets for the roll out of the AMD AM2 processor. Boards based upon this family of chipsets are now starting to arrive in the marketplace. As a recap, the nForce 500 product family consists of the enthusiast level flagship nForce 590 SLI, gaming orientated nForce 570 SLI, general performance based nForce 570 Ultra, and the entry level nForce 550. Further details about the nForce 500 chipset, features, and capabilities can be found in our
nForce 500 chipset review
.
Today we will be looking at the Biostar TForce 590 SLI Deluxe and MSI K9N SLI Platinum motherboards featuring the nForce 590 SLI and nForce 570 SLI chipsets respectively. Our review of these two boards is part one of a three part roundup of nForce 500 based boards that we will complete next week. Our roundup will focus on each board's individual features, performance, and capabilities before determining what board we feel best blends all of these attributes into a winning combination. The roundup will not be testing the new NVIDIA Enhanced Performance Profile overclocking features or delving deeply into the additional features of the nForce 500 chipset as these will be covered in a separate article in the near future.
Our first board is from Biostar who has been producing boards since 1986. Biostar has a long history of providing generally good products at very competitive price points. They have recently branched into the video card and SFF product markets with success. In fact, the majority of Biostar's market success can be tied to their ability to quickly deliver product based on current chipsets or designs at bargain pricing. Biostar's products historically might not have been as polished or feature-rich as other manufacturers, but they typically offered mid-range performance at entry level pricing. This Biostar board pushes that old formula by providing top-of-the-line features and options aimed at the computer enthusiast.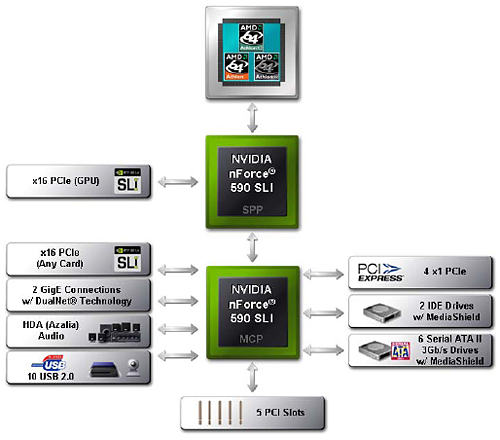 Our Biostar TForce 590 SLI Deluxe is part of the TForce product group and is based upon the nForce 590 SLI chipset. We expect this board to sell for around US $200 with general availability in a couple of weeks. The TForce product series we are reviewing today is a departure for Biostar as they are now catering to the gaming and enthusiast crowd with this product line. The boards in this series feature BIOS enhancements specifically tailored to the overclocker along with upgraded hardware components and Windows based performance utilities. More information about the entire line of T-series products can be found
here
.
Our second board comes from MSI who has also been around since 1986. MSI has a long and successful history in the computer component business. They are a top five motherboard manufacturer and for the last four years they have held the number one manufacturer position in discrete video card sales. MSI is also a rapidly emerging player in the consumer electronics market and provides a broad range of products from optical drives to wireless network components.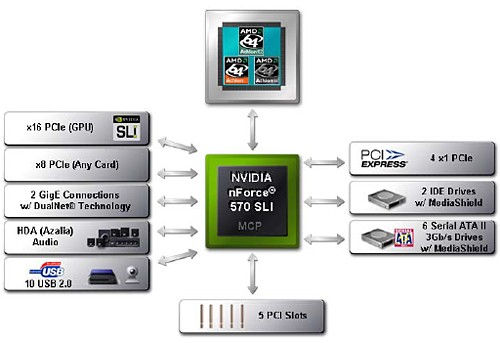 The MSI K9N SLI Platinum is part of a wide array of AM2 based products from MSI and is based upon the nForce 570 SLI chipset. This board is available now and sells for around US $135. While the board is not as feature rich as our other 590 SLI based boards or even MSI's own K9N Diamond, it does offer excellent performance that is very competitive with the 590 SLI boards. The $135 price point clearly lands the MSI in the mainstream pricing arena, which is normally the price point for the highest board sales. Additional information about the MSI AM2 based series of products can be located
here
.
This leads us into today's review of these boards, so let's take a closer look at their features and performance.