MySQL Configuration
We spent weeks on tweaking our MySQL database to the maximum. The results were encouraging: performance was up to 3 times higher on our Opteron machines than out of the box. On the Sun machine, the results were even more impressive, especially when we started using MySQL 5.0. MySQL 5 runs horribly slow on the T1 out of the box, but we got up to 5 times more performance out of our T2000 server after getting some excellent tweaking tips from Peter Zaitsev (MySQL) and Luojia Chen (Sun).
All testing was done with InnoDB as our storage engine in MySQL 5.0.21. We optimized for a server with 4 GB of RAM. Here is our MySQL configuration:
[mysqld]
port3306
socket= /tmp/mysql.sock
skip-locking
key_buffer = 1G
max_allowed_packet = 1M
table_cache = 1024
sort_buffer_size = 2M
read_buffer_size = 2M
read_rnd_buffer_size = 8M
thread_cache = 125
max_user_connections = 450
max_connections = 450
thread_concurrency = 16

The "query cache" was off, as we wanted to test worst case performance. Our test database is still the same as in previous articles, about 1GB in size. The workload consists of more than 90% selects, thus this is mostly a "read intensive" workload.
MySQL Results
All numbers are expressed in queries per second.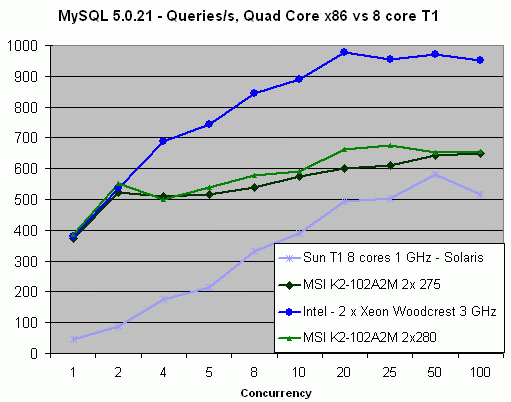 Notice that the T1 needs about 20-30 MySQL threads to run at full speed; this is clearly a result of it's 8 core "4 thread Gatling gun core" architecture. It must also be noted that the out-of-the box MySQL performance is simply horrible, about 4-5 times lower than the well optimized numbers you see above. There is no escaping the face that
you must take the time to read Sun's tunings tips well
.
Once you do, the 1 GHz T1 is capable of performing like an Opteron 2.2 GHz, which is pretty amazing. Kudos to Luojia Chen and Peter Zaitsev for a job well done. While the old Xeon which consumed 4 times more power than the T1 to give the same performance looked pretty silly, the new Xeon 5160 easily outperforms the T1. The performance/Watt title will probably go to the low power Woodcrest versions, which we haven't tested yet.
Let us see what a single dual-core Woodcrest can do versus a dual-core Opteron and quad-core Sun T1.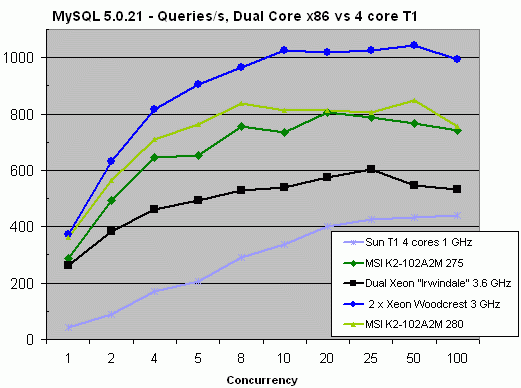 As we were testing with only two cores, we brought back the Dual Xeon Irwindale for the test. We did a few extra tests on this platform as we also had the older Nocona platform in the labs. The additional 1MB cache of Irwindale improved our benchmark numbers by 7-8%, which is quite impressive. Our time investment in tweaking our MySQL database also made the caches and memory system more important. Finally, Hyper-Threading still doesn't pay off in MySQL: we noticed a small slowdown of about 7%.