Memory Latency and Bandwidth
We've never been able to look at some of the low level characteristics of Intel's Core architecture, and although we didn't have enough time to do a thorough run of low level benchmarks we were able to run ScienceMark 2.0 in order to get an idea of how the Core 2 Extreme stacked up against the FX-62 in terms of memory latency and bandwidth.
We had seen Conroe performance results that showed the new architecture being able to offer fairly competitive memory access latencies to AMD's architecture, without the need of an on-die memory controller. Our ScienceMark 2.0 results confirm just that:

While AMD still offers lower memory latency, the Core 2 Extreme X6800 is very close in comparison - especially considering that it has no on-die memory controller. With lower clock speeds than its Pentium D siblings and a faster FSB, memory access latency is reduced tremendously with Conroe. On a larger scale, through a very effective cache subsystem as well as memory disambiguation, Conroe can offer significantly improved memory performance compared to its predecessors, including the Athlon 64 X2/FX.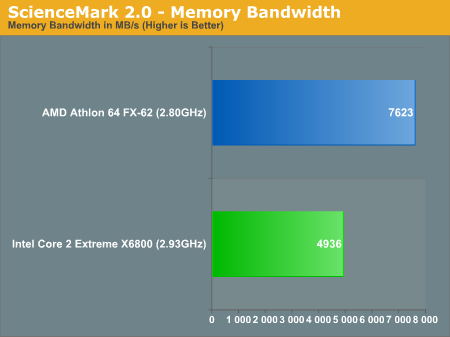 ScienceMark's memory bandwidth results offer a very telling story, showing us the bandwidth limitations of Intel's FSB architecture. While the FX-62's peak theoretical bandwidth is not achieved in real world, you can see how AMD's Direct Connect architecture offers higher limits for chip-to-chip communication.