Improved Feature: MediaShield
While the networking side has undergone an extensive makeover, the storage side of the nForce500 has been fine tuned. The nForce 590/570 series now offers three separate SATA controllers each with integrated dual PHYs that are capable of operating at 1.5Gb/s or 3.0Gb/s speeds. This results in six Serial ATA devices being available for the user instead of four as in the nForce4, Intel ICH7, or ATI SB600. These devices can be configured in RAID 0, 1, 0+1, and 5 arrays. There is no support for RAID 10.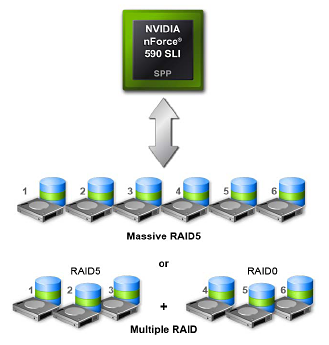 Considering the support for six drives, it is now possible to run a massive RAID 5 drive consisting of a pair of three-drive RAID 5 arrays together, or running multiple combinations of RAID technology together. NVIDIA also supports the shared spare (or dedicated spare) technique in MediaShield. The spare disk feature, available with MediaShield RAID 5, offers protection with a dedicated spare drive that can take over for a failed disk until the repair is completed. However, the performance results during our RAID testing found no measurable differences between the nForce4 and nForce 500 storage systems. In fact, the less than stellar write performance of the nForce4 in RAID 5 continues in the "new" chipset.
NVIDIA will be introducing a new twist to improve their SATA controller performance by offering profiles for specific hard drive models. Since each hard drive has unique performance characteristics, NVIDIA will be matching the capabilities of their controller logic to each drive's particular strengths. So far, Western Digital's 150GB Raptor has the only profile loaded, but there are plans to profile additional performance oriented drives that are popular in the market. The nForce4 family will also benefit from these profiles through driver updates, but users are not able to configure or modify individual drive profiles. In our testing with dual WD1500 Raptors we noticed benchmark results that were on average about 1% to 2% better in our IPEAK tests while the synthetic tests realized a 3% gain in some areas.
While NVIDIA has implemented six native SATA ports, they reduced the available PATA ports to one. This matches the Intel ICH7 and ATI SB600, but the reduced PATA ports will not be seen as an improvement to many users. Considering the Optical drive manufacturers have been very slow to implement SATA in their drives, this decrease in port count could affect those users who have multiple optical drives for audio/video content creation and manipulation. However, with the major core logic suppliers basically on the path of phasing out PATA devices this move by all the chipset manufacturers might spur the optical drive manufacturers to a quicker SATA transition.
Improved Feature: High-Definition Audio
NVIDIA has finally decided that life after SoundStorm no longer means the continual punishment of users by only offering AC'97 based audio support in their chipsets. NVIDIA now joins the rest of the industry as the nForce 500 lineup will offer full support for the various "Azalia" based High Definition Audio codecs. While the choice of which HDA codec along with the associated circuitry can still greatly impact audio quality and performance, any of these options are better than the AC'97 solutions previously offered.