Power Consumption
Given that AMD reduced power consumption a bit alongside the move to Socket-AM2, we wanted to see how the new chips compared to the latest CPUs AMD had sent us prior to the launch. So we pitted our last Socket-939 sample, the Athlon 64 FX-60, against the two new Socket-AM2 samples we just received: the Athlon 64 FX-62 and the X2 5000+. Remember that the FX-62 actually carries a 125W TDP rating, so it shouldn't be any cooler than previous CPUs, but the X2 5000+ is a new 89W part.
There are inevitably going to be power differences between the Socket-AM2 and Socket-939 motherboards we used, but unfortunately there was no way to isolate them from the comparison as we are measuring total system power consumption.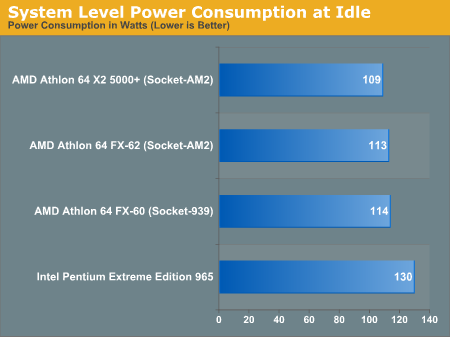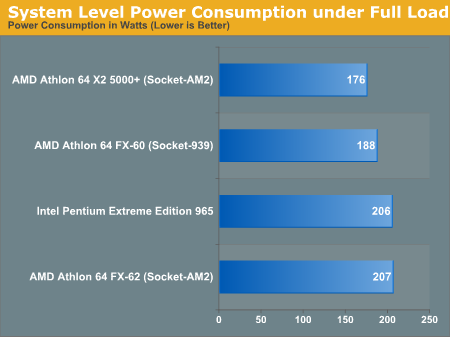 Under full load, the X2 5000+ does appear to be a bit cooler than the Socket-939 FX-60. We've seen in the past that the 1MB vs. 512KB of cache doesn't really result in any significant difference in power consumption, so it looks like the overall decrease in power consumption is because of the improvements in production AMD has implemented at Fab 30. It is worth noting that the Pentium Extreme Edition 965 consumes just as much power as the FX-62, thanks to its 65nm manufacturing process. Even so, we still can't wait for Intel to drive its power consumption levels even lower later this year.