The Card
The DualTV MCE fits into a PCI slot and operates alongside your video card much like ATI's Theater 550 Pro. The card is passively cooled and has no external power connections, making installation very easy. It comes with a CATV/TV antenna input, two S-VIDEO and audio inputs, and an FM antenna.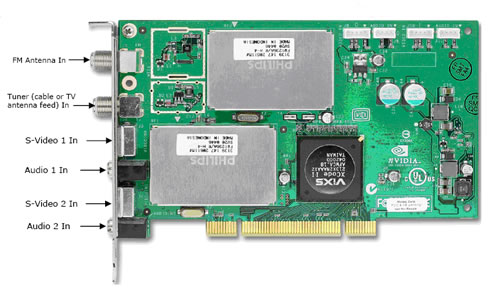 The card comes bundled with all the necessary connectors for a wide variety of home theater and audio setups, as well as a standard remote control for use with Windows Media Center. The card takes a standard single cable input and splits it into two signals internally, and the on board amplifier and splitter ensures better signal quality than having an external splitter do the job. The DualTV MCE's MPEG encoder is made by a company called Vixs, and the two tuners on it are made by Philips. Below is an illustration of the card's basic architecture.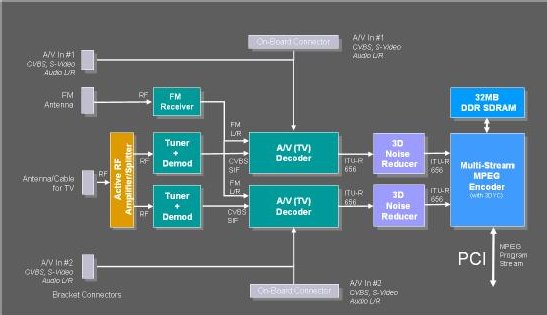 Features
As far as features go, the DualTV MCE is fairly straightforward. It's biggest feature would be the fact that, as its name indicates, it offers dual video in, allowing you to watch and record two programs at the same time. This is essentially what cable services like TiVo and DVR offer, however because it is recording to your computer, the capacity for how much can be recorded and stored is potentially much higher.
There are other smaller features of the DualTV MCE, when used with Windows Media Center Edition, that add to the overall package, such as something called MediaSqueeze. MediaSqueeze basically lets you record live TV at a lower bit rate without a major loss in quality. It also lets you translate video that's already been recorded to a lower bit rate, with 4 different quality settings: fair, good, better, and best mode. This allows you to make better use of your disk space for video archiving. NVIDIA's PureVideo is incorporated into the package, which ensures good quality digital video decoding. PureVideo can be purchased for use with any NVIDIA GPU, but the fact that it is bundled with the DualTV is a good thing. We would like to see PureVideo come bundled with graphics cards in the future as well.
Windows XP MCE
Windows XP Media Center Edition is a version of Windows that offers a variety of audio and video applications beyond what you get with the standard Windows XP OS. An interesting side note is that MCE 2005 includes many of the performance enhancements of Windows Server 2003, so it can actually outperform XP Pro systems by a small margin. The main interface for multimedia applications is easy to navigate and full of options.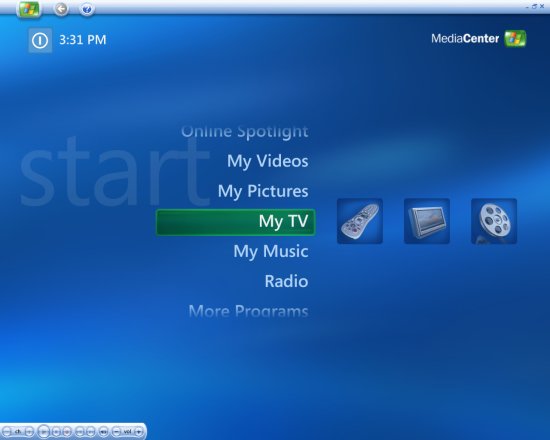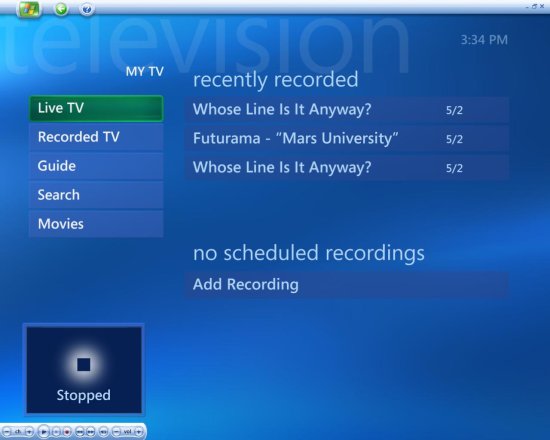 Windows MCE is listed as a minimum requirement for the DualTV MCE, and is not included with the card package. Unfortunately, there is no software provided for non-MCE Windows installations. This seems a little strange to us, but our focus for this review is on the card itself, and we will be looking more in depth at Windows MCE in a future article.