File Compression Performance
In order to save space on our hard drives and ensure we had another CPU crunching utility, we will be reporting our file compression results with two different versions of WinRAR. Our first file compression test utilizes WinRAR 3.51 to compress our Sum of All Fears Chapter 9 test file and our INXS Greatest Hits wma extraction tracks. All default settings in WinRAR are utilized along with our hard drive being defragmented before each test.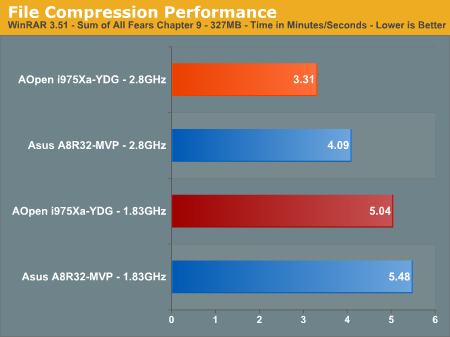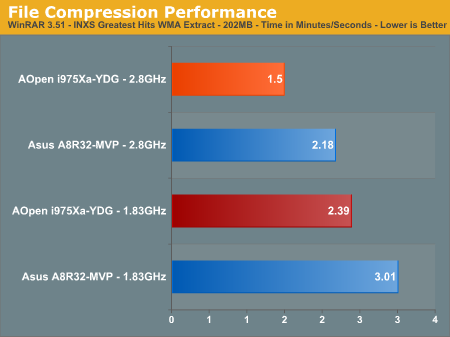 The Intel platform basically zips away from the AMD platform in our tests. File compression is a very CPU intensive application and also stresses the memory subsystem heavily. The added cache of Core Duo certainly helps in this particular test. The other interesting result is that our performance results scaled almost 1:1 with the increase in CPU speed, again indicative of a benchmark that makes good use of CPU cache. As an example, our Intel system has a 53% increase in CPU speed while the file compression numbers improved 52% in the Sum of All Fears benchmark and 59% in our INXS Greatest Hits compression test.
Our second series of file compression tests utilizes WinRAR 3.60b2 to compress the same files as before. All default settings are once again utilized in WinRAR along with our hard drive being defragmented before each test. This particular version of WinRAR fully supports multi-threading operations and should be of particular interest for those users with dual core or multi-processor systems.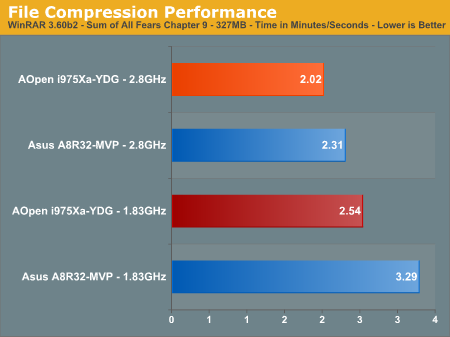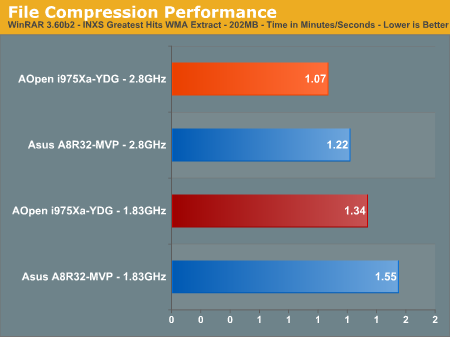 The program update to WinRAR produces stunning results as we see drops of up to 66% in our Sum of All Fears results and 48% in the INXS Greatest Hits benchmark due to the multi-threading support. We also see the gap close up to 11% between the two platforms indicating our AMD Opteron has improved performance under this application. Basically, the multi-threading support in this version of WinRAR has negated the need for an additional 1GHz of CPU speed.