Synthetic Graphics Performance
The 3DMark series of benchmarks developed and provided by Futuremark are among the most widely used tools for benchmark reporting and comparisons. Although the benchmarks are very useful for providing apple to apple comparisons across a broad array of GPU and CPU configurations they are not a substitute for actual application and gaming benchmarks. In this sense we consider the 3DMark benchmarks to be purely synthetic in nature but still valuable for providing consistent measurements of performance.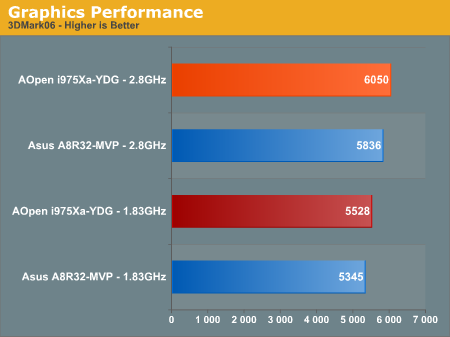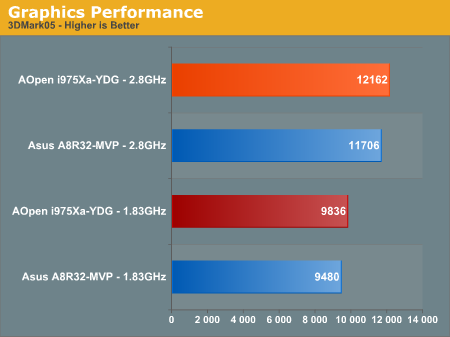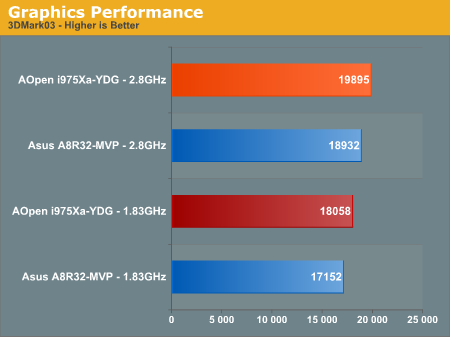 In our first tests, the combination of the Intel Core Duo and AOpen i975Xa-YDG makes for an impressive showing against the AMD Opteron 165/175 and Asus A8R32-MVP setup at both stock and overclocked settings. The Intel platform had no issues running the full 3DMark series when overclocked but our AMD platform struggled at first until we dialed in the right mix of voltages and memory settings.
General System Performance
The PCMark05 benchmark developed and provided by Futuremark was designed for determining overall system performance for the typical home computing user. This tool provides both system and component level benchmarking results utilizing subsets of real world applications or programs. This benchmark is useful for providing comparative results across a broad array of Graphics subsystems, CPU, Hard Disk, and Memory configurations along with multithreading results. In this sense we consider the PCMark benchmark to be both synthetic and real world in nature while providing consistency in our benchmark results.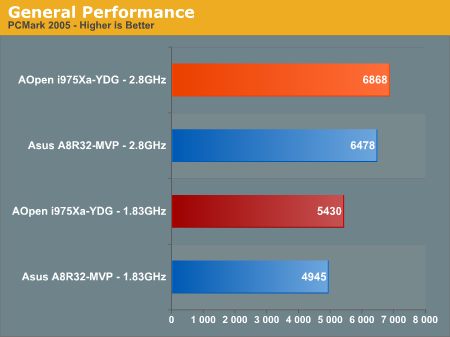 The margins are closer in the PCMark05 results but the Intel platform continues to show an advantage over the AMD platform at stock and overclocked settings. It is obvious from our test results that we can expect even greater results from the Conroe and Merom processor series.
Rendering Performance
We have added the Cinebench 9.5 and POV-RAY 3.6 benchmarks as they heavily stress the CPU subsystem while performing graphics modeling and rendering. We utilize the standard benchmark demos in each program along with the default settings. Cinebench 9.5 features two different benchmarks with one test utilizing a single core and the second test showcasing the power of multiple cores in rendering the benchmark image. We had planned on generating 3dsmax 7 benchmarks but our AMD platform would not complete the underwater benchmark. We are still investigating this issue.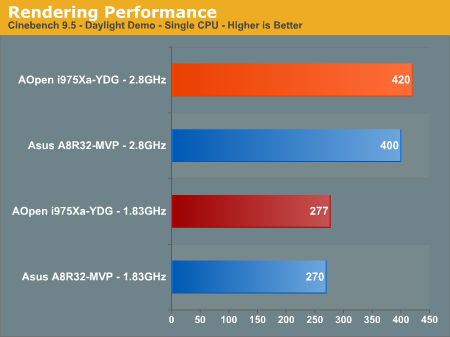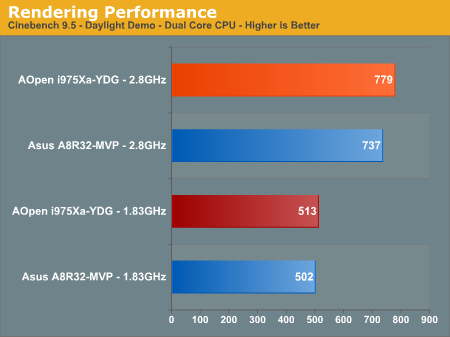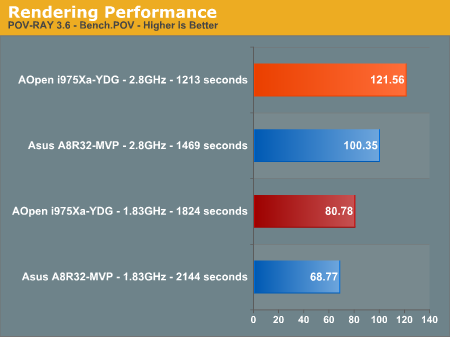 The Intel Core Duo desktop platform showed its strength in the extremely demanding POV-RAY benchmark, bettering the AMD platform by 18%. In our limited testing with the Asus N4L-VM featuring the 945GM mobile chipset our stock Intel Core Duo numbers were slightly better than the AMD platform in the Cinebench 9.5 benchmark and only about 6% greater in the POV-RAY benchmark indicating AOpen's choice of the i975x chipset certainly makes a difference in the performance ability of the Core Duo.