Appearance
Opinions on what looks good always vary: clothing, hair, cars, computers - you name it, and some people will like it while others will probably hate it. There is also the reasonably large group of individuals that couldn't care less about appearance. Needless to say, if looks aren't important to you when it comes to computer systems, Falcon Northwest is definitely going to seem like overkill.
We were sent a "standard" unit, meaning it doesn't have Falcon's Exotix paint job. However, even without the custom paint job this case is a real looker. It has cold cathode lights in the interior and on the front panel, a sleek black anodized paint job, case windows on both sides, and even a carrying handle for hauling the system off to LAN parties. Any enthusiast that so much as glances at the case will recognize the brand and design, and regardless of what they might say, you can be sure they would love to have one if money is removed from the equation.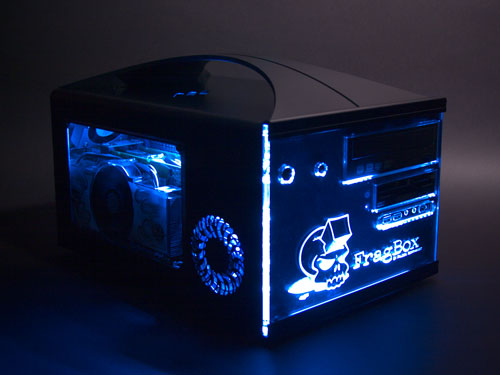 Click to enlarge
A picture is worth a thousand words, so we did our best to snap shots from a variety of angles. Online images don't really convey the experience as well as actually touching and handling a unit, but trust me: the design oozes quality. A switch on the back of the case can turn the lights on and off, which is always a nice touch if you have the system in a bedroom or the living room where the blue lighting might not be desired. (The dim light on the HSF doesn't shut off, however.) Most of our pictures were taken with the case lights off and in a brightly lit room, but we did want to include one good shot of the lit-up system in a dark room.
From the purely aesthetical standpoint, it's difficult to find any flaws. You might leave some fingerprints on the case windows, and you might want to dust the case (inside and outside) on a regular basis, but that's typical of any similarly designed system. The front panel has an awesome etched look, again not something that can easily be conveyed via images. Quite a few people have seen the system sitting on my desk during the past few weeks, and the responses ranged from "Wow!" to "Holy
[expletives]
that looks awesome!" Not a single person has had anything but positive remarks for the FragBox case.
How does the case compare with competitor offerings? The Monarch Hornet Pro goes for a different style, and I'd have to say the FragBox looks nicer. The acrylic face plate and curved carrying handle on the FragBox definitely set it apart from typical computer cases, and the Hornet Pro looks rather boxy in comparison. Moving to the Shuttle SN26P, that still has the "small and sleek" factor going for it, which some might prefer. It doesn't have the pizzazz of cold cathode lights, windows, logos, etc. - though of course you could add them - but that's okay. Just talking about looks alone, the FragBox gets my pick, followed by the SN26P and the Hornet Pro - but opinions differ, and what's really important is what
you
like.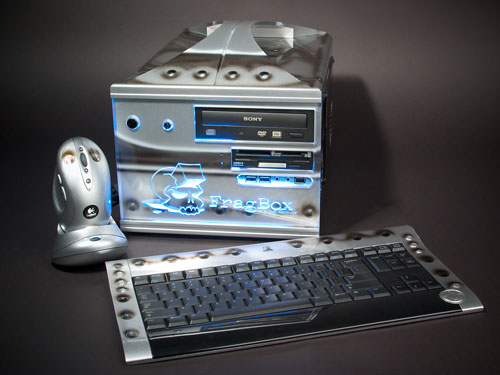 Click to enlarge
We mentioned the custom paint jobs that Falcon can do, and we've included a sample above. If that's something that piques your interest, we recommend you check out the gallery over at the
Falcon Northwest site
. As you can see, they'll customize your case, keyboard, mouse, monitor, etc. - provided you're willing to pay, naturally. If you're looking for a fast PC that can also be used as marketing for your product, the customized paint jobs are certainly an interesting way to advertise. They're also a great way to truly make your PC unique. Excessive? You betcha', but that's Falcon's
modus operandi
in a nutshell!