It's worth noting that network performance is noticeably worse when running Windows XP on a Boot Camp partition or VM than under OS X. To show you the performance difference, I ran some makeshift network benchmarks, copying a 1.96GB file from a fileserver on a GigE switch to the MacBook Pro. I tested both wired and wireless connections, the results are below: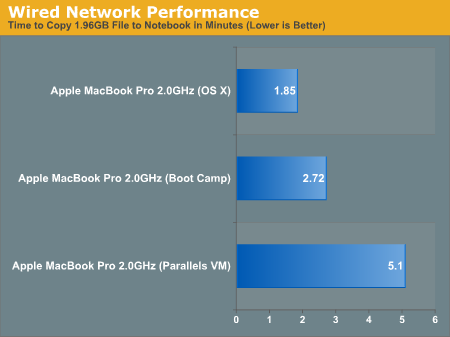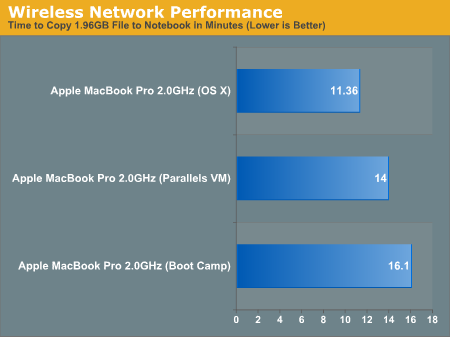 The latest beta of Parallels' Workstation 2.1 improves network performance tremendously, but in the case of using the wired Ethernet port on the MacBook Pro Boot Camp is still noitceably quicker.
The final thing to note is that using Boot Camp, the MacBook Pro actually posts some not so great numbers for a Core Duo notebook. The charts below will put its performance into perspective for you: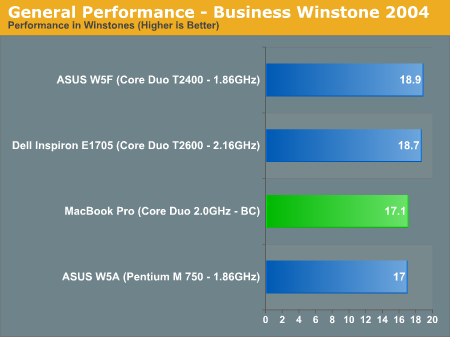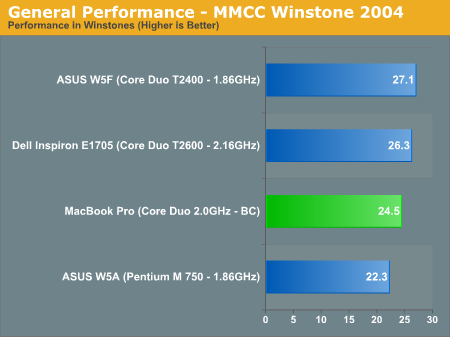 While the Dell Inspiron E1705 performs pretty poorly given its CPU speed, the MacBook Pro is actually even worse. The E1705 holds about an 8% performance advantage over the MacBook Pro with an 8% faster CPU; however, neither Winstone test scales 1:1 with CPU speed increases so Dell's faster CPU is most likely only buying it another 3% performance advantage here. Obviously neither notebook comes anywhere close to the performance of the ASUS offerings, which continue to be the fastest I've ever encountered in a Core Duo notebook.
I don't really have a good explanation for the MacBook Pro's disappointing Windows XP performance, because all of its hardware is built out of the same major components that ASUS and Dell use for their notebooks. The only thing I can think of is that out of all these companies, ASUS is far more experienced with tweaking and tuning their motherboards for every last ounce of performance while honestly, Apple has never had to really care. Given that ASUS actually manufactures some of Apple's machines, it may be time to enlist its help in performance optimization as well.