Connect3D Radeon X1900 XTX
Connect3D is no stranger to graphics hardware, and we've seen many good solutions from them in the past. We have for this review one of their X1900 XTXs and while not nearly as radical in design as the other card we're testing, it still represents the excellent performance associated with these cards.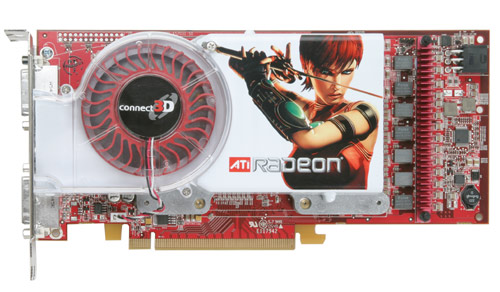 The Connect3D X1900 XTX looks identical to the reference X1900 XTX in every way, except for the Connect3D logo on the card's fan. This is essentially another no-frills X1900 XTX package, with stock core and memory clock speeds and no games included in the bundle. While the package may be modest for this card, keep in mind you are still getting the highest level of graphics performance available right now, and it comes with a price tag significantly cheaper than some fancier X1900 XTX packages.