NVIDIA Business Platform Features
HP, Dell, Gateway, and the majority of tier-one OEMs have been offering various forms of stable image platforms through their business, education, or government solutions groups in recent years. As the complexity and size of enterprise level networks grew, along with the proliferation of networks in other sectors, it became apparent that a different level of integration between hardware and software was required. So, in mid-2003, Intel formally stepped into this market segment with their Stable Image Platform Program (SIPP), and following Intel's tremendous success, AMD introduced their Commercial Stable Image Platform (CSIP) in September of 2005.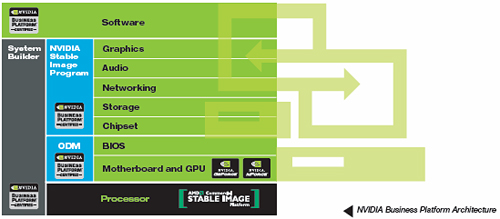 The NVIDIA Business Platform being launched next week is designed and built around the company's graphics chipset and media/communications processors while utilizing an approved AMD Athlon 64 processor based upon the AMD CISP specifications. This desktop-only platform design provides additional value to the AMD CSIP program by instituting a stable image program, comprehensive certification program of the Original Design Manufacturer (ODM) and System Builder, along with partnerships with leading software providers. By certifying systems, components, and software down to the motherboard and chip level, NVIDIA is promising to have superior hardware performance and software quality out-of-the-box when compared to Intel's current desktop SIPP offerings. Additional specifications about the NVIDIA Business Platform can be viewed
here
.
Highlights of the program include the NVIDIA Stable Image Platform design that defines the software foundation of the NVIDIA Business Platform. It combines drivers for graphics, audio, networking, storage, and other media & communication processor functionality into a single binary image. NSIP guarantees a single binary image deployment across all platforms, regardless of integrated or discrete graphic configurations. This differs from Intel's image certification which is for integrated graphics only at this time.
Also, NVIDIA offers the only hardware-based firewall solution for a stable image platform, with NVIDIA stating their unique anti-hacking technology will secure each PC from network intrusion. We have not tested this claim and are awaiting a test system to verfiy this feature. Hardware-based firewall technology protects PCs at the network layer from most virus, worm, and spyware attacks. Unlike software-based firewall solutions, ActiveArmor cannot be disabled by malicious code according to NVIDIA. NVIDIA worked closely with Microsoft and Altiris to ensure their new ActiveArmor Firewall allows remote management traffic while still protecting against malware. Wake-on-LAN, PXE, and Firewall filtering is built into the network interface hardware to enable full remote management of the PC provided a network connection and power source is available.
Like competitive offerings, the NVIDIA Business Platform offers a stable technology platform that is released on a yearly cadence with at least one year of production availability. This program includes a 3-month evaluation period along with a 24-month support period after the production cycle. The support is provided by the certified system builder of the platform.