EPoX began operations in 1995 as a value brand performance alternative in the marketplace. They have a history of providing a wide range of motherboards based upon core logic chipsets from varying manufacturers. EPoX has prided themselves on their research and development capability by offering these products at very competitive price points while maintaining excellent performance standards. More information about the entire line of EPoX products can be found
here
.
The EPoX EP-9U1697-GLi motherboard is based on the recently released ULi M1697 chipset. EPoX has done an excellent job in utilizing this chipset to create a product whose overall performance competed with boards costing twice as much. This board seamlessly supports NVIDIA SLI technology with the ULi PowerExpress Engine Enabling driver but is not SLI certified by NVIDIA. EPoX will not be supporting or certifying SLI operations on this board and will not include the ULi PowerExpress driver on their Driver/Utilities disk. Of course, now that NVIDIA has completed their acquisition of ULi, we understand this driver will no longer be available for usage.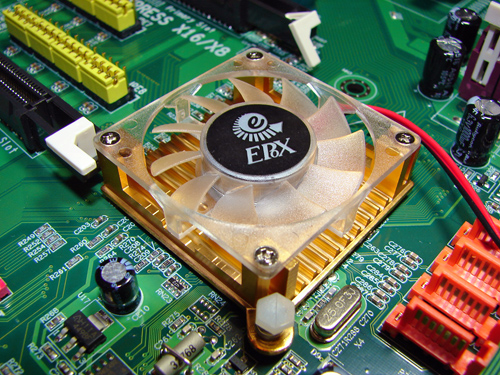 Our initial impression of the EPoX EP-9U1697-GLi upon opening the box was one of interest. The layout of the board was very clean, although we disagree with the placement of the 24-pin ATX power connector, and Epox utilized high quality components in the design of the board. We were mildly disappointed with the lack of an HD audio codec and Gigabit Ethernet, but we tried to understand the absence of these features based upon a retail price of around US $85 or lower.
During our testing and general usage of the EPoX EP-9U1697-GLi, we found the board's stability to be superb and it delivered very competitive results in the latest synthetic and game benchmarks. However, we were plagued with a single issue that EPoX is working to solve. Our board would randomly lock up after exiting Microsoft Windows XP and this issue would require us to power down the machine before continuing operation.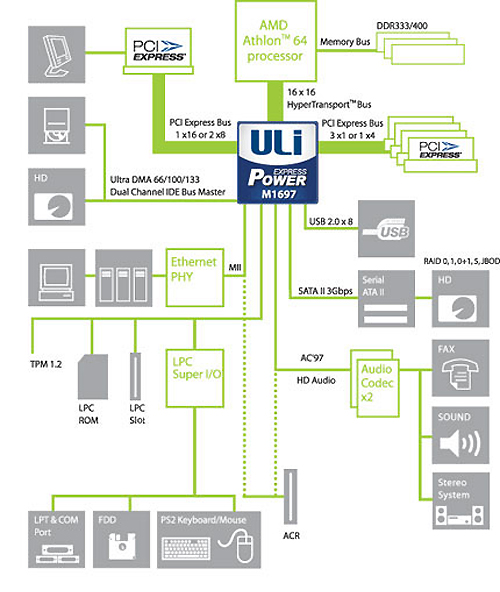 EPoX utilizes the ULi M1697 HyperTransport PCI Express single chip on the EP-9U1697 GLi. The M1697 fully supports one PCI Express x16 lane or two PCI Express x8 lanes for graphics cards and three PCI Express x1 or one PCI Express x4 expansion slot. The M1697 also offers transfers of up to 16-bit HT downstream and 16-bit HT upstream links at 2.0 GT/s. The M1697 provides dual channel Ultra-DMA IDE support, four SATA ports featuring NCQ, 3Gb/s, eSATA, Hot Plug, RAID 0, 1, 0+1, 5, and JBOD operations. High Definition Audio is natively supported along with eight USB 2.0 ports and 10/100Mb/s Ethernet utilizing a properly supported PHY. PCI Express Gigabit Ethernet can be utilized as discrete solution with a properly supported PHY. Further information about the entire ULi product line can be located
here
.
The EPoX EP-9U1697 GLi offers a complement of options available including two PCI Express x16 connections (offering x8 SLI operation with PowerExpress driver); one PCI Express x1 connection, and three 32-bit PCI 2.3 connections. The board also offers AC97 audio via the Realtek ALC-655 codec instead of HD audio, PCI 10/100 Mb/s Ethernet via the Realtek RTL8201CL PHY, eight USB 2.0 ports (utilizing two USB 2.0 headers), four SATA 3Gb/s connectors, and two ATA133 Ultra-DMA IDE connectors.
Let's find out how EPoX's offering fares against the competition.