Itanium ready to take on the RISC competition
Most of the press seemed to have given the Itanium family an early burial. "Itanic" would die out, but this perception might change quickly.
Intel cited an IDC report, which reported that the Itanium already achieves 30% of the revenue of the IBM RISC space, and 48% of Sun's RISC revenue. Considering that the single threaded "Madison" (1.6 GHz, 3-9 MB L3-cache) is hardly interesting for servers compared to the quad (and much more) threaded IBM Power family, it is quite an achievement. Itanium must be quite a success in the HPC space, a market which is about 6 billion dollars worth.
A completely new and ambitious Engineering team in Colorado is up and running and will help develop the future generation of Itanium.
Montecito was on display on Cebit, but besides a few vague benchmarks, little performance data was available.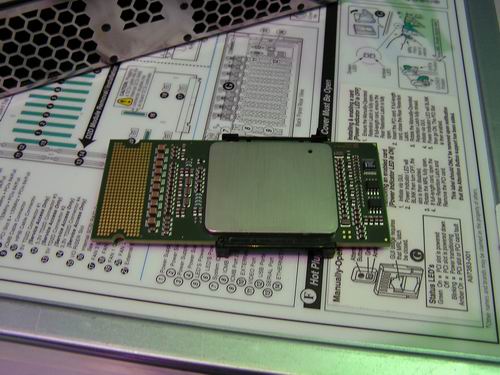 Interesting was the way the Itanium server with Montecito was designed. Take a look at the photo below. It looks like a rather gigantic 3U case for a two-way dual core Itanium, but….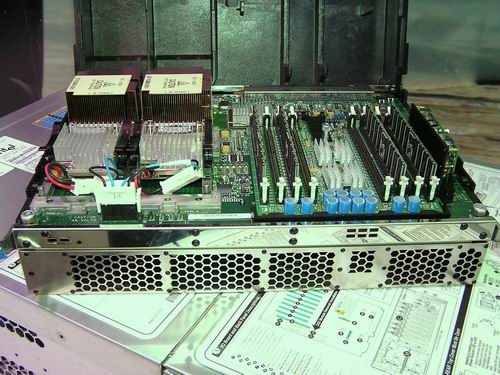 … it is in fact a 3 u case that can open like two clamshells, with the middle plate having two CPUs at each side. So, you have 4 CPUs, 8 Itanium cores and 16 threads in the same package where there used to be 2-4 Madison CPUs and 2-4 threads.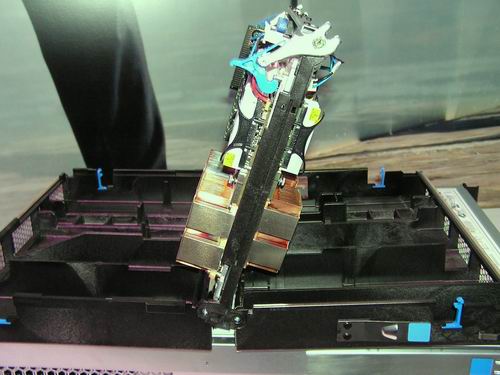 Each of the two CPUs has access to 8 DIMMs. Montecito is not only a vast improvement compared to Madison when it comes to running typical database applications, but also the platform has simplified quite a bit too.