F.E.A.R. Performance
F.E.A.R. gets its own page for a couple of reasons:
1) It's the only gaming benchmark that we're using that doesn't use an Intel provided demo. This is the same demo we use in our tests.

2) The integrated test tool reports Min, Avg and Max results, and three graphs take up more room than one.
We ran with all of the effects settings at Maximum and the graphics settings at Highest defaults. Updated: As we've described in our follow-up article, there was an issue with the original F.E.A.R. results that has since been fixed. The charts below have been updated.
First up - the average frame rate: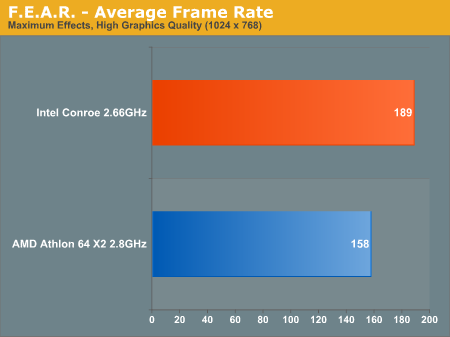 If you had any doubts about the results on the previous page, this one should convince you. Even when running a non-Intel created demo, Conroe offers a 20% performance advantage over the 2.8GHz Athlon 64 X2.
The advantage exists in both the minimum and maximum frame rates as well: