Socket-AM2: Desktop DDR2
On the desktop side, Socket-AM2 is pretty much all AMD is talking about for now. As we mentioned earlier, after AM2 launches AMD has indicated that they would be more forthcoming about their 2007 architectural changes.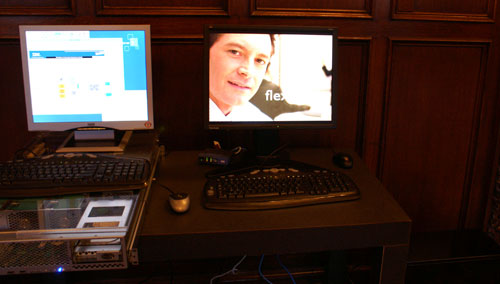 Socket-AM2 running a AMD Live! demo on the right
Socket-AM2 will launch at Computex and be met with the introduction of AM2 versions of a number of Athlon 64 and X2 processors. DailyTech reported on the model numbers a while back, but the gist of it all is that there aren't any new model numbers (other than the 5000+) and there are a new line of Energy Efficient CPUs that will debut on AM2.
The Energy Efficient AM2 CPUs will be produced in the same manner in which the Opteron HE/EEs are; the specs of the CPUs are the same, but thanks to the use of lower power transistors overall power consumption is reduced. The most impressive items are the 65W Athlon 64 X2s as well as the new 35W Athlon 64 X2 3800+. AMD tells us that they will not change the branding on their Energy Efficient AM2 CPUs, instead they will simply list the wattage on the box itself (the part number will obviously be different as well). Given that AMD will be stuck on 90nm throughout the rest of this year, the Energy Efficient AM2 CPUs will be a nice way to get even lower power consumption on your AMD desktops.
At this point it appears that the AM2 model numbers map directly to the Socket-939 model numbers, with the new 5000+ being a 2.6GHz chip with a 512KB L2 cache per core.
AMD shed some light on its Live! initiative (the AMD answer to Intel's Viiv); for a while we've been quite puzzled as to the exact nature of AMD's Live! and how it compares to Viiv, and thankfully AMD was able to sit down with us and elaborate.
A lot of the initial work into Live! is actually targeted at the European markets, where AMD's Live! initiative will help bring more feature filled set top boxes to consumers. These set top boxes may not contain any AMD silicon or even feature any AMD branding, making AMD's role in this sense more of a partner encouraging the development of more interactive set top boxes.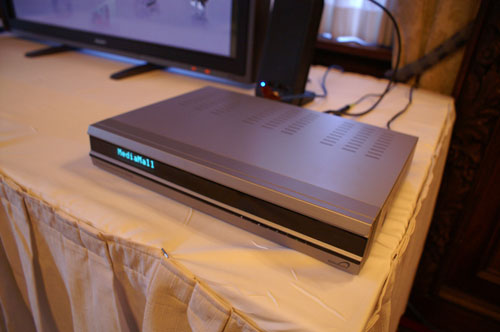 This set-top box uses no AMD silicon nor does it feature any Live! branding, but it is part of AMD's Live! initiative in Europe.
The idea behind Live! in Europe is that your conventional set-top box would be enhanced by Internet content to provide you with a truly interactive viewing experience. Unfortunately with no single company taking all of the initiative here, it's difficult to actually see a demo of this in action. Instead, AMD provided a demo of MTV's online channel - Overdrive - being accessed over a set-top box.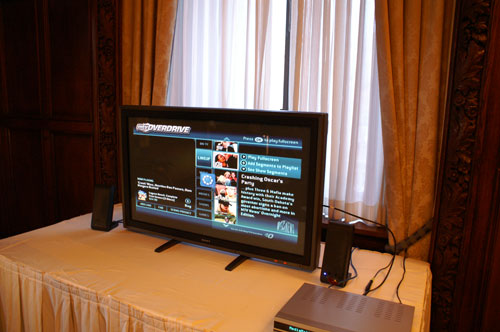 Imagine watching a show on MTV and having access to more information through MTV Overdrive right there on your TV screen; in a nutshell, that's what AMD's Live! focus is in Europe.
In the US however, Live! is basically a set of specifications for a high-end AMD based Media Center PC. The current specs for a desktop Live! system are as follows:
AMD Live! Desktop System Requirements

Processor
AMD Athlon 64 X2 or dual core AMD Athlon 64 FX
Operating System

Required: Windows MCE, w/ Away mode (Windows Vista Premium when available)
Required: Vista Capable
Recommended: Meets Vista Premium Logo requirements

Graphics
Vista Premium (Aero) capable
Dual graphics for AMD Athlon 64 FX based systems
Motherboard
AMD Live! Ready (Socket AM2 / up to 95A)
HDD
SATA HDD
Two SATA HDD w/ RAID (AMD Athlon 64 FX)
ODD
DVD +/- RW
Connectivity
Optional WiFi Certified 802.11g or 802.11 a/g
Memory
>= 1GB
Display output
VGA, DVI or HDMI w/ HDCP (option)
TV Tuner w/ Remote
Optional
Wireless Keyboard & remote
Recommended
Power Supply
High efficiency, low RPM w/ temperature controlled fan
Acoustics
TBA
AMD tells us that there will be some software components to AMD Live! developed with some of their partners, however we'll have to wait until later to find out what those are.