Basic Features: Asus A8R32-MVP
 Asus A8R32-MVP Deluxe
CPU Interface
Socket 939 Athlon 64
Chipset
ATI RD580 Northbridge - ULi M1575 Southbridge
Bus Speeds
200 to 400MHz in 1MHz Increments
Memory Speeds
DDR200,266,333,366,400 (433,466,500 with Rev. E AMD)
PCIe Speeds
100 to 150MHz in 1MHz Increments
PCI/AGP
Fixed at 33/66
Core Voltage
Auto, 0.8V to 1.4V-1.55V* in 0.025V increments
PLUS 0.1V & 0.2V with vCore Over-Voltage
(Maximum vCore 1.6V to 1.75V)
*Max Voltage depends on CPU ID. To 1.55V with Clawhammer
CPU Clock Multiplier
4x-25.5x in 0.5X increments
DRAM Voltage
Auto, 2.6V to 3.2V in .05V increments
HyperTransport Frequency
1000MHz (1GHz)
(Stable in overclocking to 1500+ HT)
HyperTransport Multiplier
Auto, 1X to 5X
Northbridge Over-Voltage
Auto, Disabled, Enabled
Enabled adds 3 New Voltage Options Below
Core Voltage
1.2V, 1.3V, 1.4V, 1.5V
HyperTransport Bus Voltage
1.2V, 1.3V, 1.4V, 1.5V
PCI Express Voltage
1.2V, 1.3V, 1.4V, 1.5V
Southbridge Overvoltage
Auto, Disabled, Enabled (+0.1V)
PEG Link Mode
Auto, Disabled, Normal, Fast, Faster
PEG Buffer Length
Auto, Short, Long, Longer, Longest
AI Overclocking
Manual, Auto*, Standard*, Overclock Profile**, AI N.O.S.**
*CPU Frequency and Other OC Parameters Set Automatically
**Manually Set CPU Frequency and Other Parameters Auto Adjust
Overclock Profile Options
OC 3%, 5%, 10%, 15%,20%,30%
AI N.O.S. Options
OC 3%, 5%, 7%, 10%, 15%, 20%
Memory Slots
Four 184-pin DDR DIMM Slots
Dual-Channel Configuration
Regular Unbuffered or ECC Memory to 4GB Total
Expansion Slots
2 PCIe x16
1 PCIe x1
3 PCI Slots
Onboard SATA/RAID
4 SATA2 Drives by ULi M1575
(RAID 0,1,1+0,5,JBOD)
PLUS 2 SATA2 Drives by Silicon Image 3132 (RAID 0,1)
Onboard IDE/IDE RAID
Two Standard ATA133/100/66 (4 drives)
Onboard USB 2.0/IEEE-1394
8 USB 2.0 ports supported by ULi M1575
2 Firewire by TI 1394a
Onboard LAN
PCIe Gigabit by Marvel Yukon 88E8053
PCI Gigabit by Marvel 88E8001
Onboard Audio
Azalia HD Audio by Realtech ALC882 codec
BIOS Revision
AMI 307 (2/15/06)
The BIOS adjustments of the A8R-MVP were a pleasant surprise for a low-end board, but they were not as extensive as those seen on top-end Asus boards like the 8-phase A8N32-SLI. The BIOS for the A8R32-MVP is very complete, and does not really have any Asus high-end adjustments missing at all. The available adjustment ranges have been improved over the available options on the A8R-MVP, and Asus has added more options for processor and chipset voltages.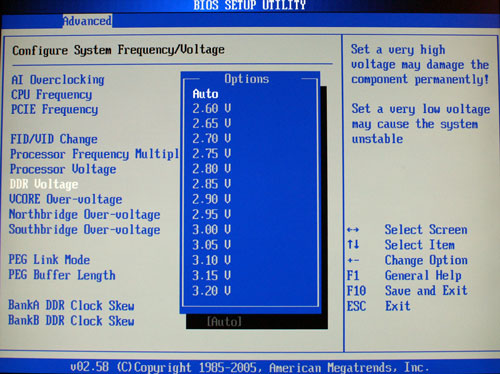 As on the A8R-MVP, memory voltage can be adjusted from 2.5 to 3.2V - much wider than most boards and the equal of the Asus A8N32-SLI. The A8R32-MVP adds finer memory voltage adjustments, in 0.05V increments. Memory voltage does not extend to 4.0V as it does on the DFI, but the only memory requiring these high voltages is OCZ VX and Mushkin Redline, both of which have been discontinued.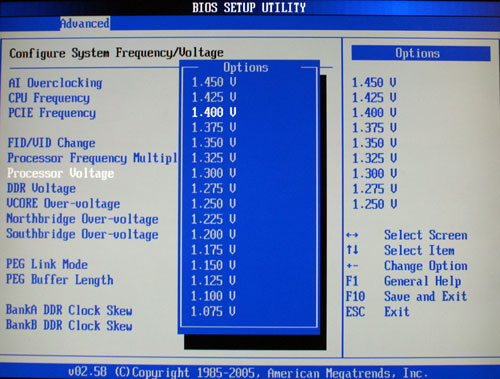 On the A8R-MVP, the available vCore options depend on the CPU installed on the A8R32-MVP. Our test Athlon 64 has a default voltage of 1.35V and the A8R32-MVP provided adjustments to 1.45V. A Clawhammer provided adjustments to 1.55V.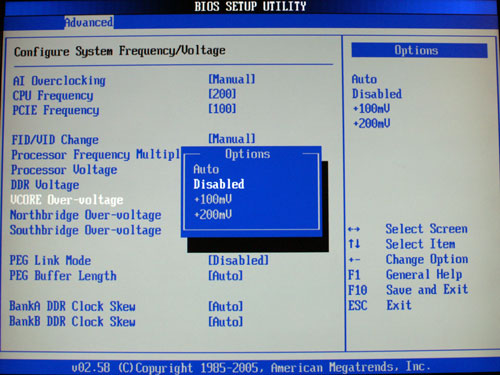 There is an important addition, however, in the vCore overvoltage option. This can be set to Auto, disabled, 100mv, or 200mv. This means that you can add up to .2V to any vCore settings that you can select in the BIOS. The A8R-MVP had just Enabled or Disabled for vCore overvoltage. The value turned out to be about 0.1V. With the added 200mv option, vCore can be adjusted up to 1.65V on our Athlon 64 specified to run at 1.35V. You should be able to achieve similar results of a .25V to .3V vCore overvoltage with any Athlon 64 processor.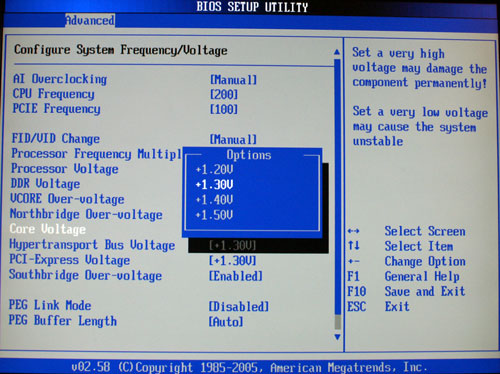 Voltage adjustments are one area where buyers asked for more, and Asus has added quite a few new voltage adjustments with broader ranges in the A8R32-MVP. Northbridge Core voltage can be adjusted from 1.2 to 1.5V, as can HTT voltage, and PCI Express voltage.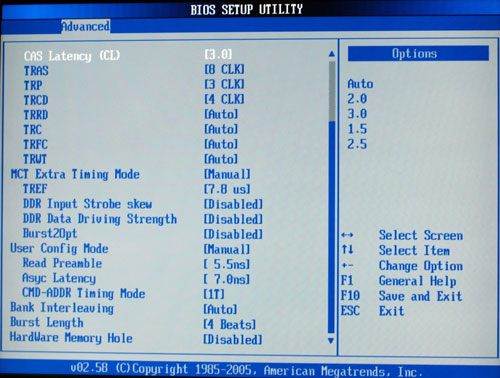 The A8R-MVP has a very wide range of memory timing adjustments in recent BIOS revisions. Asus has expanded beyond these in the A8R32-MVP Deluxe. While the A8R32-MVP still defaults to a 2T Command Rate at Auto for widest memory compatability - it is now very easy to force 1T, even at high speeds. Unlike the A8R-MVP, which required 2T above 260-265, the A8R32-MVP supports 1T Command Rate to well over 300 Clock Speed. This is the kind of performance enthusiasts want on this board.
The RD480-based Asus A8R-MVP has a very wide range of overclocking controls for a board in the $100 price range, but it is weak in voltage adjustments and memory Command Rate settings. The RD580-based A8R32MVP, for the most part, corrects those deficiencies by providing finer adjustments, a larger number of BIOS-adjustable voltages, and higher vCore settings. Most users will be pleased with the additions and refinements. The A8R32-MVP stands up well against just about any overclocking board available in terms of the available overclocking options and the range of control available. The Asus designers did an excellent job of listening to buyers of the earlier A8R-MVP and adding the most asked-for improvements.