Basic Features: Biostar TForce4 U 775
Specification
Biostar Tforce4 U 775
CPU Interface
LGA775-based Pentium 4, Pentium 4 XE, Celeron D, and Pentium D processors
Chipset
NVIDIA nForce4 Ultra - SPP (C19, rev. C1)
NVIDIA nForce4 Ultra - MCP (MCP51, rev A20)(nForce 430)
Pentium D Support (Dual-Core)
820D, 830D, 840D, 840EE, 920D, 930D, 940D, 950D, 955EE
Front Side Bus
1066 / 800 / 533 MHz
Front Side Bus Speeds
Default, 450MHz ~ 1300MHz in 1MHz increments
Memory Speeds
Default, 400MHz ~ 1300MHz in 1MHz increments
PCI Bus Speeds
Default
PCI Express Bus Speeds
Default, 100MHz ~ 148.4375MHz in various increments
Set Processor Multiplier
12 to 60, (in 1 step increments)
LDT Multipliers
1x, 2x, 3x, 3.5x, 4x, 5x
Core Voltage
Default, 1.1000V to 1.8250V (in 0.0125V increments)
DRAM Voltage
Default, 2.05V, 2.10V, 2.25V
SPP Chipset Voltage
Default, 1.53V, 1.58V, 1.61V
FSB Voltage
Default, 1.30V, 1.40V, 1.50V
Memory Slots
(4) x DIMM, max. 4GB, DDR2 667/533/400, non-ECC, un-buffered memory
Expansion Slots
(1) x PCI-E x16 (operates in 1x16 mode)
(2) x PCI-E x1 (operates in x1 mode)
(4) x PCI 2.2
Onboard SATA
NVIDIA nForce 430: (4) x SATA II
Onboard IDE
NVIDIA nForce 430: (2) x UltraDMA 133/100/66/33
SATA/IDE RAID
NVIDIA nForce 430:
(4) x SATA II
RAID 0, RAID 1, RAID 0+1, RAID 5
Onboard USB 2.0
(8) USB2.0 ports
Onboard LAN
Realtek 8201CL PCI 10/100Mb/s LAN - PHY
Onboard Audio
Realtek ALC-850, 8-channel capable Audio
Power Connectors
24-pin ATX
4-pin ATX 12V
Back Panel I/O Ports
1 x PS/2 Keyboard
1 x PS/2 Mouse
1 x Parallel
1 x Serial
1 x Audio I/O Panel
1 x RJ45
4 x USB
Other Features
(O.N.E.) - Overclocking Navigator Engine
(C.R.P.) - CMOS Reloading Program
(M.I.T.) - Memory Integration Testing
(I.F.P.) - Integrated Flash Program
(S.R.S.) - Self Recovery System
Hardware Monitor - Windows Based
Overclocking Utility - Windows Based (Limited Functionality)
Smart Fan Function - Windows Based
Live Update - Windows Based BIOS Update Program
BIOS
N4UIA126-BST (1/26/06)
The Biostar TForce4 U 775 is a member of the TForce4 Series product family and, as such, is a value-based board targeted towards the enthusiast user who is concerned about price and performance. The board ships with an accessory package that includes the standard assortment of IDE/SATA cables and power connectors. Biostar also includes a driver CD along with several desktop utilities for monitoring and tuning your system.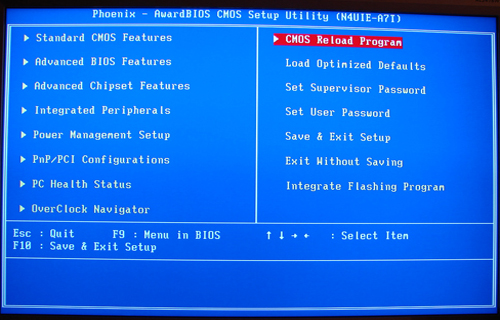 This is the main BIOS screen and it displays the generic options available on the board.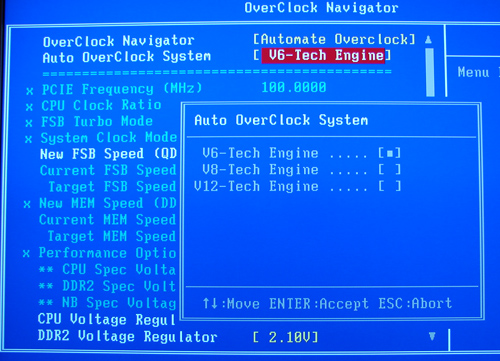 The Overclock Navigator section allows you to change the majority of the system performance settings. The system features the Auto Overclock System that will automatically adjust most system parameters based upon the components installed. The V6-Tech setting will overclock the system around 10~15%, V8-Tech setting will allow up to a 25% overclock, and the V12-Tech system will allow up to a 30% system overclock.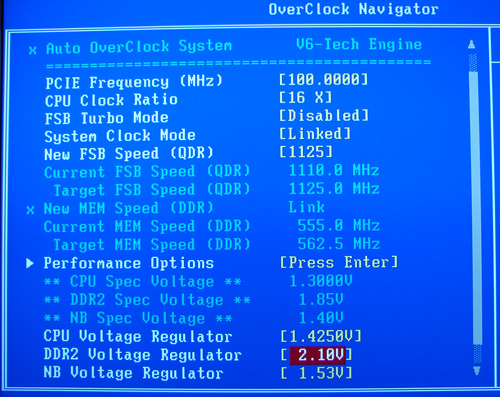 The balance of the Overclock Navigator section allows you to set individual parameters manually for voltage, multipliers, and chipset settings.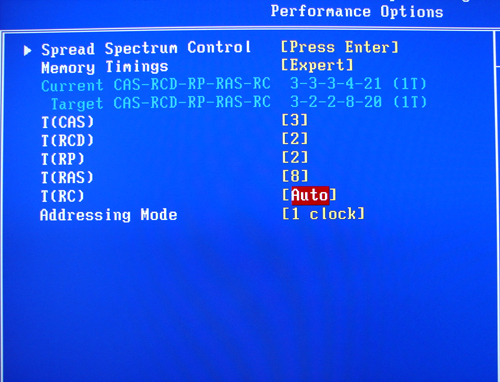 The board fully supports manual memory timing adjustments or allows for a Default setting that will set the memory to the SPD settings.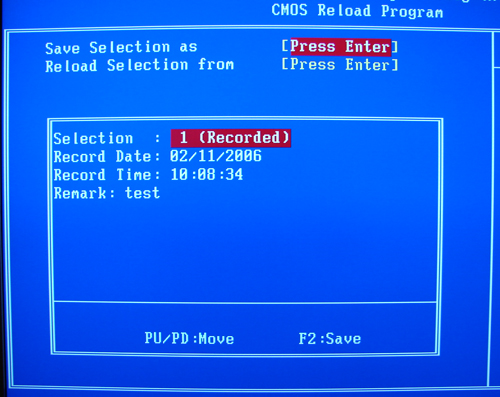 An additional feature on the board is the CMOS reloading program that allows users to save up to 50 sets of CMOS settings into the BIOS. The user is able to personalize each setting before saving it. The feature worked well in our testing, provided that we were able to reach the BIOS setting.
Overall, the BIOS options are very good for a chipset that NVIDIA has stated is not optimized for overclocking. The board's bios even includes a built in memory tester based upon Memetest86+ version 1.55. We would like to see more memory voltage options included in the BIOS along with the ability to adjust the PCI bus speeds.