Packing your Order and the Peanut Gun
With your order now complete, your tub heads down this high speed rolling conveyer but you will note that the conveyer has a row of metal links on the right side. The purpose of these links is to push your tub into the appropriate ramp for boxing when the system tells it that one is free. The picture below shows the metal links in action: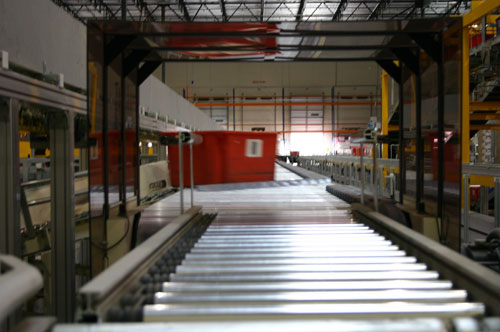 Click to Enlarge
After your tub is sent down the ramp, everything is removed from the tub, scanned and compared against your order. Newegg's system will not print a shipping label unless the items in your tub match the items you ordered. With everything scanned and your label printed your items are boxed and then sent off to the peanut gun.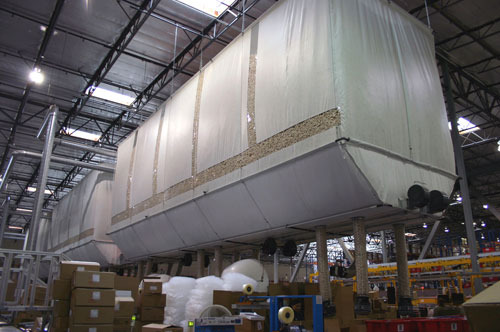 Click to Enlarge
The peanut gun is by far one of the coolest things in Newegg's warehouse, and it's exactly what you'd expect. An enormous vat of packaging peanuts is hung from the ceiling of the warehouse (pictured above) and individual guns dangle from it like cow udders (pretty picture):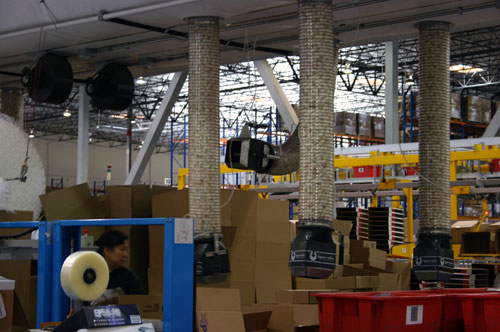 Click to Enlarge
The peanut gun itself is pretty simple; you aim, squeeze the trigger and peanuts come out: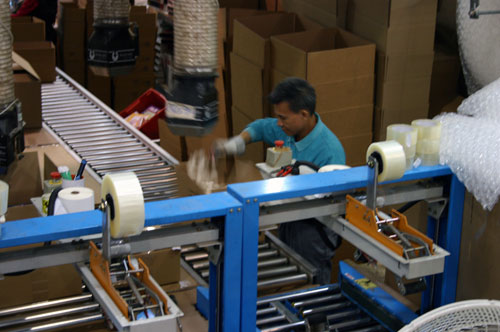 Click to Enlarge
With your valuables bubble wrapped and the box filled with peanuts, it's handed off to the automatic taping machine. That's right, you hold the box shut and feed it into the machine that takes over and tapes it shut.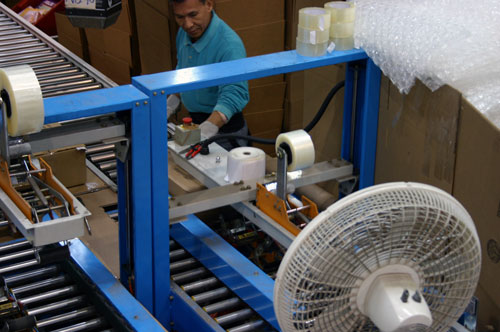 Click to Enlarge