Basic Features: Intel D975XBX
Specification
Intel D975XBX
CPU Interface
LGA775-based Pentium 4, Pentium 4 XE, Celeron D, and Pentium D processors
Chipset
Intel 975X - MCH
ICH7R - ICH
Pentium D Support
820D, 830D, 840D, 840EE, 920D, 930D ,940D ,950D , 955EE
Front Side Bus
1333 / 1067 / 800 / 533 MHz
Host Burn-In Mode
0 - 30% (in 1 percent increments)
Memory Speeds
Default, DDR-2 333, 400, 533, 667, and 800MHz
PCI Bus Speeds
Default, 40.00MHz
PCI Express Bus Speeds
Default, 101.32, 102.64, 103.96, 105.28, 106.6, 107.92, 109.24MHz
Set Processor Multiplier
12 to 40, (in 1 step increments)
Core Voltage
Default, 1.2750V to 1.6000V (in 0.0125V increments)
DRAM Voltage
Default, 1.80V, 1.90V, 2.00V, 2.10V, 2.20V
MCH Chipset Voltage
Default, 1.525V, 1.600V, 1.650V, 1.725V
FSB Termination Voltage
Default, 1.271V, 1.333V, 1.395V
Memory Slots
(4) x DIMM, max. 8GB, DDR2 667/533/400, non-ECC, ECC, un-buffered memory
Expansion Slots
(2) x PCI-E x16 (operates in 1x16 and 1x8 or 2x8 mode)
(1) x PCI-E x16 (operates in x4 mode)
(2) x PCI 2.3
Onboard SATA
Intel ICH7R: (4) x SATA 3Gb/s
Onboard IDE
Intel ICH7R: (1) x UltraDMA 100/66/33
SATA/IDE RAID
Intel ICH7R:
(4) x SATA 3Gb/s
RAID 0, RAID 1, RAID 5, RAID 10, and Intel Matrix Storage technology

Silicon Image SiI 3114:
(4) x SATA 1.5Gb/s
RAID 0, RAID 1, RAID 0+1 (operates on PCI bus)
Onboard USB 2.0/IEEE-1394
(8) USB2.0 ports
(2) IEEE 1394a FireWire Ports by TI TSB43AB23
Onboard LAN
Intel 82573L PCI-E x1 Gb LAN
Onboard Audio
Sigmatel STAC9221D, 8-channel capable HD Audio Codec featuring Dolby Master Studio technology
Power Connectors
24-pin ATX
4-pin 12V Plug
8-pin EATX 12V
Back Panel I/O Ports
1 x PS/2 Keyboard
1 x PS/2 Mouse
1 x Parallel
1 x Serial
1 x Audio I/O Panel
1 x Optical S/PDIF Out Port
1 x Coaxial S/PDIF Out Port
1 x RJ45
4 x USB
Other Features
Value Added Software:
Intel® Audio Studio
Intel® Desktop Utilities
Intel® Desktop Control Center
InterVideo* WinDVD*
Ulead* VideoStudio* 9 SE DVD
InterVideo* MediaOne* Gold
Musicmatch* Jukebox
Farstone RestoreIT!* Gold
Farstone Gamedrive*
Norton* Internet Security
Norton* AntiVirus
Yahoo!* Toolbar with Anti-spy
BIOS
Intel 0420 (01/05/2006)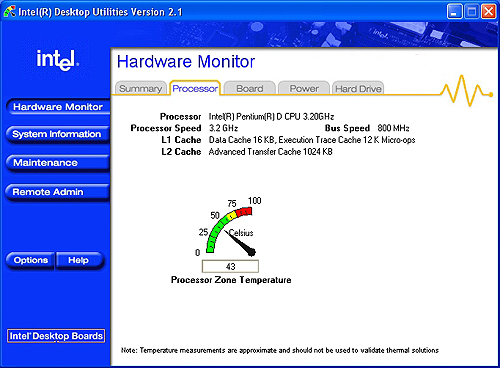 The Intel D975XBX is a member of the Extreme Series product family and, as such, is a fully featured flagship board targeted towards the Intel enthusiast. The board ships with an extensive accessory package that includes a 3.5" front panel bay for audio, IEEE1394, and USB 2.0 connections. Intel also includes several desktop utilities for monitoring and tuning your system.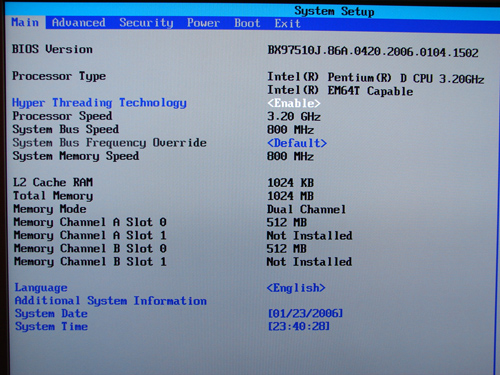 This is the main BIOS screen and displays the generic options available on the board.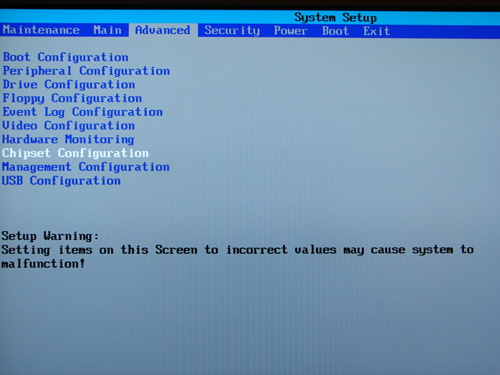 The advanced BIOS section allows you to view or change the majority of the system settings.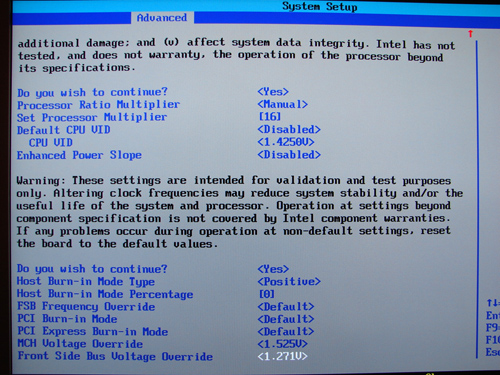 The advanced screen allows you to set individual parameters for voltage, multipliers, and chipset settings. You must first answer "yes" to the standard legal verbiage before being allowed to modify the limited range of settings. The Host Burn-In Mode Type option allows you to set a positive or negative value when determining whether to increase or decrease the front side bus. The Host Burn-In Mode Percentage option allows you to increase the front side bus up to 30% in 1% increments.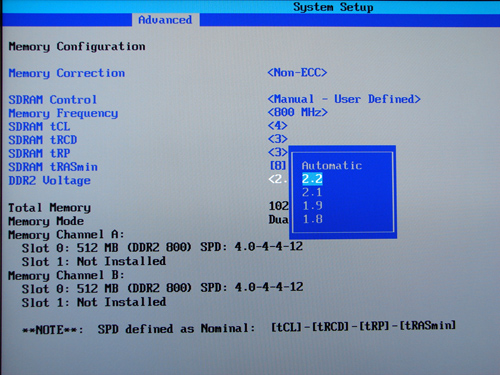 The board fully supports manual memory timing adjustments or allows for a Default setting that will set the memory to the SPD settings. The memory voltage settings have been increased to 2.2V.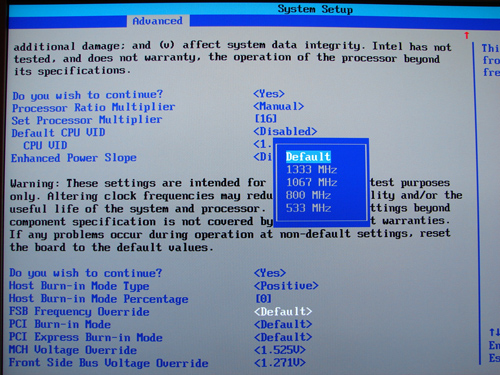 Overall, the BIOS options are sparse on the Intel D975X compared to other enthusiast boards, with memory voltage to 2.2V, and a limited range of chipset, bus, and vCore voltage adjustments. However, the support for a 1333 FSB is interesting at this time. The BIOS will not recover by itself if you choose an incorrect setting. You will need to power down the system, switch the BIOS configuration jumper, power on the system, make the necessary changes in the BIOS, power down the system, switch the BIOS configuration jumper, and then power on the system. We cannot understand why Intel continues to require this interaction on their enthusiast board as it can become very frustrating while exploring the performance abilities of varied components.