The Performance Breakdown
Here we're going to take a quick look at overall performance of the X1900 XTX compared to the X1800 XT and to the 7800 GTX 512. This will give us a good idea at the outset of what we are going to see in terms of performance from the new part from ATI. Obviously having individual numbers for multiple resolutions over multiple settings is more conducive to proper analysis of the performance characteristics of the hardware, but for those who just want the bottom line here it is. This is a look at 2048x1536 with 4xAA performance in order to see a snapshot of performance under high stress.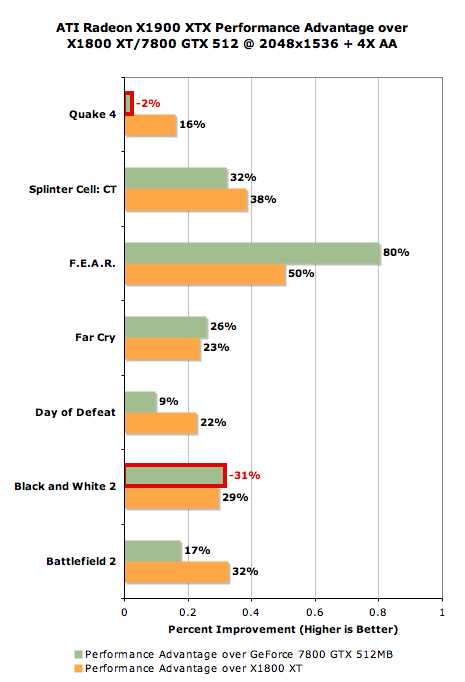 Hold your mouse over the links below to see the quick performance breakdown of the Radeon X1900 XTX at that resolution:
The resounding victory of the X1900 XTX over the 7800 GTX 512 in almost every performance test clearly shows how powerful a part we are playing with. Clearly NVIDIA has been dethroned and will have a difficult time regaining its performance lead. But the more these two companies can leap-frog eachother, the happier we get.
The only real loss the X1900 suffers to the 7800 GTX 512 is in Black and White 2. We've complained about the poor performance of BW2 under ATI hardware for months now, and apparently ATI have located a bug in the application causing the performance issue. They have a patch, which we are currently evaluating, that improves performance. ATI are saying that Lionhead will be including this fix in an upcoming game patch, and we are excited to see something finally being done about this issue.
Of course, with the BW2 test in question, that puts the ATI Radeon X1900 XTX firmly and without question in place as the worlds fastest consumer level graphics product.