"Come, Watson, come!" he cried. The game is afoot..."
This quote from the short story,
The Adventure of the Abbey Grange
, by noted Scottish writer Sir Arthur Conan Doyle expresses the current marketplace in regards to the Intel 975X chipset. Although motherboards based on the Intel 975x chipset have not reached the retail market yet, the game is afoot as there have been numerous product release announcements from several suppliers over the past few weeks. We recently reviewed the Asus P5WDG2-WS and Gigabyte GA-G1
975X
with promising results. We have several more 975X boards on the way to us for a complete roundup in the near future.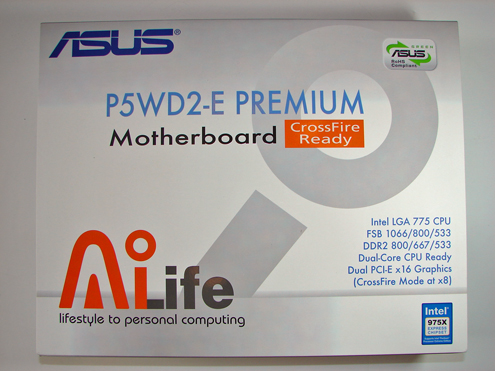 The Asus P5WD2-E Premium is a follow-up to the Asus P5WD2 Premium, which was based on the Intel 955x chipset. Both boards are targeted towards the enthusiast market along with the Asus P5N32-SLI. Due to the enhancements made on the 975X board, we can expect to see the 955X product move down to the middle of the market for the short term and then disappear based upon the performance and pricing of the 945P product line. Asus also offers the Intel 975X based P5WDG2-WS for the workstation market.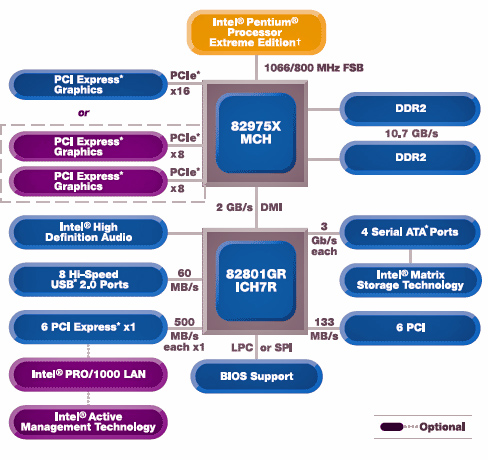 The chart above lists the standard feature set available to manufacturers using the Intel 82975X chipset. The Intel 975X Express Chipset enables full support for multiple 2x8 PCI Express graphics cards, Intel Memory Pipeline Technology (MPT), Intel Flex Memory Technology, 8GB memory addressability, and ECC memory support.
The Intel MPT has been enhanced over the 955X iteration to offer improved pipelining to enable a higher utilization of each memory channel resulting in better performance through increased transfers between the processor and system memory. Intel Flex Memory Technology allows different memory sizes to be populated and still remain in dual-channel mode.
The new architecture also supports both asynchronous and isochronous data traffic, with dedicated internal pipelines and specialized arbitration. In addition, the 975X chipset has improved electricals with optimized ball-out for better latency compared to the 955X chipset.We noticed small but not significant improvements in our test results.
The 975X chipset offers full support for graphic based PCI Express x16 lanes that can be configured as two PCI Express x8 slots for multi-view or GPU capability. The system currently supports ATI CrossFire technology.
Asus chose to augment this feature set with additional SATA II and PATA capabilities via the Marvell 88SE6141 chipset, additional LAN capabilities via the Marvell GbE 88E8053 chipset, and Firewire 1394a support via the TI TSB43AB22A chipset.
Let's see how this board performs against other 975X offerings.