AMD's Socket-939 has been the platform of choice almost immediately after its introduction, so it is fitting that the last Socket-939 processor to be released would be the Athlon 64 FX-60.
After today's launch of the FX-60, there will be no faster Socket-939 CPUs produced. Instead, everything else will be Socket-AM2 (the new name for Socket-M2). Next quarter, AMD will launch their Socket-AM2 platform along with AM2 versions of the Athlon 64, Athlon 64 X2 and the FX-62. Given that the AM2 platform adds DDR2 support, it is entirely feasible that the Athlon 64 FX-62 won't receive a clock speed bump over the FX-60 and just use the higher bandwidth memory as justification for the higher model number.
Although we've generally shied away from recommending AMD's FX line of processors, we can't help but be a little excited about the FX-60. When AMD introduced their X2 line of dual-core processors, the FX series remained single core, but maintained a fairly high clock speed. AMD even went as far as to release the FX-57, clocked a full 400MHz higher than the fastest X2. With the FX-60, that trend is over; from this day forward, all members of the FX series of processors are now dual core. They are still sold under the Athlon 64 FX brand, despite being dual core chips.
Our excitement over the Athlon 64 FX-60 isn't really about its performance, although at 2.6GHz it is quite stellar; rather, it is more of an excitement out of principle. We've favored and recommended dual core processors to power users as soon as they were available, even though dual core processors were generally far slower at single-threaded applications than their equivalently priced single core alternatives. With the FX-60, at least at the high end, the same is no longer true.
The fastest single core AMD processor is still the Athlon 64 FX-57 running at 2.8GHz, which AMD will continue to sell alongside the FX-60. But with the clock speed gap between the 2.6GHz dual core FX-60 and the 2.8GHz single core FX-57 a meager 7.6%, you can effectively go to one CPU and get the best single-threaded and multithreaded performance. Remember that the best applications that scale with clock speed generally give you a 50% return on every 100% increase in clock speed, so in most of the single-threaded cases, the FX-57's performance advantage will be in the 0 - 4% range. But on the flip side, the fact that the FX-60 is a dual core processor will buy it a lot in multithreaded applications.
As with all FX series processors, the FX-60 debuts at $1031 in quantities of 1000, so you can expect street pricing to be at or around that number. The FX-57 will drop to $827 mark as it will co-exist with the FX-60.
The FX-60 is really just a multiplier unlocked 2.6GHz Athlon 64 X2. It is still a 90nm processor and there are no architectural changes that we've been made aware of or have been able to find on our own. We stress the point that it is still a 90nm chip because of the fact that its closest competitor, the Pentium Extreme Edition 955, just debuted on Intel's 65nm process. Because Intel is on a smaller manufacturing process, they can cram more transistors into a smaller space. So although the Pentium EE 955 is a 376-million transistor chip, they only take up 162 mm
2
of space. The Athlon 64 FX-60 by comparison is a 233-million transistor chip, but its die is a larger 199 mm
2
. The move to 65nm for AMD should cut the die size roughly in half assuming no architectural changes, but until then, Intel will at least have the manufacturing advantage.
You shouldn't, however, assume that the smaller, cooler running manufacturing process will result in a power advantage for Intel. The problem is that those 376 million transistors are used to build a beast of a chip with a 31-stage pipeline, so power consumption is still actually higher on the Extreme Edition than on AMD's fastest dual core: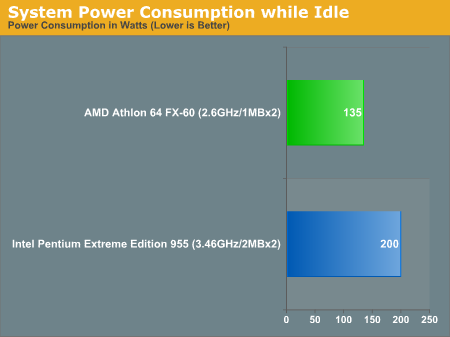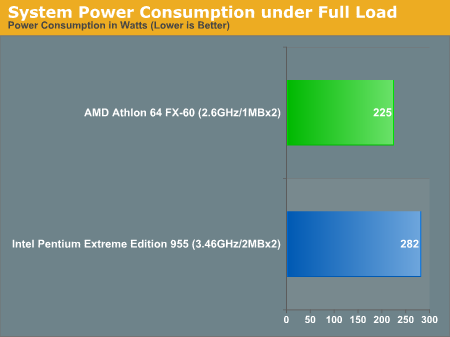 The move to 65nm has made sure that AMD can no longer claim that they consume less power under full load than Intel does at idle, but AMD still has a significant power advantage. Under full load, the Pentium Extreme Edition 955 system consumes 25% more power than our Athlon 64 FX-60 testbed. So luckily for AMD, Intel's manufacturing advantage doesn't actually translate into a power advantage, but unluckily for AMD, it does translate into a manufacturing and cost savings advantage.