Media Encoding Performance using DVD Shrink, WME9, Quicktime and iTunes
First up is DVD Shrink 3.2.0.15. Our test was simple - we took a copy of Star Wars Episode VI and ripped the full DVD to the hard drive without compression, effectively giving us an exact copy of the disc on the hard drive.  Then, using the copy of the DVD on the hard drive (to eliminate any DVD drive bottlenecks), we performed a DVD shrink operation to shrink the movie to fit on a single 4.5GB DVD disc.  All of the options were left on their defaults, so the test ends up being pretty easy to run and reproduce.  The scores reported are DVD encoding times in minutes, with lower numbers meaning better performance. 
The DVD Shrink test is quite important as DVD Shrink is quite possibly one of the easiest tools to rip a DVD.  The easier a tool is to use, the more likely it's going to be used, and arguably, the more important performance using it happens to be.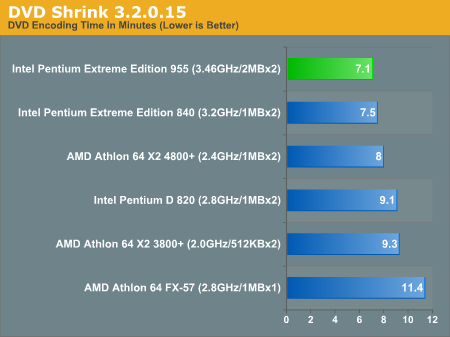 MPEG-2 encoding performance using DVD Shrink clearly favors the Pentium Extreme Edition; while the Athlon 64 X2 4800+ is competitive, it falls behind both EE chips.
Moving on, we have our Windows Media Encoder 9 test, which uses the advanced profile settings for video encoding.  We left all settings at their defaults and just proceeded with an MPEG-2 to WMV-HD conversion.  The values reported are in frames per second, with higher numbers being better.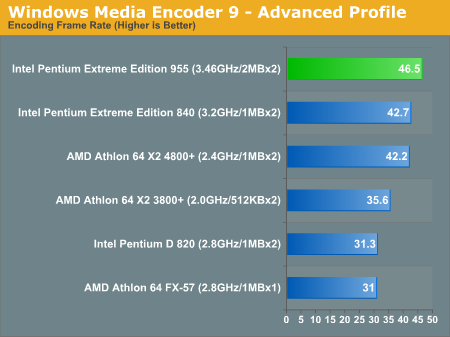 The situation under Windows Media Encoder 9 is no different, with the EE taking the lead once more.
Next up, we have Quicktime Pro 7.0.3 and we perform a MPEG-2 to H.264 encoding task.  All of the settings are left at their defaults, with the exception that we optimize the output file for download with a 256kbps data rate while leaving the resolution untouched.  We also adjust the video options to optimize for the best quality.  We report the transcoding time in minutes, with lower values being better.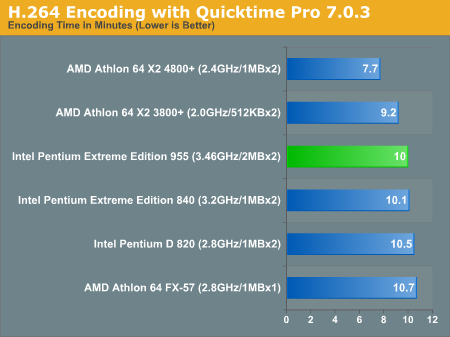 The tables are turned under Quicktime 7, with the Athlon 64 X2s taking the lead and pushing the Pentium EE 955 to third place.
Finally, we have a MP3 encoding test using iTunes 6.0.1.3.  For this test, we simply took a 304MB wav file and converted it to a 192kbps MP3 file, measuring the encode time in seconds.  The only iTunes option that we changed was to prevent the playback of the song while encoding. 
MP3 encoding performance is a close race between the Athlon 64 X2 4800+ and the EE 955, with AMD taking the slight lead.