To see if ATI's tool was really more efficient, we took three source videos: a WMV HD trailer, an MPEG-1 file and a DivX file and converted them all to 768kbps MPEG-4 files for use on a Sony PSP.  We measured the transcode time in minutes on our same Athlon 64 3500+ system and have reported the results below: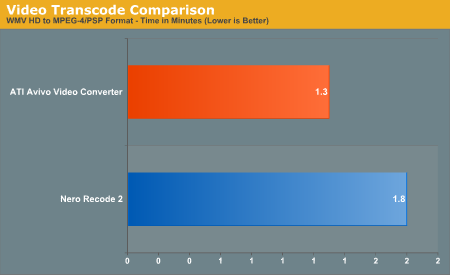 When converting WMV HD to MPEG-4, ATI's Avivo Video Converter is a bit quicker than Nero Recode, completing the transcode 30 seconds less in time.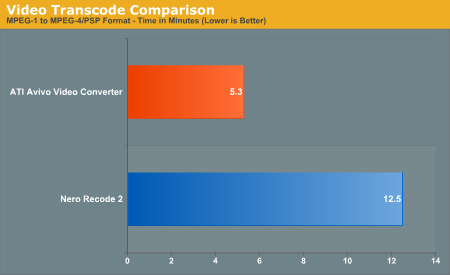 Our MPEG-1 source file was quite large at just under 1GB, so transcoding it took noticebaly longer.  It was here though that ATI's tool truly shined, completing the transcode in just over 5 minutes compared to about 12.5 minutes using Nero.  Again, this is with no GPU acceleration at all.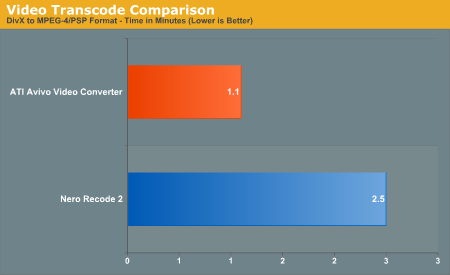 Finally, when converting DivX to the PSP format, we see once more that the Avivo Video Converter can accomplish the task in less than half the time of Nero Recode.
So, is ATI getting into the software business with the Avivo Video Converter?  No.  In fact, ATI is providing these algorithms and hooks to partners like Nero so that regardless of what software application you're using, you will get the best performance assuming that you have ATI hardware. 
We should note that the Avivo Video Converter, despite not being GPU accelerated, will only work on ATI Radeon X1000 series of GPUs.  ATI is still working on bringing a GPU accelerated version of the Avivo Video Converter to market, but that's still a while away.