Introducing the Avivo Video Converter
The other item of interest that ATI briefed us on is the ATI Avivo Video Converter.  We mentioned in our previous coverage that ATI was working on GPU accelerated video transcode, to speed up the conversion of videos from one format to another (e.g. MPEG-2 to H.264).  Unfortunately, the GPU accelerated transcode isn't yet ready for debut, but what ATI is making available is the software front end for it.

The Avivo Video Converter is an extremely simple utility that accepts just about any video input and converts it to just about any output (MPEG-1, MPEG-2, VCD, SVCD, DVD, MPEG-4/DivX compatible, WMV9, Portable Media Center, H.264/avi, MPEG-4/PSP and H.264/iPod).  The particularly neat features of the utility are built-in presets for converting video to Sony PSP and iPod Video formats.  However, keep in mind that despite ATI's release of this tool, the video conversion itself is done entirely on the host CPU and not on the GPU.  So why bother?  Well, thanks to ATI's experience in dealing with video, they have optimized a number of the transcoding algorithms so that conversion using the utility is actually faster than on other software solutions.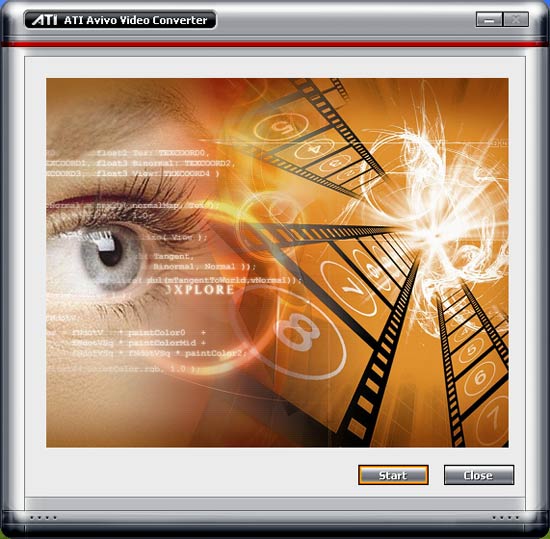 Click Start to continue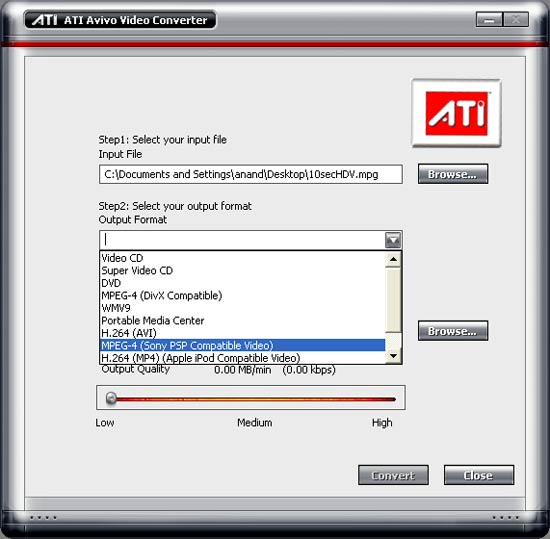 Select your input file and output format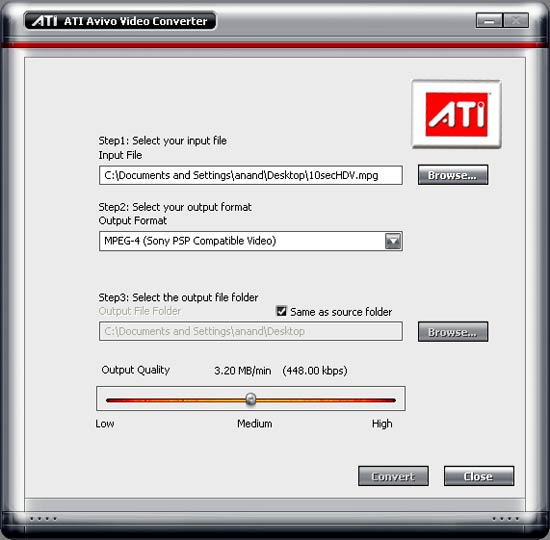 Next up, select your output quality and hit convert. The tool won't let you convert to an unsupported format (e.g. higher than 768kbps on the Sony PSP setting)
ATI's reference point is Nero's Recode tool, which lets you convert from virtually any format to H.264 and includes a built-in preset for converting to Sony PSP video format.  We chose to also compare to Nero's Recode given their similarities in flexibility, but we will look at other performance comparisons upon request from you all.