How does power consumption affect the bottom line?
We've illustrated each system's power consumption levels at different load levels. For the technical folks, those numbers are important. But, for the platform decision maker, the CTO, Director of Technology and any person in a role that looks at the bigger picture, it's important to illustrate how it affects the bottom line. Obviously, if you use more power, it costs you more money. To illustrate this, we used a current rate of 14 cents per kWh, which was taken from a power bill of a resident in Connecticut, New York. We then used the data to extrapolate the cost of each platform at the various load levels.
At 40-60% load, it costs $42 a month to run a Bensley system while an Opteron system would cost $25. Factor that over a year, and a Bensley system would cost $504 to run and an Opteron would cost $300. Now, if that doesn't pique your interest, let's say that you have 40 servers at a datacenter, with the same power characteristics. Over a year, it would cost you $8,160
more
to run the Bensley system.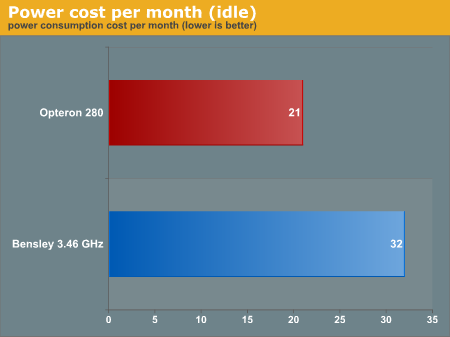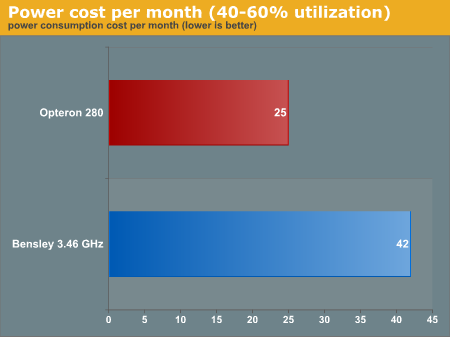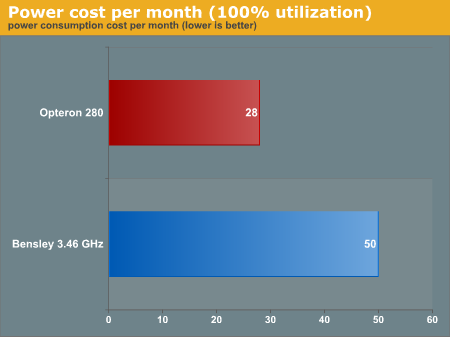 Conclusion
So, you've read through the article and are waiting for us to tell you what platform is better. That entirely depends on what matters to you: performance, power, or both. If all you care about is performance, then Bensley is that platform. If you care about how much power you consume, then Opteron is that platform. Now, if you want the best performance per Watt, then Opteron is that platform. At least that is what the database test results that we've shown here dictate. Obviously, given Intel's roadmap, they are developing platforms to address performance per Watt. Woodcrest will be the first product that is focused on performance per Watt, which we will see in the second half of 2006. Until then, the choice is yours.